Hyper Scape Server Connection Error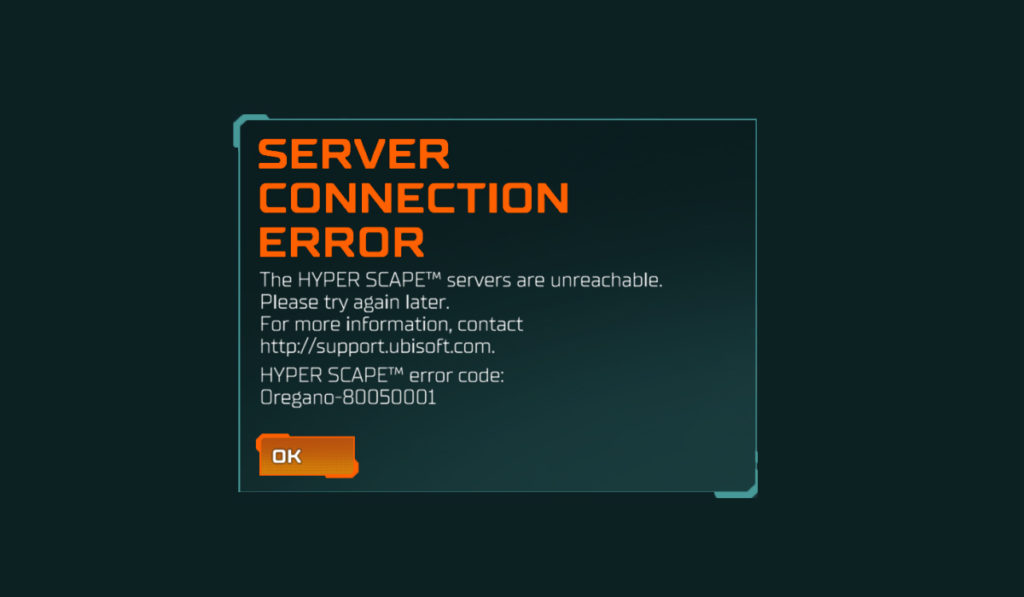 The first season of Hyper Scape is officially live, and the game is now out on PlayStation 4, Xbox One, and PC. Players can check out Ubisoft's new free-to-play battle royale game on any of the platforms and enjoy cross-play with friends. With the big influx of new players, some people are seeing a Hyper Scape server connection error. Here's what it means and how to resolve the issue.
Hyper Scape Server Connection Error
Some players are getting the Hyper Scape Server Connection Error and seeing the following message: "The Hyper Scape servers are unreachable. Please try again later. Hyper Scape error code: Oregano-80050001."
The error is an issue with the servers on Ubisoft's end. As long as you can confirm that your internet connection is functioning with no problems, there's not much you can do from your end. With the release of season 1 and the new Battle Pass, the servers are experiencing higher than regular traffic.
Like most errors, there is no real information on the screen about how to resolve it. One thing you can do is restart your game and retry the connection to the servers. You will likely only see this error when attempting to join solo or squad games. Connecting to the main menu works without any issues.
You can follow the UbisoftSupport Twitter and the Hyper Scape Twitter accounts for news relating to server issues. According to Ubisoft, the only known problem is the Violet-68 error, which requires users to reset their account passwords. Aside from that, players will need to be patient while the server traffic is regulated. Again, there is likely a massive influx of players attempting to connect at the same time for the start of season one.
About the author