How to Use FieldSENSE in Madden 23
We've laid out everything you need to know about FieldSENSE gameplay and how to use it in Madden 23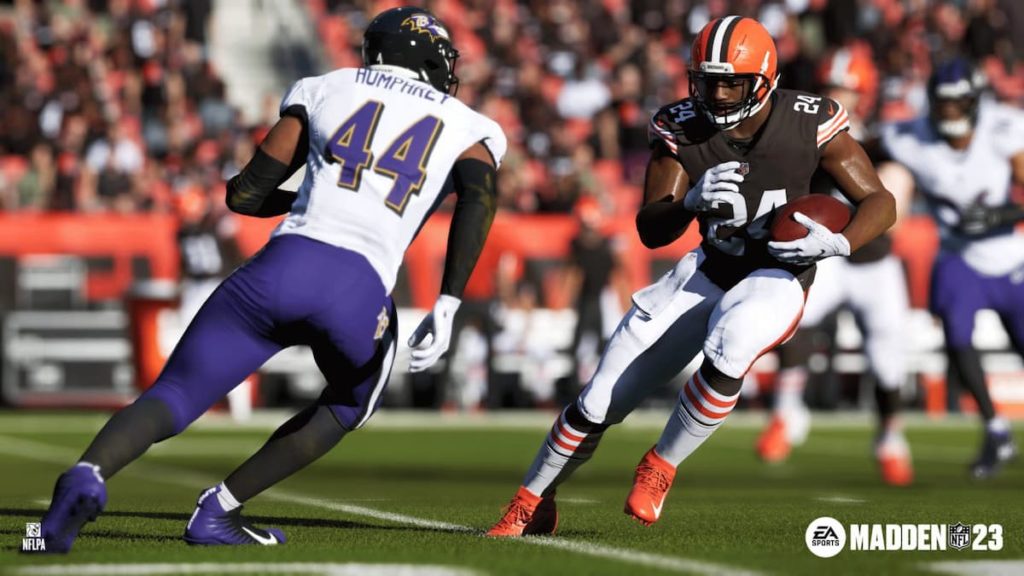 Madden 23 will feature a brand-new gameplay system called "FieldSENSE," a first for the series.
FieldSENSE has been described as a new feature that equips players with more control at every position with the use of "physics-informed animation and animation-branching technology". Ultimately providing players with more consistent and ultra-realistic gameplay through physics-based outcomes.
We're going to do a deeper dive into the details surrounding this new FieldSENSE gameplay system. As well as how you can use it in Madden 23.
How to Use FieldSENSE in Madden 23
EA Sports has been searching for new ways to make the classic football video game franchise more realistic and exciting. While Madden 22 was able to build off previous versions and introduce a handful of impressive alterations. It still left much to be desired for a lot of players.
This is why EA Sports has put such an emphasis on adding in this new FieldSENSE Gameplay System to Madden 23. Unfortunately, this is a feature that will only be available on the PS5 and the Xbox Series X/S. So, those still stuck with a PS4 or Xbox One will not have access to the FieldSENSE system.
Here's the official trailer that was released by EA Sports discussing the new gameplay.
In the trailer, EA identified four key components of the new FieldSENSE Gameplay System: Hit Everything, Skill Based Passing, 360° Cuts, and WR vs. DB Battles.
Here's a full breakdown of each using what we were able to gather from the trailer.
Hit Everything
With over 3,500 brand-new animations, Hit Everything is designed to make tackling and collisions more realistic and authentic. With these newly introduced mechanics, users are expected to have more control over defense and become more disruptive when lined up one-on-one with the offensive player. Introducing a series of new features like add-on blocks, stand-up tackles, mid-air knockouts, and multiplayer tackles with the use of the next-gen Hit-Stick physics in Madden 23.
Related: Madden 23 – Has John Madden Appeared on the Cover Before?
Skill Based Passing
In Madden 22, users felt that their quarterback's ability to fit the ball into tight spaces was mostly left up to the game itself and not the player. Now, in Madden 23, users are expected to have more control over these scenarios, placing the ball exactly where they need to and where only their receiver can get it. With these Skill Based Passing mechanics, including new power and accuracy meters. Players should find it easier to get their receivers open and throw the ball into tight windows anywhere on the field.
360° Cuts
Next, we've got perhaps the most exciting new feature, 360° Cuts. In years past, running with the ball in your hands often felt choppy and uncoordinated. Making it difficult to perform hard cuts and break out for one of those big, home-run plays. With the use of 360° Cuts, players will now have more freedom and control to plant and go. Hitting the gaps as you see them and evading aggressive defenders with the use of multiple controls. As opposed to the standard use of the left analog stick.
WR vs. DB Battles
Lastly, there are WR vs. DB Battles. With this new mechanic, wide receivers will be given some fresh release moves and footwork skills. Allowing them to beat opposing cornerbacks off the line. Whereas defensive backs will too be provided with some new counter-press mechanics and dynamic physical maneuvers to keep pass-catchers in check. This should lead to some epic 1-v-1 battles off the line of scrimmage.
That's everything you need to know about how to use FieldSENSE in Madden 23. For now, we'll have to wait and see what else EA releases on Madden 23. However, in the meantime, be sure to check out what else we've written about Madden's latest instalment. Like whether or not Madden 23 will be coming to the Nintendo Switch. As well as our guides section for more information on other popular gaming titles.