How to Refund Enchantments in Minecraft Dungeons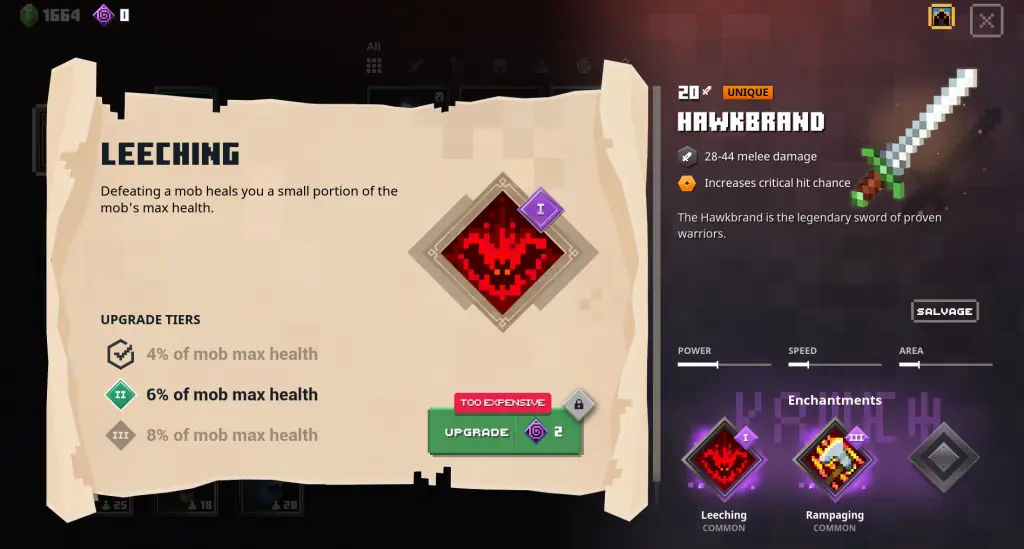 Enchantments are a way to add modifiers to your weapon and armor slots in Minecraft Dungeons. There are many different types of enchantments in the game. These can range from giving your weapon new effects, to increasing your current stats like attack speed. In this guide, we'll show you how to refund enchantments in Minecraft Dungeons.
How to Refund Enchantments in Minecraft Dungeons
The only way to refund enchantments in Minecraft Dungeons at the moment is by salvaging the item. To do this, you need to select the item to view it. On the right side of the screen, you will see a button that says Salvage. After clicking Salvage, you can see the payback for the item.
You will get a varying amount of Emeralds along with the full amount of your enchantment points back. The amount of Emeralds you get depends on the rarity and power level of the item. After salvaging, you can now spend the enchantment points to upgrade another item.
When to Refund Enchantments
Items are cyclable in Minecraft Dungeons, meaning you can find the same equipment at a higher power level. Finding higher power level gear will make your old gear irrelevant, hence the salvage button. If you were using it as a primary piece of gear, you likely have some enchantments attached. Refund them back through salvaging, and you are now free to allocate them to your new item.
What are the Best Enchantments
The best enchantments depend on what items you've already found and what type of build you are trying to play. If you are playing a ranger with a bow, you can go for attack speed, attack damage, and arrow regeneration (infinity). If you are melee you might want to put on Leeching to steal life from enemies.