How to Play the Call of Duty: Modern Warfare 2 Campaign Early
Let's get this show on the road!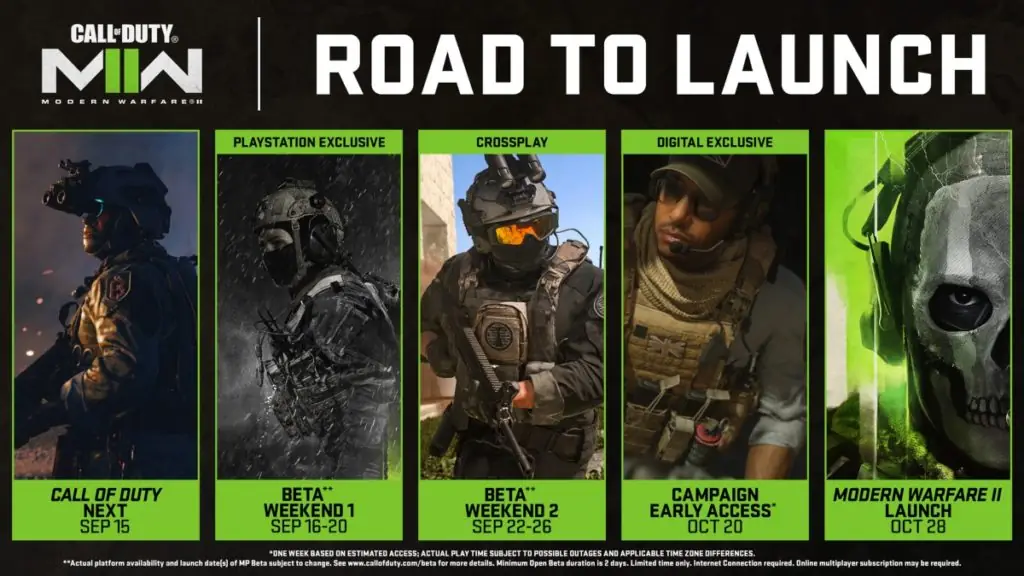 With the Call of Duty Next Showcase event behind us, players are now more hyped than ever to get into Call of Duty Modern Warfare 2's Multiplayer and Call of Duty: Warzone 2.0. And while those two pieces are definitely a large piece of the delicious pie that is the upcoming Call of Duty package, Modern Warfare 2's Campaign is also another large chunk of entertainment for players to enjoy.
Though the Multiplayer beta begins on September 16, offering players a great look at how the gameplay is going to feel and see the new world crafted, players will also be able to drop into the Campaign up to a week before the game officially launches. We'll explain how to play the Call of Duty: Modern Warfare 2 Campaign early.
How to Play the Call of Duty: Modern Warfare 2 Campaign Early
Players too eager to wait for that October 28 release date for Call of Duty: Modern Warfare 2 can get into the game's Campaign up to a week early, if their heart desires. The only thing is, it's going to cost you the downpayment of a pre-order.
Here's what we know:
Any player who pre-orders any of the available digital editions of Call of Duty: Modern Warfare 2 will receive early Campaign access in addition to any of the other pre-order bonuses offered, such as Beta access and the Final Judgement Bundle. This'll singlehandedly allow players to sink all the hours they need into the Campaign ahead of time so that they can dedicate the rest of their time to Multiplayer once the game finally releases on October 28. Depending on your time zone of when the early access begins for the Campaign, you could be playing it on Thursday, October 20th.
Pre-ordering Call of Duty: Modern Warfare 2 has never looked so perfect, so going to your gaming platform's digital storefront or purchasing a digital copy from a retailer such as Amazon or Best Buy could really get you a sweet bonus if you aren't tied to having a hard disc version of the game. For folks on the Xbox Series X|S or the disc-less PlayStation 5, this is just business as usual.
Additionally, pre-ordering any version of Call of Duty: Modern Warfare 2 will also grant you access to the Beta that begins on September 16 and basically run through the end of the month of September. So be sure to get your pre-orders in to really take advantage of being an early adopter.
Related: All Changes Coming in Modern Warfare 2 Multiplayer: Gunsmith 2.0, Maps, Game Modes, Open Beta and More