How to One Shot 10 People Simultaneously in Goat Simulator 3
This is getting out of hand. But I like it.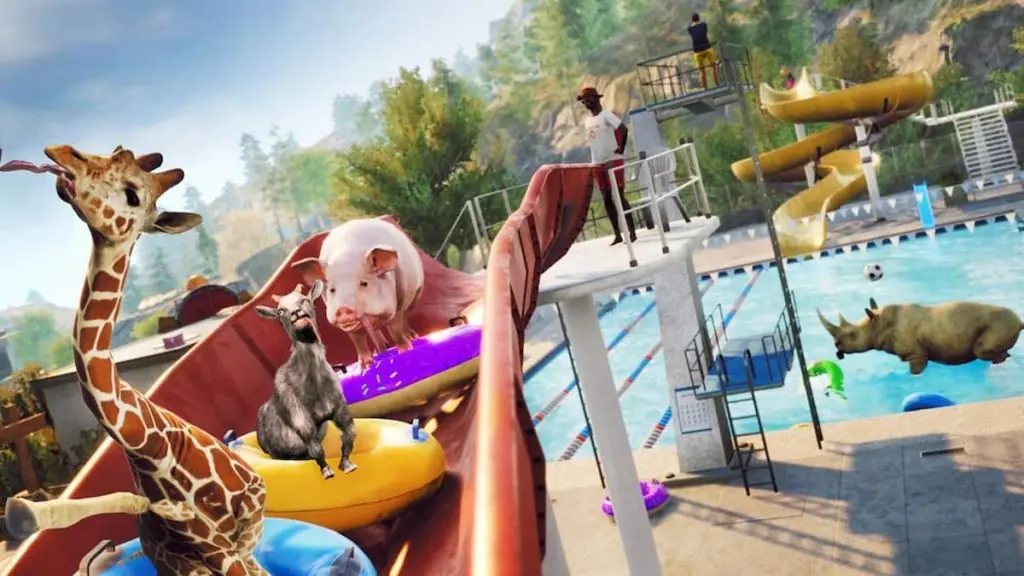 So, Goat Simulator 3 not only provides a chaotic game that defies the very definition of what a video game can be, but it also gives us challenges and trophies that are, for a lack of a better word, ludicrous. From electrocuting people all the way to nuking the world, a goat has never had this power, unless your name is Lionel Messi or Cristiano Ronaldo. Sorry, we're in World Cup times. Moving on, one of the challenges the game presents is to one shot 10 people at the same time. It is a tricky task, but we have a solution for you. Here is how to one shot 10 people simultaneously in Goat Simulator 3.
How to One Shot 10 People Simultaneously
In order to complete the challenge and one shot 10 people, you're going to have to travel all the way to Pool Party, which is located at the center of Suburbsville. No, we're not going to swim peacefully to blow off some steam, we've got work to do. Next, go ahead and drag 10 people into the pool. Once you have 10 people in, line them up at the edge of the pool. This party is the trickier because people like to swim whenever they are thrown into a pool by a goat with a huge gun on its back. Once they are all lined up, shoot at all of them with The Tickler, which you can find in the Flying House after completing the "Clean Energy" event. If done right, you will see the notification that you have completed the challenge.
Related: How to Create a Human Electric Chain in Goat Simulator 3
Goat Simulator 3 will perhaps go down in history as one of the craziest games ever released. One shot 10 people simultaneously? No problem. Electrocute a bunch of people on a cemetery? Barely an issue. Don't let that fool you, this is a compliment towards the fun that the game promises and secures for you. Be the goat, now.
---
Goat Simulator 3 is available now on PlayStation 5, Xbox Series X/S and Windows. If you like our Goat Simulator content, be sure to check out How to unlock a UFO/Spaceship in Goat Simulator 3 and How To Get Human Goat in Goat Simulator 3.