How To Make Golems In Conan Exiles Chapter 3
Rise Golems! Riiiiise!!!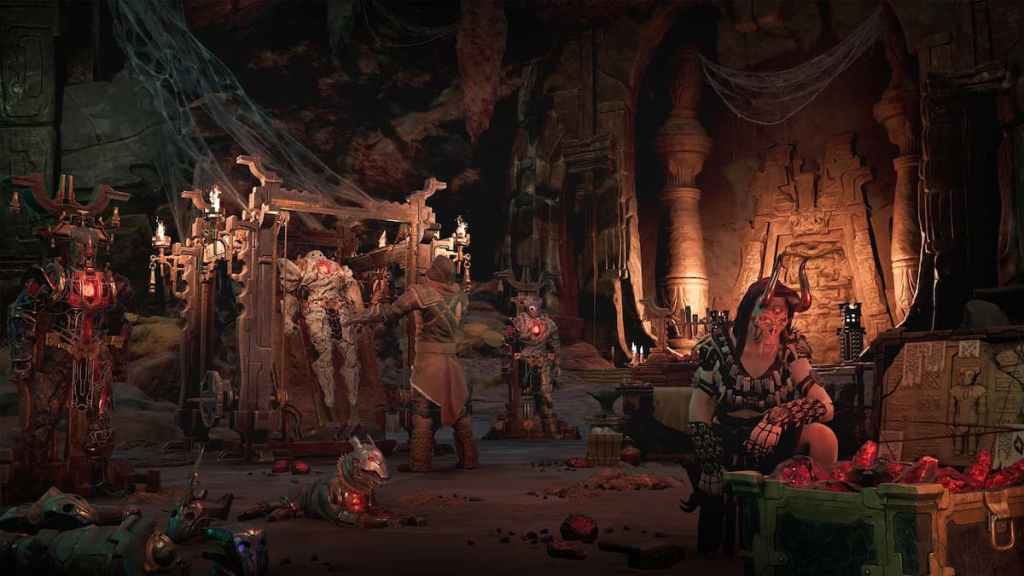 Golems are the latest edition that has made its way to Conan Exiles: Age of Sorcery, Chapter 3. You could also say it's about time, especially considering the insane things you can do in the game! As you can expect, this survival game isn't holding back! (though it never did, considering you can enslave NPCs) But now you, too, can become the owner of your very own Golem! There are three you can make, and you can also give them commands. So, without further ado, in this guide, you can learn how to make Golems in Conan Exiles Chapter 3.
Conan Exiles — How to make Golems
To begin your quest to make a Golem, you must seek Master Carver Huang, and you can find him in the new area called Mek-kamoses' Spire. Once you have interacted with him, you can learn Golem Constructor; you will then receive a Golem Workbench used to craft your Golems.
Materials Needed to Make Golems
You can make three main types of Golems: Stone 9,000 HP, Iron 14,000 HP, and Crystalline 20,000 HP. In addition to the three, you can also craft Tranished Iron and Iron Slag Golems; however, these can only be obtained through the Battle Pass of Bazaar. Each Golem will require six parts; they are a Head, Torso, Two Arms, and Two Legs to make.
The items will need to make your Golem will depend on which Golem you want to craft, but here are some of the items you will need:
Iron
Stone Consolidant
Iron Reinforcement
Blood Crystal
You can gather the various parts for the Golems from Dungeons, as they can be found in Chests; your best bet would be The Wine Celler. There are plenty of chests to be found; while it can be a bit RNG, you can pick up quite a bit of them as Golems only have the HP they have been created with. You can also purchase Golem pieces from Master Huang, which will refresh every two hours, but this can be a bit pricey as it costs 200 Blood Crystals.
Stone and Iron Golems can be made at the Golem Workbench; unfortunately, Crystalline Golems are not craftable. Finally, you can also Augment your Golem pieces, providing different buffs. Golem pieces can also be farmed by defeating Sorcerers; they can drop Stone and Iron Golem pieces. If you're lucky, they can also drop Augmented pieces such as Lighting Rods and Radium Heads.
Crafting your Golem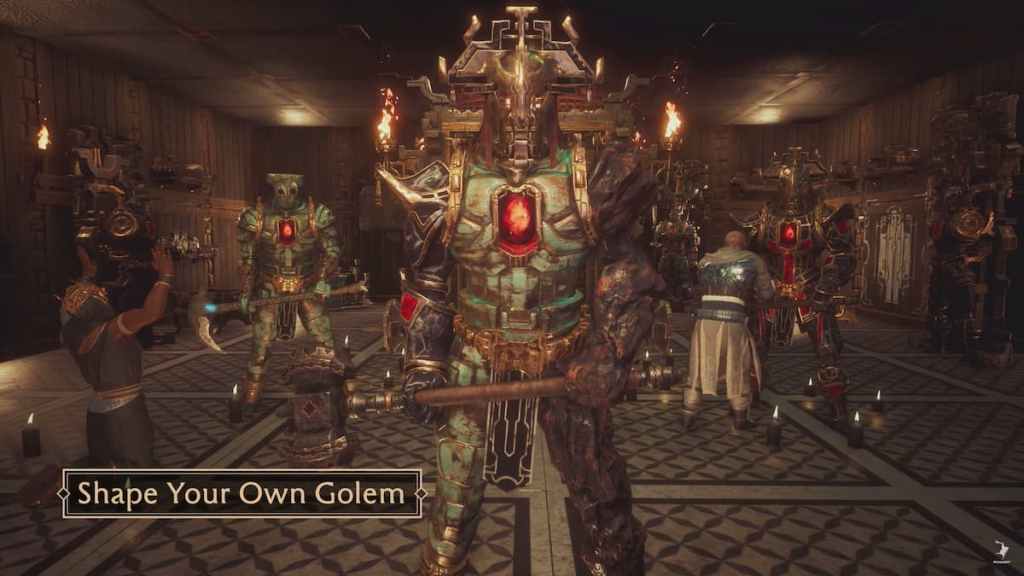 You can give your Golems one of two functions, Protect or Harvest. If you select your Golem to be your Guardian or assist you in battles, note that they have a set HP level and will not be able to regenerate. Therefore, you should craft your Golem with items that will help it assist you when harvesting.
Related: Where to Find Black Ice in Conan Exiles – Black Ice Locations
Before heading to the Guardian Assembly Station, you can give your Golem additional buffs by augmenting it at the Golem Workbench. Adding items such as Tar, Brimstone, Explosive Jar's, and even Weapons during this process will assist your Golem in doing the task given in the Exiles. For example, the Tar and Explosive Jar can give added buffs when your Golem is out attacking the enemy and the Weapons for Harvesting.
Onto the meat and potatoes. Now that you have all your pieces go to the Guardian Assembly Station (aka where the magic begins). You must place each Golem piece in its respective slot in the Guadian Assembly. You can mix and match Golem pieces in Conan Exiles Chapter 3, so don't worry about creating a full Crystalline or Iron Golem. Now you can shout to the sky, arms raised, and make your very own Frankenstein monster by bringing your Golem to life.
---
And that's how to make a Golem in Conan Exiles Chapter 3, and we hope you enjoyed this guide! If you're new to the Exiles, you can check out these guides 8 Best Games Like Conan Exiles or Conan Exiles All Corrupted Attributes, Explained. To stay on top of all our content, follow Gamer Journalist on Facebook.