How to Increase Attitude Stability in Armored Core 6 – Term Explained
No it's not a translation error, and no, it isn't talking about the mood your AC is in.
If you're new to the Armored Core universe, you'll be inundated with a plethora of stats and numbers. Unlike most games today where numbers are thrown around for the sake of numbers, stats in Armored Core 6 have some important benefits and drawbacks. Some of them can be self-explanatory, such as AP (health) and Boost Speed. However, there are other stats that will require the player to understand the game on a deeper level. Since all of these statistics matter for your AC, making sure they mesh well with your build is paramount. We're going to head back to the garage and figure out how to increase attitude stability in Armored Core 6.
How to Increase Attitude Stability in Armored Core 6 – Term Explained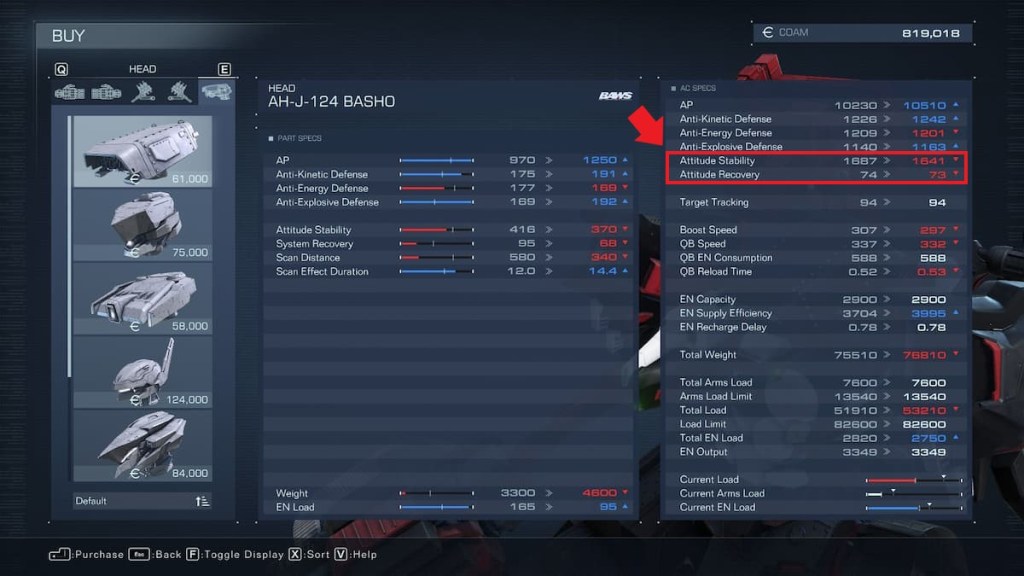 Attitude Stability is something you might not even know exists if you haven't been paying a lot of attention. You might need to toggle display in the garage in order to even see the numbers, and once you do, you'll want to know a few things. First, attitude stability in simple terms, is what controls your stagger meter in combat. The more attitude stability you have, the harder it is for you to get staggered, and vise versa. However, this isn't the only number players will need to focus on when it comes to your ACs stagger meter. Players also have an attitude recovery stat, which as it says, controls how quickly you recover from being staggered.
Related: How to Manual Aim in Armored Core 6
To increase attitude stability in Armored Core 6, you'll need to equip AC parts such as head, arms, core, and legs. Certain ones will increase/decrease your stability, allowing your to tweak the type of build you want to make. Legs such as the Tetrapod legs will heavily increase your attitude stability, while decreasing other things such as weight. On the other hand, attitude recovery is adjusted based on the weaponry/artillery you use. Some weapons will increase the time to recover, while others will help you get back in the fight quicker.
---
Follow our Facebook page for the latest updates in gaming. We've got more Armored Core 6 articles and guides for all your mech-building needs, only at Gamer Journalist.
About the author