How to Get Laurel Points in the Guardian Games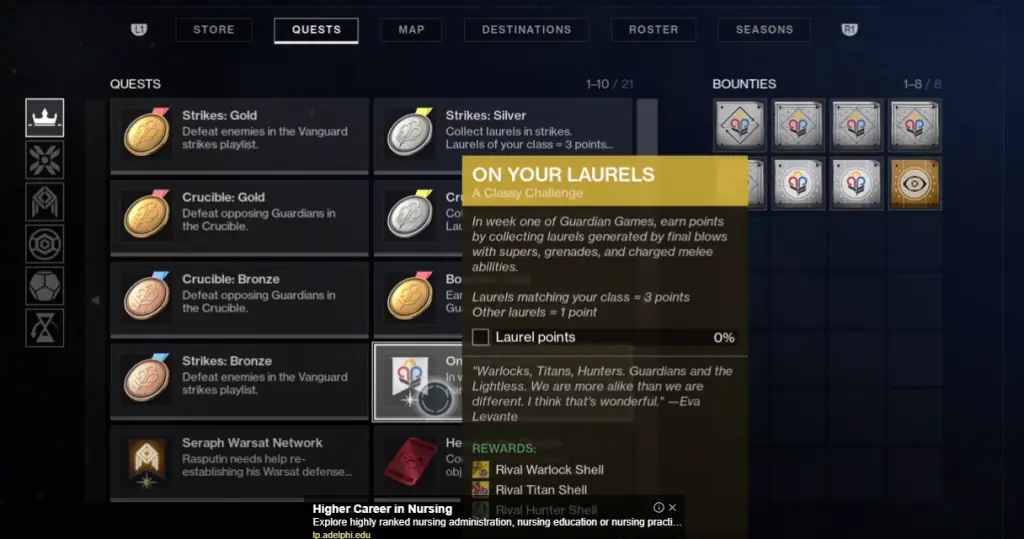 The weekly reset for Destiny 2 is here, and it's brought players a brand new event called the Guardian Games. You can get started on the Guardian Games by following our guide.
The gist of it is that you need to speak with Eva Levante in the Tower and follow her instructions and questline through until you start the event. One thing you'll need to do is get Laurel Points for your Class in the Guardian Games, and we'll show you how to do that in this guide.
Every week, things will change a bit in regards to completing challenges and collecting Laurel Points and Medals. For the first week of the Guardian Games, you can get Laurel Points by performing final blows with either a Super, a charged Melee attack, or a Grenade.
Completing these challenges does not have to be done in any specific game mode. You can feel free to choose from Gambit or Crucible and perform final blows using any of the above methods to earn some Laurel Points.
How to Get Laurel Points for the Guardian Games Event
You can try out some of these tips and tricks to farm Laurel Points a little more efficiently. Finding areas with tons of weak enemies is a great way to accumulate some Laurel Points quickly. It will take you a bit of time to earn enough to complete all the challenges, so you will probably come up with some useful methods of your own to farm these things.
If you head over to a location in Gambit and take out a bunch of enemies with grenades, for example, you can easily pick up a bunch of Laurel Points. These Laurel Points will net you some exciting rewards for all classes. If you have teammates that are also collecting Laurel Points, they will earn you some as well.
Good luck out there in the Guardian Games!