How to find Dark Markery in Find the Markers
Here is how to get the markerous difficulty Dark MarkeryMarkery in Find the Markers Roblox game.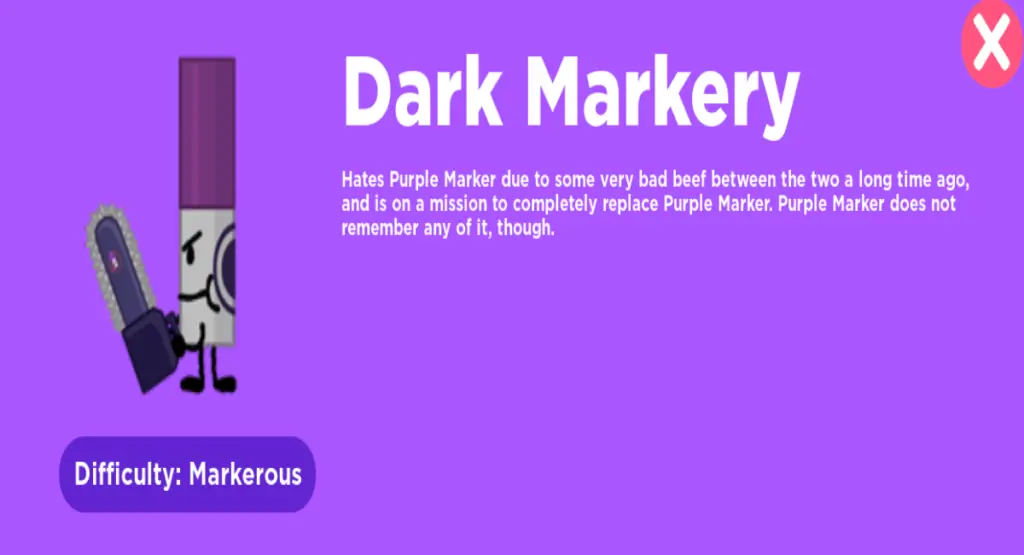 Find the Markers is a huge Roblox "find the" passion project. With 200 markers to collect, dedicated completionists will find satisfaction with the abundance of easy and difficult ones to obtain. But of all the markers, there is only one antagonist. Dark Markery has been plotting against the Purple Marker, here is how to stop Dark Markery and claim it as your own in Find the Markers.
Finding Dark Markery in Find the Markers
Unlocking the rusted door
Have you been curious at that locked door at spawn? To unlock it, first you must talk to the Foliage Marker to learn more. Once you've claimed the Foliage Marker, you must retrieve the crowbar from the safe under the chocolate waterfall in the Candyland Biome. The code, as revealed by the Foliage Marker, is '3882'. Grab the crowbar then go back to spawn. You will now be able to break open the door.
Walk through the door and drop into the hole, where an easy obby consisting of strong blossoming vines awaits you. Get across the vines to get a badge 'nature finds a way' that you need to proceed. At the back of the central house is a code, 'evilpurplechainsaw', with a hint that will lead us to the void.
Getting to the void
With our new instructions, we should head to the void. To do this, we must go to the factory in the main map. Go through to the assembly line and drop into the black box at the end of the conveyor belt. Once at the secret basement, you can touch the rocket in the corner to be teleported to Mars.
At the other end of the map, near the space laboratory, will be a wooden sign pointing backwards. Fall off the edge, hugging the wall, and you will teleport to a space room that will take you to many different corners of the Find the Markers universe.
In one of the corners is a purple icon that looks similar to a back hole labelled '???'. This is the void. Travel to it.
Go through the door framed in purple upon spawning in and travel the maze. Hug to the left wall as you go and you will quickly find another purple-framed door. Walk through it into a room that requires a password at the end.
In the Passcode interface, type in 'evilpurplechainsaw', and you will be teleported to an arena where you will fight Dark Markery in a boss fight and free Purple Marker. The boss fight is fun and will take around a minute and a half.
There you go, your detailed guide on finding Dark Markery in Find the Markers. Keep your eyes on Gamer Journalist for more Roblox content!