How to Find and Craft Medicine in Starfield
These wounds won't heal themselves.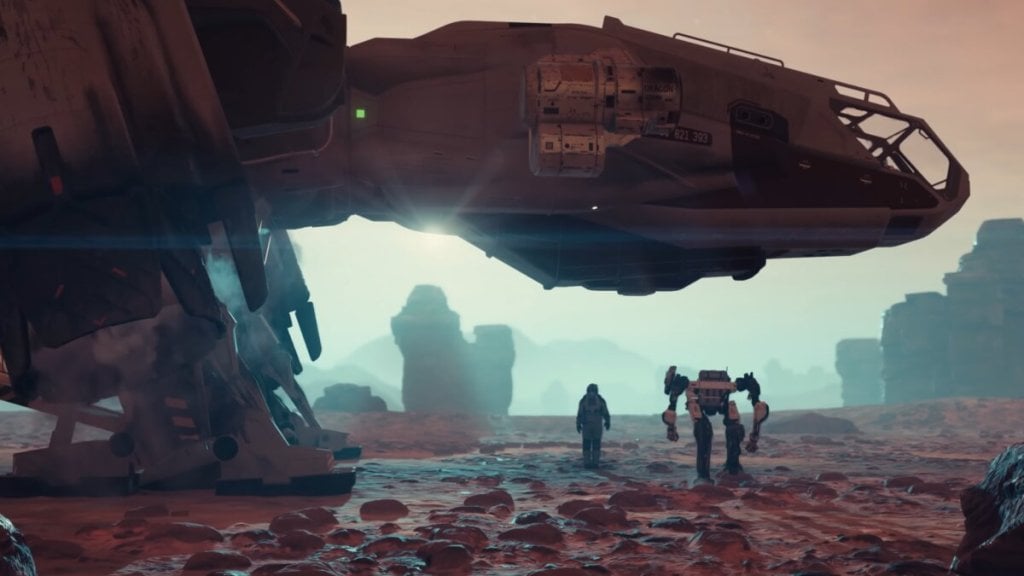 Although you may be spending a lot of your time in Starfield completing Story Missions and searching for Med Kits (Med Packs and Trauma Picks) along the way, you may find yourself consuming Packs like water depending on the difficulty you are playing on. As these Packs do not come in abundance in this game, you may wish to stockpile other Aid Items that can help you in moments of need.
Whilst Med and Trauma Packs restore a percentage of health for a short duration of time, other Aid Items can heal smaller portions of health if you are looking to put a stop to incoming damage or bring yourself back up to maximum health so you feel a little safer heading into the next area. This is Vincent's guide on how to craft Medicine and Aid Items in Starfield.
Where to Find Medicine in Starfield
Aid Items can often be found via Vendors and Doctors inside major cities across different galaxies. Medicine can be looted, although loot is randomized and you can never be sure which particular Aid Item you will find inside Research Laboratories.
However, we can guarantee that first aid kits and loot inside Research Labs will always hold Aid Items for which you should make space in your inventory. Use the Scanner to find any loot inside Research Labs as this makes the searching process easier and quicker when you are trying to loot up Medicine.
Related: How to Get Health in Starfield – Med Pack and Trauma Pack Location Guide.
Vendor and Doctor List for Aid Items
If you have not found Vendors that sell Medicine yet, be sure to check areas such as Medical Bays, Research Centers, and Residential Zones where GPs can be found. These Vendors will always have Aid Items in stock but they often require a 1-3 day period for restocking if you purchase everything available in one sitting.
Here is the list of Vendors that can help you:
Talia O'Shea – The Well Med Bay in New Atlantis, Jemison.
Dr. Alexei Lebedev – Doctor's Office in Residential District on New Atlantis, Jemison.
James Newill – Newill's Goods in Neon.
Kolman Lang – Trade Authority in Neon.
Mary Cartwrite – The Rock in Akila City, Akila.
How to Craft Medicine and Aid Items
But what if you are having little luck in the Aid item-gathering department? You need to use the Pharmaceutical Lab which acts as Workbenches to craft Medicinal Items. You can find these inside Laboratories at the following locations:
Lodge Office – New Atlantis, Jemison.
Muybridge Caverns – Abandoned Muybridge Pharmaceuticals Lab, Venus.
Doctor's Office – Residential District in New Atlantis, Jemison.
These Workbenches offer a variety of Aid Items – AMP, Antibiotic Paste, Antibiotics, Bandages, Heal Paste, Immobilizer, Infused Bandages, Injector, Penicillin, Red Trench, and Snake Oil. Each Item has its own crafting recipe/ requirements. Before you visit, it is advised to take the materials you need to get the specific Medicine you need to cure any status effects or heal yourself with.
Here are all the medicine recipes:
AMP – x2 Argon, x1 Metabolic Agent, and x1 Toxin.
Antibiotic Paste – x1 Antibiotics, x1 Heal Paste, and x2 Carboxylic Acids.
Antibiotics – x1 Antimicrobial and x1 Membrane.
Bandages – x1 Fiber and x1 Sealant.
Heal Paste – x1 Analgesic and x1 Membrane.
Immobilizer – x1 Sealant and x1 Structural.
Infused Bandages – x1 Heal Paste, x2 Sedative, and x1 Bandage.
Injector – x1 Metabolic Agent and x1 Membrane.
Penicillin – x1 Metabolic Agent, x1 Membrane, and x2 Antimicrobial.
Red Trench – x1 Tetrafluorides, x1 Battlestim, x1 CQB-X
Snake Oil – x1 Chlorine, x1 Sedative, and x2 Metabolic Agent.
What Does Each Aid Item Cure?
Not all Ait items can cure all ills. Check out our list for more information on what you can cure with each particular Aid item.
AMP – Temporarily boosts your Movement Speed (+35%) and Jump Height (x2) for 2 mins.
Antibiotic Paste – Treats Burns, Frostbite, and Infections
Antibiotics – Treats Infections.
Bandages – Treats Contusions, Lacerations, and Puncture Wounds.
Heal Paste – Treats Burns and Frostbite.
Immobilizer – Treats Dislocated Limb, Fractured Limb, Fractured Skull, Sprain, and Torn Muscle.
Infused Bandages – Treats Burns, Contusions, Frostbite, Lacerations, and Puncture Wounds.
Injector – Treats Brain Injury, Concussion, Heatstroke, Hernia, Hypothermia, Lung Damage, Poisoning, and Radiation Poisoning.
Penicillin – Treats Infections.
Red Trench – Temporarily boosts Melee Damage (+40%) and Damage Resistance (+300) for 3 mins.
Snake Oil – Treats Brain Injury, Concussion, Heatstroke, Hernia, Hypothermia, Lung Damage, Poisoning, and Radiation Poisoning.
---
That was everything you needed to know about finding and making Medicine in Starfield. For more on this game, be sure to see all articles written here by the Gamer Journalist team. Keep your eyes peeled as more is in the way. We hope this guide was helpful, thanks for reading.
About the author