How to Customize Your Captain's Cabin in Sea of Thieves
Make yourself at home in your new Captain's Quarters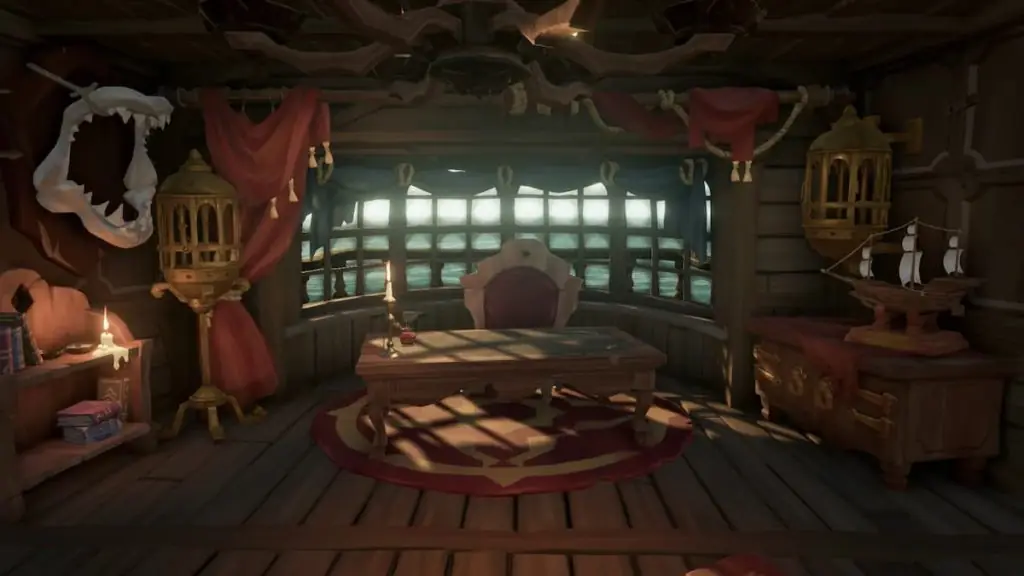 Rare and Microsoft Studios have just released Season 7 of Sea of Thieves with a whole new slew of updates and new features. The one that players are most excited about is the at-last addition of a full-on Captaincy. As Captain, you can own and name your own ship as well as customize the vessel practically from top to bottom. While this article won't go into detail about all the different items and loot you can customize your ship with, we will tell you how to get started. We are going to focus in on the most important room on the ship, the Captain's Quarters. Let's show you how to start customizing the Captain's Cabin.
How To Customize Your Captain's Cabin
Much like most features in Season 7, you will need to become a captain first. Once you are captain you can buy a ship. Owning that ship, whichever one it may be, allows you to name it, and then you'll be free to customize it. In the Ship's main menu there will be an "adjust" button which will allow you to add and take away whatever items and accessories you wish to add to your new vessel.
We assume there are several rooms inside the ship you can go one by one through. Just find your captain's quarters and start decorating! The level of detail you can edit and customize seems to be very immense. You will be allowed to change everything on the walls and even the tables and chairs. Whatever loot you've found will likely be able to add wherever you want as well and you can most likely spend hours creating your perfect Captain's Cabin.
Once you're done customizing everything inside and out of your vessel and the Captain's Quarters, be sure to sell all your leftover loot faster and easier by going over to the Sovergines tent, also newly added to Season 7 of Sea of Thieves.