How to Play Sea of Thieves With Friends
We all need friends on the high seas.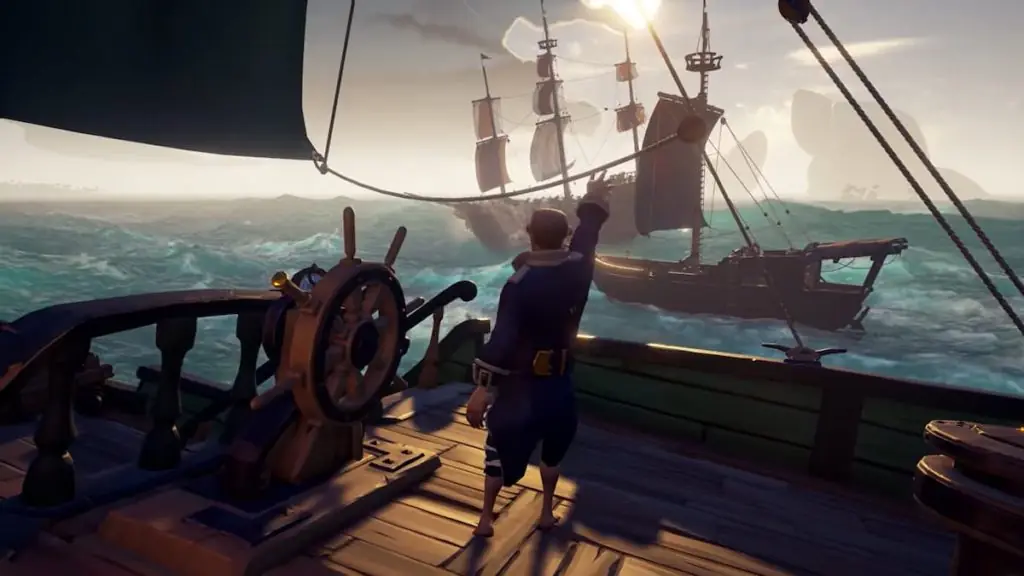 Microsoft and Rare's pirate simulator, Sea of Thieves is a fantastically good time to be had both alone or with a crew of scurvy sea dogs. While soloing this can be done, it really isn't the best route to take as the smallest ship is really recommended to be sailed by a duo. And though you can play with random strangers on the open seas, playing with friends is quite possibly the best way to play this game whether on Xbox or on Steam. Today, we'll explain how to play Sea of Thieves with friends and some of the positive impacts it has on gameplay.
How to Play Sea of Thieves With Friends
Assembling a crew of friends is actually a very easy thing to do. Not only can you invite friends to a crew for the standard "Adventure" but for the "A Pirate's Life" Pirates of the Caribbean-themed narrative. Below, we'll get into how to set up a crew with the various choices of sessions and ship sizes. Let's get into it!
To get started, head to the main menu from within Sea of Thieves and hit "Play".
From there, choose from the many experiences.
Once you've chosen your experience, you'll be able to choose the size of your ship. There's a Sloop (crew size 1-2), a Brigantine (crew size 2-3), or a Galleon (crew size 4). Of course, these crew numbers are actually only the recommended number of players that it takes to successfully sail these ships. And while you can sail bigger ones with a lean crew, you can't sail a small one with a full 4-person crew.
After picking your ship you'll be able to either choose "Open Crew" or Closed Crew". Either choice will allow you to invite friends, but random players will only be able to join Open Crew.
Once you're on the Crew Roster page you'll be able to invite friends. Just click the corresponding button on the bottom of the screen to invite them to the session.
Upon all of the invited friends joining, just hit "Set Sail" to begin the action!
Now that you know how to play Sea of Thieves with friends, now let's explain some of the cool stuff that you can do with your friends.
For one, ships are extremely complex when it comes to sailing, so having a full crew will mean that things go by smoother than if it were only two or three people on board.
After you and your crew load into the session together, the hosting player will be able to propose quests via the desk in the captain's quarters. There are many to choose from via the Voyages or Tall Tales quest choices. Once the captain proposes one, players can vote whether or not to pursue it.
Additionally, there are various bounties and raids to do across the seas. You can fight other players for fun, treasure hunt, and even battle sea monsters as well.
It really is a pirate simulator for you and your friends to just have a good time in.
That's everything you need to know! Now you know how to play Sea of Thieves with friends and have a better understanding of why it's a good thing to do. Happy sailing!