Grand Piece Online Update 4: Second Sea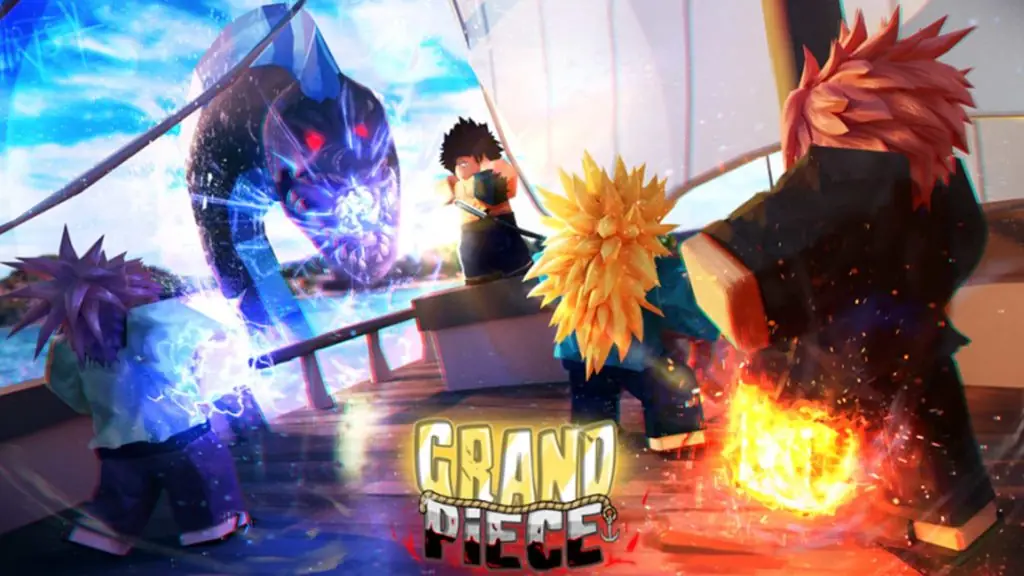 Grand Piece Online update 4 (Second Sea) releases on September 12, 2021, at 8:30 PM EST. GPO is the most popular One Piece-inspired Roblox anime game in the catalog, with over one hundred million visits, and nearly half a million favorites, not to mention its overwhelmingly positive reviews. Today marks Grand PIece Online update 4, which is a massive update bringing six new islands, new bosses and minibosses, and dozens of new items including the Kraken Core, which is the rarest obtainable item in the game.
You can find the full list of Grand Piece Online Update 4 patch notes and the update log down below. It details all of the new islands, fighting styles, enemies, items, artifacts, and four new fruits.
Make sure to check our Grand Piece Online codes page for new in-game rewards and freebies.
Grand Piece Online Update 4 Update Log and Patch Notes
New level cap: 325 > 425
New bounty cap: 50,000 > 75,000
NEW ISLANDS
Alabasta

Pharaoh's castle
City of Vedas
City of Zaro
City of Sol
Karoo race hub

Rovo Island
Spirit Island
Reverse Mountain
Sashi island
Colosseum of Arc
Farewell easter event…
NEW FIGHTING STYLE
2SS

Unique way to learn compared to all the other fighting styles (must master 1SS first)
Restricted to 2SS unless switch style (can't equip any swords)
NEW BOSSES/MINIBOSS:
Kraken (order form common to most rare)

Red (MOST COMMON)
Gold
Green
Blue
Purple
Azure (RAREST)
Crab King Cho
And baby crab O_o

Pharaoh Akshan
Musashi
NEW ITEMS:
Kraken Armor Set (CHROMA)
Kraken Blade (CHROMA)
Kraken Cape (CHROMA)
Kraken Katana (CHROMA)
Kraken Core (rarest OBTAINABLE ITEM ingame)
Musashi's Crimson Katana (you have 5 chances to get this item)
Musashi's Rose Katana (you have 5 chances to get this item)
Musashi's Hat (you have 5 chances to get this item)
Musashi's Karuta (you have 5 chances to get this item)
Pharaoh Aksha's Cape
Golden Hook
Crab Cutlass
Cho's crown
World Scroll
Book of Spirit (have manga omg)
Book of Nitoryu (have manga omg)
Ruin Mask
Riding Mohican
Horned Pilot
Karoo food
Kingdom Guard Outfit
ARTIFACTS:
Seer of Zaro
Cup of Vedas
Heart of Sol
NEW FRUITS:
Suna (LEGENDARY)
Gomu (RARE)

The different gears will come in future as evolutions for gomu

Kilo (COMMON)
Spin (COMMON)
BALANCE PATCH
MAGU
Magma hound reverted back to block break
ROKUSHIKI
Rokuogan bypass logia
Can no longer use skills mid soru
Geppo takes 2% max stamina (applies to black leg as well)
PIKA
Changed jewels of light initial stamina cost 100>50
Light ray now slows the caster
GORO
Nerfed the stun on lightning paralyzation
MELEE
Raised the damage cap on regular m1 punches 20>45
DEMON STEP
Lowered the stamina drain on mode by 5x
ELECTRO
Buffed electro fist duration 10>30
The effect also now transfers to equipped weapons
Raiju punishment bypasses logia
ACCESSORIES
Shark necklace stamina regen nerf 2 > 1
SWORDS
Nerfed sword damage scaling for buso
It was an actual bug since update 0, the buso damage calculation was done 2 times for swords
Global dmg nerf on all barrage skills and they take % stamina when your holding
Barrages were too op so needed to nerf
Increased the cooldowns for dungeon bosses
IMPROVEMENTS:
Improved loading screen
Improved npc intelligence for blocking

Learned how to block ults similar to pika/magu
Learned how to block barrage skills similar to rapid slashes
Learned block light ray

9 new pants (customization)
10 new shirts (customization)
Revamped a few hit effects
New moon texture (old one was cut off at edge)
Added test dummies to colosseums (only available in private servers)
Spawns in with pvp pad command
Revamped sounds:

Rokuogan
Rankyaku
Tekkai
Jewels of light
Magma Rain
Dai enkai
Firefly (improved visuals)
Hiken
Soru
Geppo
New sound effects for rokushiki skills

Rokuogan
Rankyaku
Tekkai
MISC:
Karoo Mount
Karoo racing minigame

Includes rewards/EXP if you win the race
If your feeling lucky there's a 1/1000 chance of getting a devil fruit form winning o-O

There will be npcs ingame to hint how to get certain things
Haki v2

Time duration is doubled after fully trained (~= 2-3 mins)
Colors are random (can be customized in robux shop)
Hint hint krakens

Added 2x logia indicator to bottom right of screen
While in combat stamina regen is reduced by 50%
Leveling up is now faster
Cities in the desert kingdom have roaming npc
Offers cargo delivery quest
Gives decent amount of exp per delivery (should be faster than bandit beater)
Deliver coffee to citizens across cities
New map for arena 2v2/1v1

Spirit island
Colosseum of Arc
New hairs 133-140

Nerfed passive stamina regen and stamina gained per level (because stamina started to become a useless stat)
Fixed the delay on the smash skill for elo hammer
Fixed crews (maybe)
Fixed a lot of cheese methods in arena
Drag&Tsuki
New custom grip animations (more will come in future including ones for devil fruits)

2SS
1SS
Neptune's Trident
Black Leg
Elo's Sledgehammer
Kraken Blade
Santa Bells
Flower Bouquet
Crab Cutlass
Bisento
Candy Cane
Golden Staff
Golden Hook
Electro
Fishman Karate
Rokushiki
Gravity Blade
Kiribachi
The first-ever Halloween event is also confirmed for GPO along with other content that couldn't fit into update 4, HOPEFULLY released by mid-end october.
Source via GPO Discord.
That's everything for GPO Update 4! Stay tuned for more Roblox announcements, guides, and walkthroughs!