Genshin Impact Under Maintenance for mystery update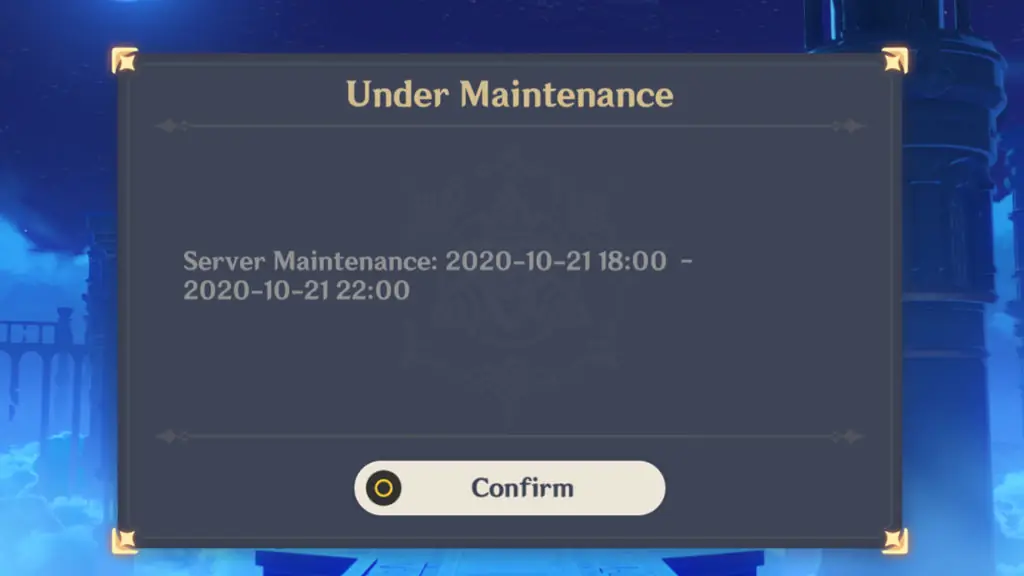 Genshin Impact is currently undergoing planned server maintenance. If you're logging in, you likely see a message saying: "Server Maintenance: 2020-10-21 18:00 – 2020-10-21 22:00." Times may vary based on your region. The update announcement went out yesterday on the official miHoYo news section. However, the purpose of this maintenance remains a bit mysterious.
Genshin Impact Under Maintenance: October 21
According to their post, the servers are going down to "fix some known issues" and "perform version update maintenance." From the login message, it looks like maintenance will take around four hours. Players may experience some disruption during this period and at other times throughout the day.
Server Maintenance Compensation
Players who feel inconvenienced by the maintenance will be happy to know that miHoYo is compensating users with some Primogems. You will get 60 Primogems for every hour that the servers are down for a minimum of 240 Primogems. If server maintenance goes smoothly and is not down for the full four hours, you will still receive 240 Primogems. You must be at least Adventure Rank 5 to be eligible.
After server maintenance is complete, you can restart the game client and launcher and click update. Download the update, and launch your game to play on the newest version. Mobile players can relaunch their game to receive the update automatically. Try to connect to Wi-Fi to download the update more quickly.
Travelers will have to wait and see if any new content is added to the game. Perhaps we may see some nerfs, buffs, and tweaks, or it could be purely server-side to help performance. We will keep you posted when we get more details.