FarmVille 3 Codes (December 2022)
Get the latest FarmVille 3 codes list and redeem exclusive in-game freebies like stickers, exotic pet tokens, rubies, and unique decorations!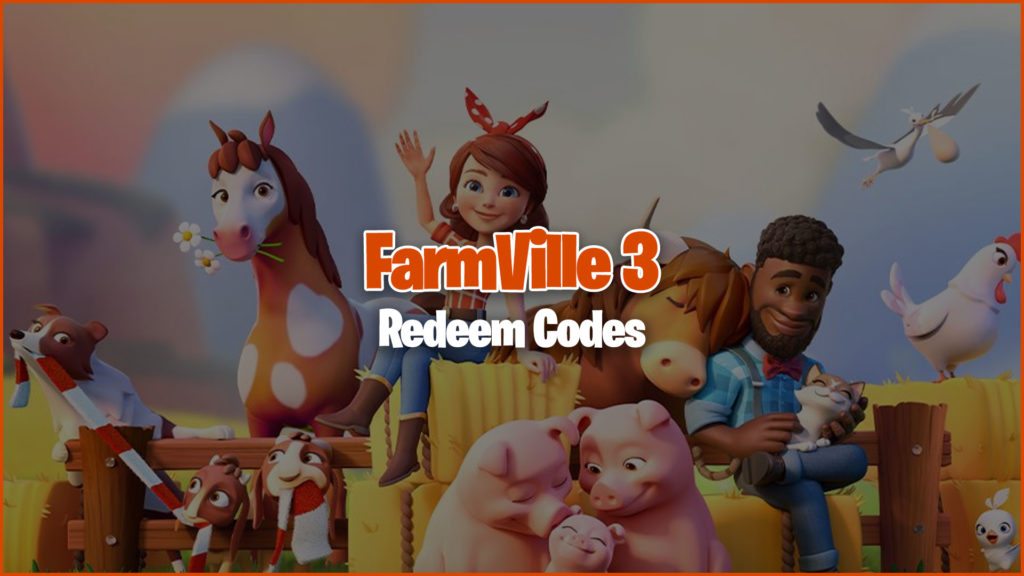 FarmVille 3 is the latest installment to Zynga's FarmVille franchise. In this game, players start an animal farm from the ground up, doing the hands-on work and raiding and breeding animals. How you build your farm is totally up to you, but you can use our codes list to help you get started with some free Emeralds, Gems, Rubies, Stickers, and more.
Our FarmVille 3 codes list allows you to redeem some free Rubies, Exotic Pet Tokens, various decorations, and even stickers to upgrade the Farmhands! It's the best way to get free in-game items without having to spend any real money. You can bookmark this page and check back daily for new codes.
For more freebies in other mobile games, check out our Mythic Heroes codes, PunBall codes, and Cookie Run Kingdom codes pages!
FarmVille 3 codes list
We have the latest codes list for FarmVille 3. Players can use these to redeem Emeralds, Stickers, Exotic Pet Tokens, Rubies, Gems, and more exclusive freebies. You can use gems and coins to build up your farm, stickers to upgrade your farmhands, and exotic pet tokens to unlock more breeds of animals. Codes expire quickly, so make sure to use them while they are active!
Latest Working FarmVille 3 Codes
seasonsgreetings – 1 Garden Gnome
readyfor2022 – 2 Emeralds
merryfarmer – 3 Katie Stickers
nala – 1 Exotic Pet Token, 3 Katie Stickers, 3 Chad Stickers
Happyholidays – 3 Carlos Stickers
welcomehome – Legend Decorations
FARMVILLELAUNCH – 50 Gems
farmvillelivestream – 5 Rubies
tropicescape – FarmVille: Tropic Escape Legend
countryescape – FarmVille: Country Escape Legend
lovefarmville3 – 1 Exotic Pet Token, 3 Chad Wood Stickers, 3 Marie Stickers
welcomefv3 – 1 Exotic Pet Token, 3 Chad Wood Stickers, 3 Marie Stickers
katie – 2 Flower Barrels
chad – 3 Chad Stickers
buddy – 1 Exotic Pet Token
marie – 3 Marie Stickers
Expired Codes
How to redeem FarmVille 3 codes
To redeem FarmVille 3 codes, follow these steps:
Launch FarmVille 3 from Google Play or App Store.
Tap on the Gear icon on the top right of the screen.
Tap on the Redeem Codes button from the Settings menu.
Enter a working code into the code redemption box.
Tap on the Submit button to redeem the code.
Claim your reward in your in-game mailbox.
The process for redeeming codes in FarmVille 3 is easy. You'll need to make sure you've completed the short introduction tutorial. Navigate to the settings menu by tapping on the gear icon on the top right of your screen. That opens the settings menu, and that's where you can find the redeem codes option. You can copy and paste the codes directly from our list into the code redemption box. After redeeming a code, close the settings menu and tap on the mailbox icon on the top right to open up your reward.
Where to get more codes for FarmVille 3
You can get new codes for FarmVille 3 by following their social media channels like Twitter and Facebook. Zynga posts new promotions, updates, and announcements for the game on social media, and that's where you can sometimes find unique codes. Alternatively, follow our code wiki as we round up codes from all over the internet and bring them to you in one convenient list.
FarmVille 3 Game Description
FarmVille 3 is available on Google Play and App Store for Android and iOS, and it is developed and published by Zynga Inc. It is a free-to-play game with in-app purchases ranging from $2.99 to $99.99.
Start your own animal farm from the ground up by breeding and building a thriving farm! You build the farm and decide which baby animals to raise and breed. You choose which animal habitats to renovate and where to expand your farm. It's up to you to build the biggest, most impressive animal farm for breeding and farming in all the village. Enjoy the latest in a line of amazing farm games and harvest games from Zynga!