Every Item Available in the Pixar Fest Star Path in Disney Dreamlight Valley
Here's all you need to know!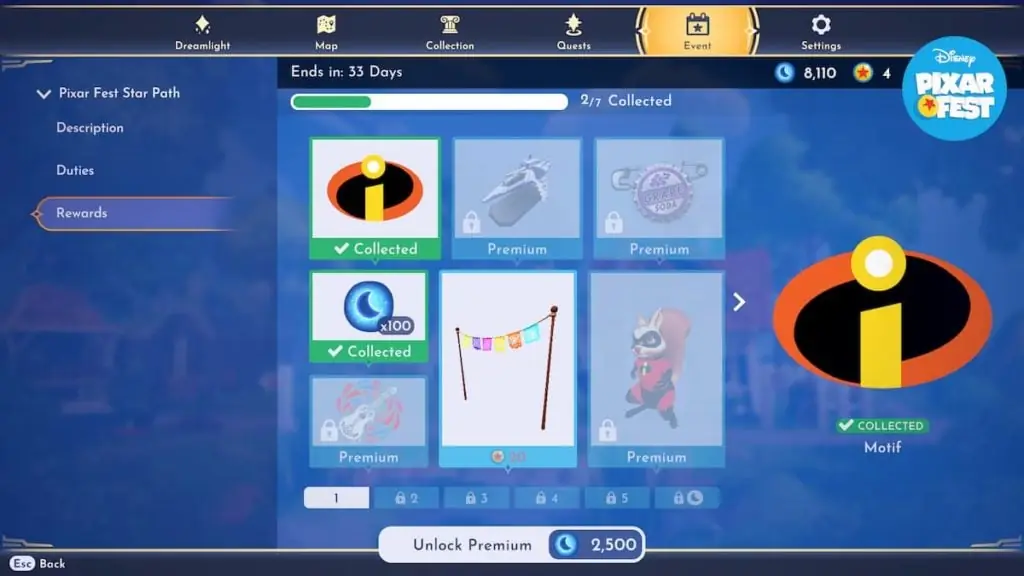 Gameloft has seemingly struck gold with the early access release of their latest title, Disney Dreamlight Valley. A life-sim title that also uses live-service elements, the game keeps players coming back for more as there's so much to do and unlock. One of the great things that players can pursue to unlock is the various different rewards within the game's own take on a season pass, the Pixar Fest Star Path.
With many items to unlock through redeeming the ticket-like Pixar Balls, there is a lot of work that goes into getting the fantastic rewards. Well, today we're going to show you all of the great items you can unlock through the Pixar Fest Star Path so that you can figure out what's the most important items for you to unlock first!
Every Item Available in the Pixar Fest Star Path in Disney Dreamlight Valley
There are a lot of great items for players to unlock throughout the Pixar Fest Star Path. Players will definitely want to start completing the Star Path-specific duties in order to unlock Pixar Balls for free or start using Moonstones to either purchase Balls or the Premium Pass in order to get more Pixar Balls to turn in.
There are exactly 36 different items available during the Pixar Fest Star Path for players to unlock. The current Star Path runs until October 11, so with less than a month to unlock everything, players are definitely going to need to get the Pixar Ball rolling. Of course, if you don't want to buy everything, you don't have to. Each of the 5 pages after the first is locked until you've purchased at least 3 items from the page before it.
Here's everything you can unlock!
Page 1
Incredibles Motif
XL-15 Spaceship Model
Grape Soda Motif
100 Moonstones
Miguel's Guitar Motif
Papel Picados
IncrediSquirrel
Page 2
Burro Pinata
Up House Motif
200 Moonstones
Space Ranger Motif
Lightning McQueen Logo Motif
Space Ranger Suit Display
Low-Boot Incredible Suit
Page 3
Guitars Motif
Edna Mode Motif
"Live the Music" Shirt
Lightning McQueen Motif
400 Moonstones
"Adventure Is Out There" Balloon Basket
Mr. Incredible Retro Suit Display
Page 4
400 Moonstones
Jack-Jack Motif
Piston Cup
Fredricksen Fireplace
Sox Motif
Elasticycle
High-Boot Incredible Suit
Page 5
Pixar Fest 2022 Shirt
Miguel Motif
Miguel's Guitar
800 Moonstones
Piston Cup Motif
Lightning McQueen Racing Jacket
McQueen Racing Bed
Page 6
That's all of the items available in the Pixar Fest Star Path! Good luck!
Related: When is Toy Story Coming to Disney Dreamlight Valley?