Destroy Gnomes at Camp Cod or Fort Crumpet Locations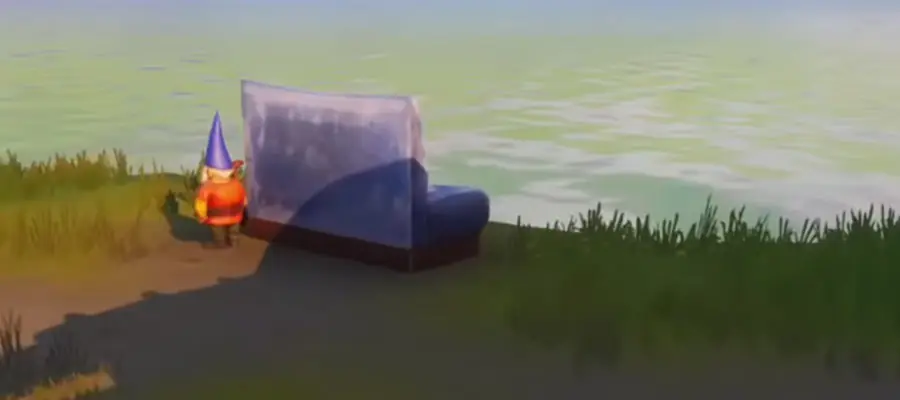 Fortnite Chapter 2 Season 2 has been extended for a couple of weeks, and that means we have some new challenges to complete. This week, Fortnite introduced the Location Domination Challenges. For one of the first challenges, we need to Destroy Gnomes at Camp Cod or Fort Crumpet locations. This guide will walk you through where you can easily find them on the map.
Destroy Gnomes at Camp Cod or Fort Crumpet Locations
This is a three step challenge, with each step rewarding a different amount of XP. First, we need to destroy 3 Gnomes, then 7 Gnomes, then 15 Gnomes. You can easily destroy the gnomes with something like a pickaxe to complete the challenge.
Gnomes at Camp Cod Locations
First, we'll cover the Gnome at the Camp Cod location. You will want to head to the south of the map, directly southeast of Misty Meadows on the small island off the coast. Here it is marked on the map for reference.
There's a bridge leading up to the island, and you can find the first gnome at the end of the bridge. Next, head to the campsite in the middle of the location and you will spot two more gnomes.
Next, you can head south and find one more gnome near the solar panels. Directly south of that you'll see a couch overlooking the water with another gnome sitting behind it.
Make your way east to abandoned campsite and you'll find another gnome next to a garbage can. Then, make your way up north to the other campsite and you will see a gnome next to one of the trees.
Gnomes at Fort Crumpet Location
The other location is Fort Crumpet, and that can be found northwest of Sweaty Sands on the peninsula.
Make your way inside the fort from the east, and make a right. You'll see a gnome behind the cash register. In the same room you'll find another gnome next to the vending machines.
Make your way from that area southwest into the other part of the fort. You'll see a room lit up by a lantern with a gnome in there.
Around the corner from that room, you'll see a set of stairs with the next gnome chilling underneath of them.
Head up the stairs and across the bridge. Up here you'll find a few gnomes. The first gnome is to the left after the bridge, and another is to the right after crossing the bridge.
Head up another flight of stairs and you'll find a gnome near the stairwell on the next floor up. Continue up the stairs again to the top level and you will find the final gnome on the railing.