Destiny 2 Class Act Triumph Guide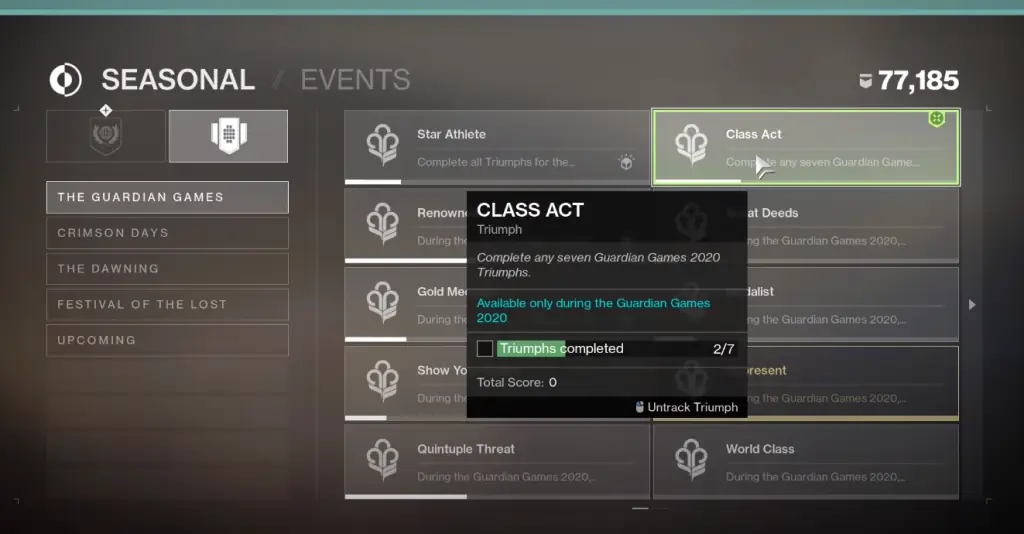 Several new Triumphs were added this week in Destiny 2 for the Guardian Games event. One triumph rewards players with an exotic machine gun, but you'll need to complete a bunch of other triumphs beforehand. This guide will walk you through exactly what you need to do to complete the Destiny 2 Class Act triumph.
Destiny 2 Class Act Triumph Guide
There are 7 other Triumphs that might be completed from the Guardian Games to unlock Class Act triumph. Here's a list of all the different triumphs, from which you need to complete seven:
*Embrace the Light – Kill 25 Guardians using supers in Rumble in the Crucible.
*Gold Medalist – Get 30 gold medals.
*Great Deeds – Collect Laurel in Gambit matches, Strikes, Forges, and Destinations.
Guardian Gamble – Get 10 Gambit Medals.
Medalist – Get 75 Medals from Eva Levante.
*Quintuple Threat – Get 1 gold medal in Crucible, Gambit, Strike, Forge, and Destinations.
*Renowned – During the Guardian Games, earn points by collecting Laurels from Super, Grenade, and Charged Melee final blows.
*Represent – Defeat enemies using Abilities (Melee, Grenade, Super) in Strikes and Nightfall.
*Show Your Colors – Complete Bounties in Guardian Games.
World Class – Get 20 Forge or Destination Medals
It's up to you as to which seven other Triumphs you want to complete to unlock Class Act. Many triumphs are completed through grinding out Laurels. Check out our guide on how to farm Laurels quickly if you need some tips.
The earliest you will be able to complete the Class Act triumph is likely by Thursday if you are playing around the clock.
Rewards for Completing Destiny 2 Class Act Triumph
For completing the Class Act triumph, you will unlock the Heir Apparent exotic machine gun, which has the following intrinsic trait and perks:
Heavy Slug Thrower – Use right-click to spin up. This weapon can be fired only when fully spun up.
Armor of the Colossus – While at full health, spinning up this weapon protects you with an Arc Shield.