Clicker Simulator Codes (October 2022)
This Roblox Clicker Simulator codes list has all the OP codes that you can use to redeem free pets, boosts and more.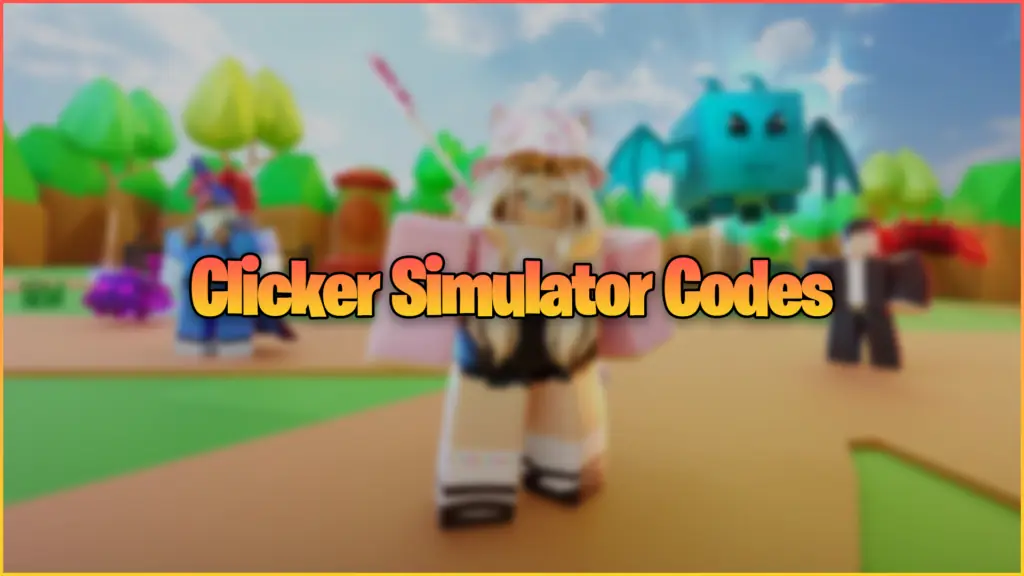 Clicker Simulator is an experience developed by Pressure Studios for the Roblox metaverse platform. In Clicker Simulator your job is to, well, click! Click as fast as you possibly can to gain in-game clicks and use them to buy rebirths which will make you more powerful. Buy pets to give you massive buffs and unlock new worlds to explore. You can even buy jumps to go up vertically through the map.
You can use this Clicker Simulator codes list to redeem all the latest available freebies. We have the most up-to-date list of new working codes around. Find out how to redeem codes in Clicker Simulator under the list section below. Bookmark this page by pressing CTRL+D on your keyboard, and check back frequently for updates.
Clicker Simulator Codes List
We have the complete list of codes for Clicker Simulator below. You can redeem these codes for free boosts, pets, and more. Pets will give you massive buffs, but many of the pet codes are only out for a limited time. Use them before your exclusive pet is gone forever. Codes expire quickly, so make sure to use them when you see them active, or else you might miss out!
Current Clicker Simulator Working Codes
Last checked: October 6, 2022.
HIDDENX61 – 30 minutes of 6x Hatch
HIDDENX6112 – 1 hour of 6x Hatch
X6EGGOP – 2 hour of 6x Hatch
550KCODELIKE2 – 3 hour of Double Luck Boost
525KLIKECODE1 – 3 hour 2x Luck Boost
twitter200kluck – 7 hour 2x Luck Boost
CODE500KLUCK – Reward
2HOUR475LUCK – get a double luck boost for 2 hours
2HR500LIKE – a 2-hour 2x Luck Boost
LUCKY5000 – a 2-hour 2x Luck Boost
400DOUBLELUCK – a 2-hour 2x Luck Boost
LUCKYCODE21 – a 2-hour 2x Luck Boost
LIKECLICK12 – a Boost
325CLICKS2 – 1 hour 2x Clicks
tokcodeluck12 – a 2 hour 2x Luck Boost
twitter100k – 2 hours of 2x Luck
2xlongluck350

– a 2 hour 2x Luck Boost
Expired Codes for Clicker Simulator
freeautohatch – 1 hour Free Auto-Hatch
300DOUBLELUCK – 1 hour 2x Luck
300SHINYCHANCE – 1 hour 2x Shiny Chance
10KLikes – 2x Click Boost 1 Hour
125KLUCK – 3 hour 2x Luck Boost
150KCLICKS – 3 hour 2x Click Boost
175KLIKELUCK – 1 hour 2x Luck
200KLIKECODE – 1 hour 2x Shiny Chance
2022 – 2022 Champion Pet
20KLIKES – 3 hour free Auto-Hatch
225KLIKECODE – 1 hour 2x Shiny Chance
250KLIKECLICKS – 1 hour 2x Click Boost
275K2XSHINY – 1 hour 2x Shiny Chance
30klikes – 2 hour 2x Luck Boost
50klikes – 5 hour 2x Luck Boost
70KLIKES – a free Boost
75KLIKES – 3 hour 2x Luck Boost
FREEAUTOHATCH5 – 2 hours of auto-hatch
UPDATE4HYPE – 2x Luck Boost 1 Hour
How to redeem codes in Clicker Simulator
Here is how to redeem codes in Roblox Clicker Simulator:
Launch Roblox Clicker Simulator on your device.
Tap on the Menu icon
Tap on the Twitter icon in the Menu.
Enter a working code into the code redemption box.
Press the Confirm button to redeem the code.
Enjoy your free in-game rewards.
How to get more codes for Clicker Simulator
To get more codes, you can follow the official ActiveWizardRBX Twitter account for updates and announcements. You can also join the official Clicker Simulator Community Discord server to chat, get updates and announcements, and more. Alternatively, follow our code wiki to get all of the new updates and freebies. Remember to check back often!
These are all the known codes listed for Roblox Clicker Simulator. As soon as new ones release, we will add them to our list, so remember to keep us bookmarked and check back soon!
Explore other experiences on our Roblox game codes page to find your favorites. Check out our Roblox promo codes page for new outfits and other freebies for your in-game avatar.