Bugha Wins Fortnite World Cup Solo Final 2019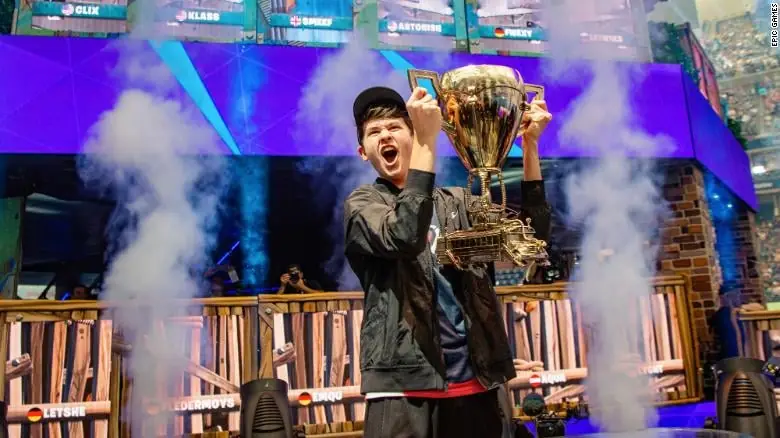 Bugha Wins Fortnite World Cup Solo Final 2019
Kyle 'Bugha' Giersdorf, a 16-year-old professional Fortnite players from Pennsylvania has been crowned champion of the Fortnite World Cup Solo event. With this win, he takes home a massive $3,000,000 first place prize.
New York City's Arthur Ashe tennis stadium was filled this July 26th to July 28th for the Fortnite World Cup event. The main event was held on Sunday, July 28th with the first place prize of $3,000,000. This is the largest ever prize for a single player esports tournament in the history of gaming.
Bugha ended up in first place with a total of 59 points, which was a 26 point lead over the second place player 'Psalm', who took home $1,800,000 for his finish. In 3rd place we had EpikWhale, with a $1,200,000 winning, and in 4th was Kreo, with a $1,050,000 cut of the pool.
Bugha plays for team Sentinels. In a post-victory interview, Bugha said, "Words can't really explain it. I'm so happy. Everything I've done in the grind has all paid off and it's just insane."
This is the future.

Our 16 year old player just won $3,000,000.

Let that sink in.

— Sentinels (@Sentinels) July 28, 2019
He detailed his thought process during the final match, and said that he found a safe spot to keep an eye on his enemies and collected lots of loot and ammunition through the match. After he posted up, he figured his win was pretty much sealed at that point.
Second place winner was 24-year-old Harrison 'Psalm' Chang, an ex-professional Heroes of the Storm players. He was one of the oldest players to compete in the Fortnite tournament. Shane "Epikwhale" Cotton, a 16 year old from Redondo Beach, California pulled up the third place spot.
Bugha's social media accounts like YouTube, Twitter, and Twitch have gained a massive increase in followers after his win. Bugha was well known in the competitive Fortnite community prior to his victory, but now he will go down in Fortnite history as a champion.
One player that made an impression during the tournament was a 13-year-old kid from Argentina, Thiago Lapp, also known as King. In the earlier stages of the tournament, he was a kill leader for several games and managed to rack up dozens of points from kills alone.
King's aggressive play style is a signature, as with most South American players. He placed 5th and managed to take home $900,000.
Everyone who competed in this tournament took home at least $50,000 just for playing, even if they managed not to score a single point. Epic Games promises they will be hosting more tournaments in the future, including at least one more this year.