Best Builds for Yakuza 0 Pocket Circuit Races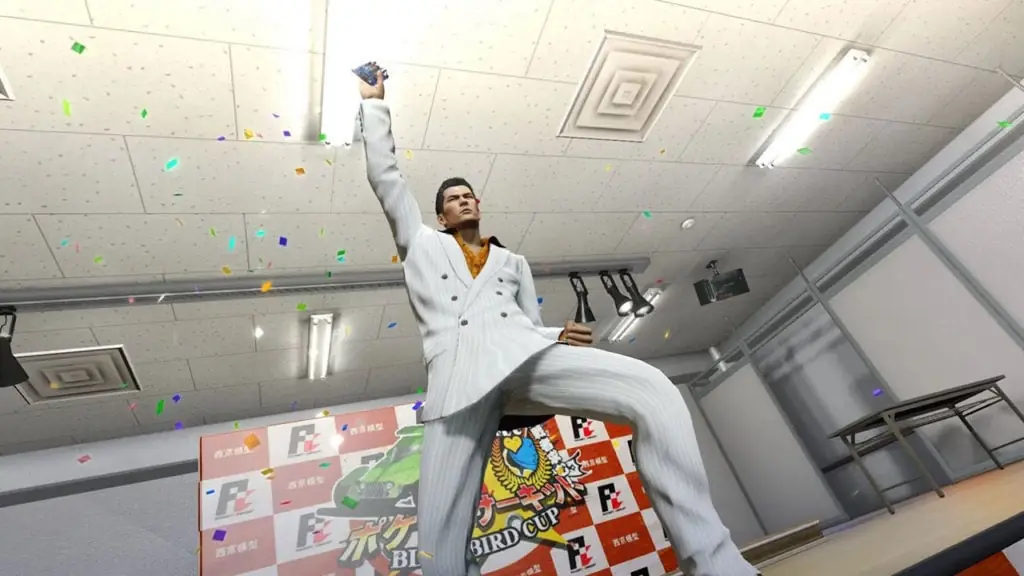 You ever watch a product placement anime like Beyblade or Yu-Gi-Oh and wonder what it would be like to live in a world that revolves almost entirely around children's collectible toys? Well, if you get engrossed in the Pocket Circuit races in Yakuza 0, you can get a little taste of that collectible lifestyle, and buddy, it tastes sweet. Here are the best builds for the Pocket Circuit races in Yakuza 0.
A Pocket Circuit car's performance is determined by seven types of component: body, tires, frame, motor, gears, battery, and add-ons. Every Pocket Circuit, er, circuit has different hazards and terrain types that necessitate different blends of speed, weight, handling, and longevity. Bodies are usually won from cups, the other parts can be bought from the Pocket Circuit shop counter, as well as the West Park weapons dealer, Ebisu Pawn, and Don Quijote, though I hope you're prepared to lay down some serious cash 'cause these lumps of plastic and metal ain't cheap.
Best Builds for Yakuza 0 Pocket Circuit Races
Here are the best car builds for every Pocket Circuit race, sourced from the Yakuza 0 community at large:
Intro Race
Golem Tiger
Soft Tires
Balanced Frame
High Torque Motor 2.0
Regular Gears
Regular Battery
Little Racer's Cup
Golem Tiger
Low Profile Tires Plus
Balanced Frame Plus
High Torque Motor 2.0
Regular Gears
Regular Battery
Rookies' Race
Golem Tiger
Soft Tires Plus
Balanced Frame Plus
High Torque Motor 2.0
Balanced Gears Plus
High Capacity Battery
Side Stabilizer 2.0
Pro-Am Race
Golem Tiger
Extra Spiked Tires
Balanced Frame Plus
High Torque Motor 2.0
Godspeed Gears
Regular Battery
Side Stabilizer 2.0
Light Suspension
Experts' Race
Drag-On
Super Soft Tires
Super Metal Frame
High Torque Motor 2.0
Godspeed Gears
Regular Battery
Medium Suspension
Champions' Race
Drag-On
Super Low Profile Tires
Super Metal Frame
High Torque Motor 2.0
Godspeed Gears Plus
Regular Battery
Medium Suspension
Bumper Plate
King of Speed Cup
Cool Striker
Ultra Slim Tires
Ultra Rocket frame
Godspeed Motor (Mark II works too)
Super Boost Gears
Regular Battery
Heavy Suspension
Bumper Plate
Versus Takuma
Golem Tiger
Soft Tires Plus
Balanced Frame Plus
High Torque Motor 2.0
Balanced Gears
Regular Battery
Versus Hideki
Golem Tiger
Low Profile Tires Plus
Balanced Frame Plus
High Torque Motor 2.0
Balanced Gears
Regular Battery
Versus Mika
Golem Tiger
Soft Tires Plus
Metal Frame Plus
High Torque Motor
Godspeed Gears
High Capacity Battery
Side Stabilizer 2.0
Versus Satoru
Drag-On
Super Soft Tires
Super Rubber Frame
High Torque Motor 2.0
Godspeed Gears Plus
High Speed Battery
Bumper Plate
Versus Sena
Drag-On
Super Soft Tires
Extra Metal Frame
High Torque Motor 2.0
Extra Godspeed Gears
High Speed Battery
Light Suspension
Versus Harumi
Drag-On
Ultra Spiked Tires
Ultra Rocket Frame
Godspeed Motor
Extra Balanced Gears
High Capacity Battery
Side Stabilizer
Medium Suspension
Versus Kazuyoshi
Cool Striker
Ultra Slick Tires
Ultra Metal Frame
Godspeed Motor Mark II
Ultra Balanced Gears
High Capacity Battery
Side Stabilizer 2.0
Heavy Suspension
Versus Pocket Circuit Fighter
Cool Striker
Ultra Spiked Tires
Ultra Balanced Frame
Godspeed Motor Mark II
Ultra Balanced Gears
High Speed Battery
Side Stabilizer 3.0
Heavy Suspension
Bumper Plate