Apex Legends Solo Mode To Be Available For Limited Time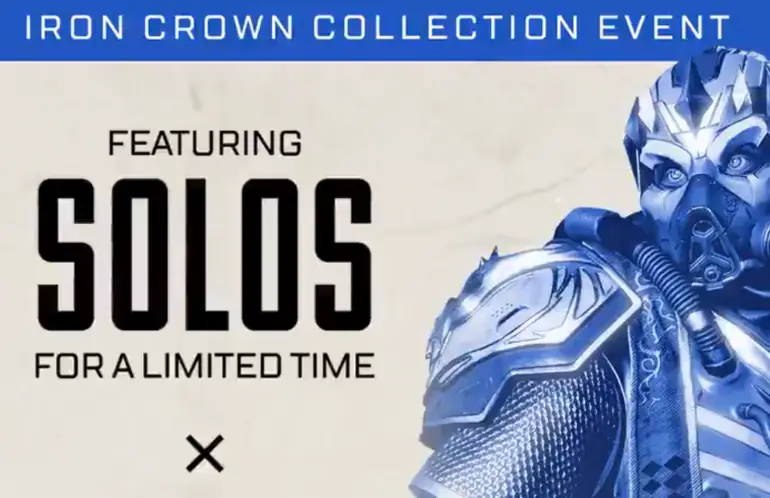 Apex Legends has grown rapidly in popularity since its release earlier this year. The game has only allowed players to play in groups of three, but that is about to change next week. The Iron Crown Collection Event was announced on the Apex Legends Twitter account on August 6.
This event features an all new Apex Legends Solo Mode for a limited two-week time. The event starts on August 13 and will run until August 27. You can see the official announcement here:
Next week, only one can reign. 👑

The Iron Crown Collection Event featuring an all-new Solos limited time
mode begins 8/13. pic.twitter.com/8tG4EhIqQf

— Apex Legends (@PlayApex) August 6, 2019
In the trailer for the new event you can see the Legends' squad mates slowly fade away, with a message from the Twitter account saying "only one can reign." The solo mode will only be available for a limited time, so many people are looking at it as a testing phase for the solo mode.
The game is designed to be played in groups of three as opposed to solo, and many people have been predicting this new mode might not be a big hit throughout the community. One of these people voicing their opinions is pro gamer Mike "Shroud" Grzesiek.
One of Shroud's main concerns is that they won't be able to balance character abilities for solo mode. The entire game will require a character re-balance, which is not something Shroud sees Respawn Entertainment doing at any point.
Overall, he's predicting that it won't be that popular. "I think it will come out limited time, for two weeks, people are going to try it, they're going to hate it, and then they are going to pull it in two weeks and [Respawn Entertainment] probably won't do it again."
Only time will tell whether or not Apex Legends Solo Mode will be a success or not. Hop on the game next week on August 13 to test out the game mode for yourself.