Apex Legends Grand Soiree Rewards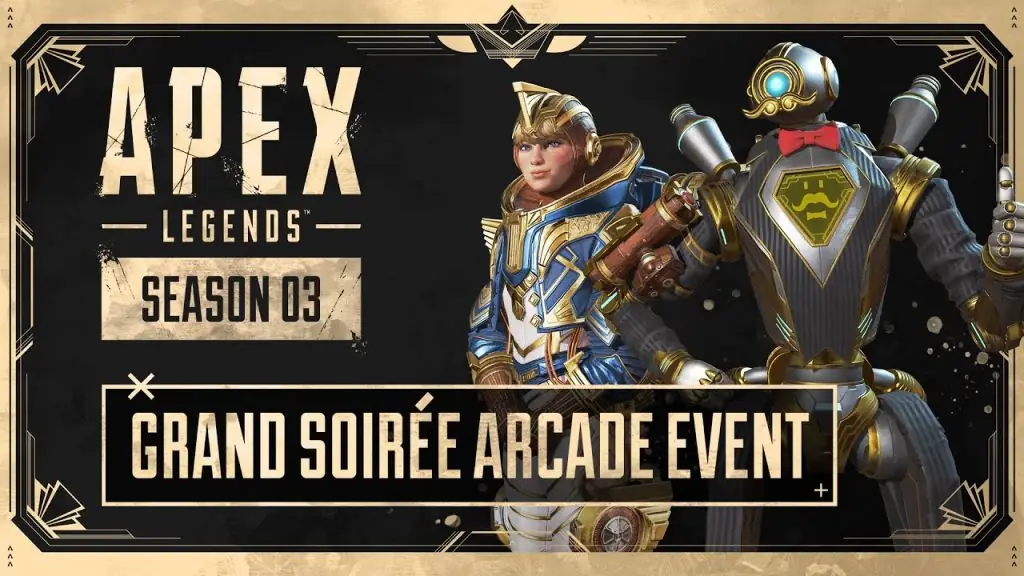 Apex Legends new Grand Soiree event will start this week on January 14th, 2020. Respawn Entertainment is looking to celebrate the roaring twenties with new limited-time rotating game modes and a new way to earn some rewards.
During this new event, a new limited-time arcade mode will be unlocked and available for play every two days. While some modes may look familiar to Apex Legends veterans, there are some brand new ones to test out.
Apex Legends Grand Soiree Rewards
Players can earn rewards by playing games in the limited time modes, with each mode containing three challenges. Rewards include skins for weapons and characters, loading screens, badges, and more.
Here's a list of the current rewards that have been announced:
250 points: Event badge
500 points: Golden Peacekeeper skin
750 points: Epic Mirage skin
1,000 points: XP boost and stat tracker
1,500 points: Loading screen
2,000 points: Pink/Gold R-301 skin
2,500 points: Badge
3,000 points: XP boost
3,500 points: Stat tracker
4,000 points: Badge and epic Havoc skin
5,500 points: Legendary Havoc skin
Legendary Havoc Skin
"Fancy" skins will be unlocked for Mirage, Pathfinder, Bloodhound, Wattson, Lifeline, Bangalore, Caustic, Octane, and Crypto.
The new game modes in this event are:
Gold Rush Duos: Gold weapons only with you and a friend
Third-Person mode: A classic out of body experience
Armed and Dangerous World's Edge: Shotguns and Snipers with limited armor
Kings Canyon After Dark: Play on Kings Canyon at night
Dummies Big Day: This game ain't gonna test itself
Live Die Live: Automatically spawn on living squadmates when the ring closes
Always Be Closing: Keep on the move from a big ring that won't slow down
These are most of the details we know so far about tomorrow's event and the rewards associated with it. Best of luck out there tomorrow!