AC Mirage Best Weapons
For when a hidden blade isn't gonna 'cut' it.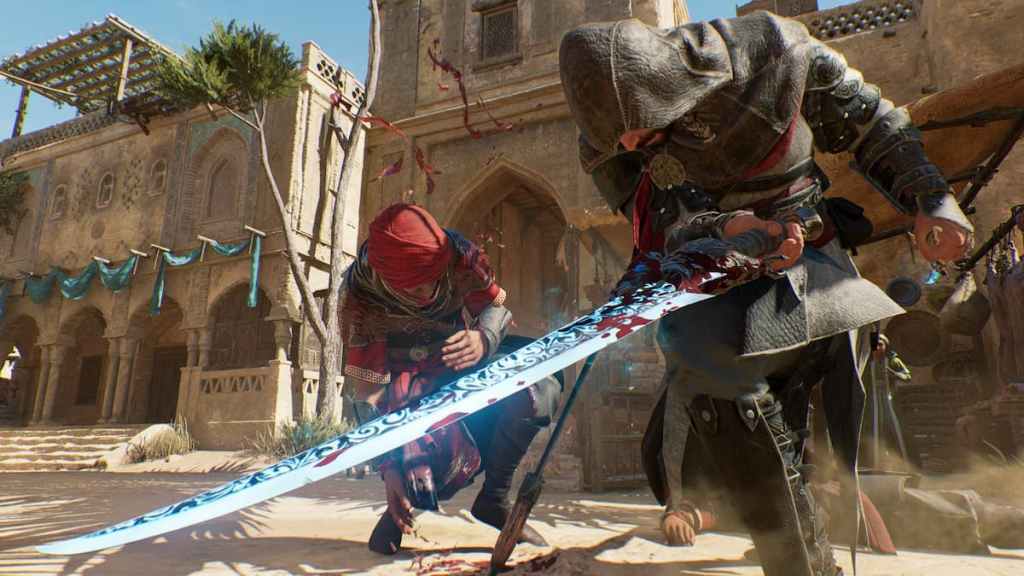 While hidden blades are an assassin's go-to weapon, certain scenarios require different approaches. As such, a master assassin always knows to bring a few extra tools with him in case things go sideways. That is why in Assassin's Creed (AC) Mirage, players are able to equip Basim with a sword and dagger combo.
While the game only has 6 swords and 6 daggers (excluding DLC/paid weapons), each one has its strengths. However, deciding which ones are worth spending your hard stolen Dirham on is difficult. That's why we are going to break it down and take a look at AC Mirage's best weapons.
Our lists will be divided into swords and daggers, respectively, and we'll provide you with the name and description of the perk. There is no particular order for the list, as each one we've selected has unique perks that might be more useful in certain situations. Below the list will be a brief summary of the weapons, as well as a deeper explanation of their perks and what makes them useful. So, let's start with the main hand weapon, the sword.
Best Swords in AC Mirage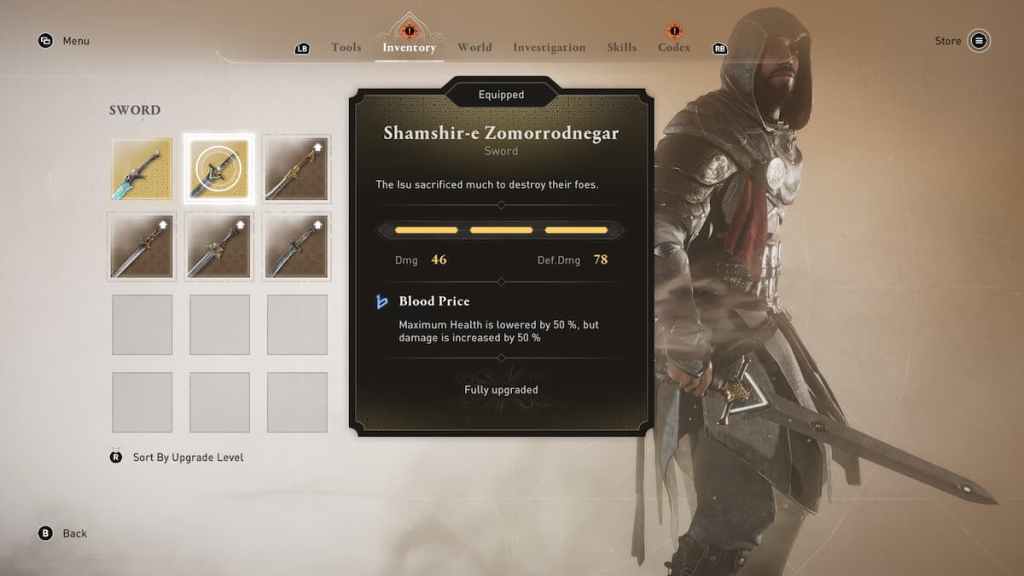 Rostam Sword (Chain Reaction) — Every Consecutive Attack deals +5% damage, up to a maximum of +50%
Shamshir-e Zomorrodnegar (Blood Price) — Maximum Health is lowered by 50%, but the damage is increased by 50%
Hidden One Sword (Venomous) — Every fifth hit Poisons the enemy
The Rostam Sword is one that players are going to want to pick up at your earliest convenience. Players can complete the contract 'The Weapons Dealer' early on in the game, as contracts are treated as side quests. Furthermore, the Rostam Sword shines brightest when going up against large enemies with front-facing armor, as the more damage you inflict, the more damage your next attack deals. Making it a trusted sword to have in longer fights.
The Emerald-Studded Sword, or the Shamshir-e Zomorrodnegar, is up on the list for its impactful perk, Blood Price. While you do lose 50% of your health, in the right hands, this weapon can mow down legions of enemies if you're a careful and skillful swordsman. You can snag this weapon from the hidden chamber under the northern oasis for 3 mysterious shards.
Rounding out the swords is the Hidden One Sword, located in the Abandoned Caravanserai in the Wilderness. This weapon, much like the others, does great when stuck in fights with large amounts of hostiles. With the Hidden One Sword's Venomous perk, players can deal damage-over-time (DOT) to larger enemies while picking off the small fries.
Related: How to Get Far East Merchant Costume in AC Mirage?
Best Daggers in AC Mirage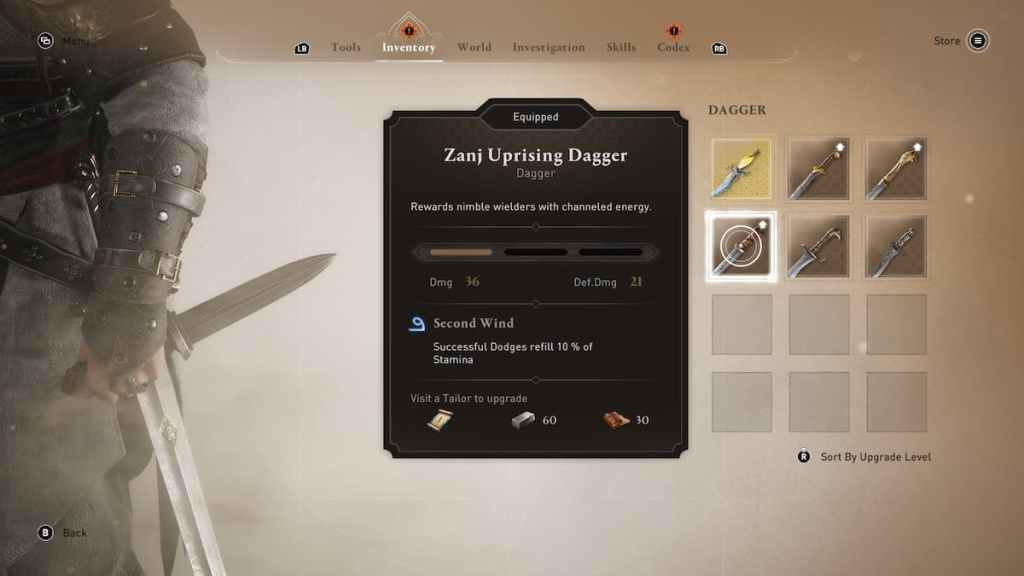 Zanj Uprising Dagger (Second Wind) — Successful Dodges refill 10% of Stamina
The Samsaama (Life Steal) — Every Fifth Hit heals Basim for 10% of his Health
Abbasid Knight Dagger (Resilient) — When Basim's Health is lower than 50%, Damage Resistance is increased by 30%
The Zanj Uprising Dagger is one you can collect from a gear chest in The Great Bimaristan. For some reason, Ubisoft elected to keep the stamina system for AC Mirage, making players focus on how many times they attack/dodge. But with the Zanj Uprising Dagger in your hand, every time you correctly dodge an enemy, you earn some of that sweet, sweet stamina back. What's more, players who get aggressive when spotted will be able to deal more damage, thanks to the extra stamina you earn back.
Next up on our list of daggers is the other weapon you can earn from the hidden chamber in the northern oasis. For 2 mysterious shards, you can obtain The Samsaama. And to be honest, it seems this weapon pairs well with its sword counterpart. This is primarily due to The Samsaama's Life Steal perk, granting healing on every fifth attack you land. If you find enough of the shards early enough, consider taking a trip out to the oasis; it might be worth your while.
Finally, we have the Abbasid Knight Dagger, located at the Qasr Salih in Sharqiyah, Karkh. This dagger may seem like a step down from the rest, but it might be your best option. With the defense perk Resilient, you gain more damage resistance when you're below a certain point in your health. And while we can't guarantee this will act as a shield of sorts, the extra defense could help you escape from the clutches of demise.
---
Be sure to follow our Facebook page for the latest gaming news and updates. Check out our other articles like 'Are There Present Day Events in AC Mirage?' and 'Where Is the Confiscation Warehouse in Assassin's Creed Mirage?' If you're looking for the best guides, lists, and more on all the latest games, stay locked in right here at Gamer Journalist.
About the author