5 Letter Words with R in the Middle – Wordle Guide
A complete list of all 5-letter words with R in the middle to help you with the daily Wordle.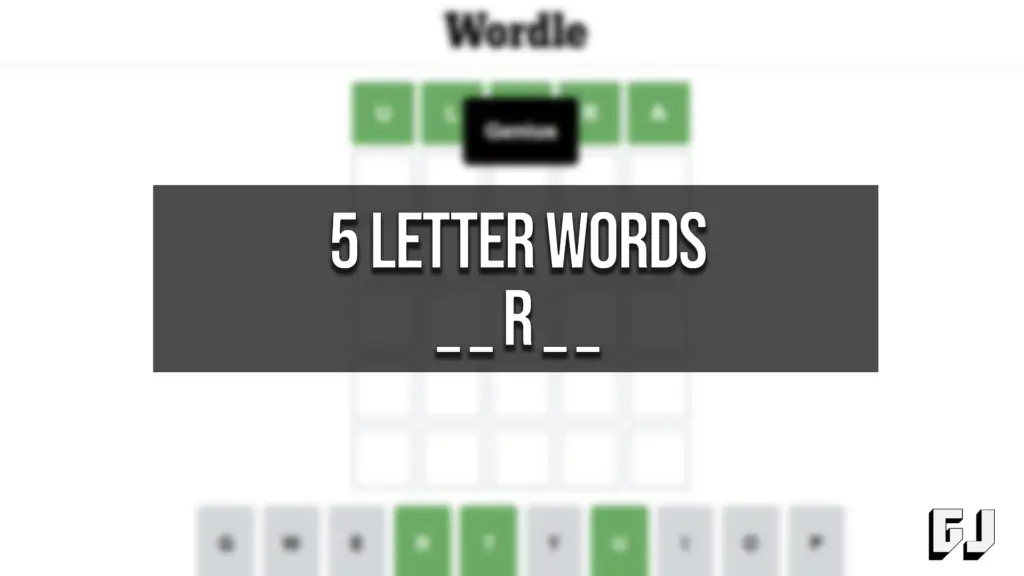 Wordle is a word puzzle game where players get a total of six guesses to figure out a unique 5-letter word. Guessing the word can sometimes be a challenge, especially if you run out of ideas or get some clues that stump you. If you have a Wordle clue that needs 5-letter words with R in the middle, we have a list of words below to help you out.
Words with R in the Middle
Below is a list of Wordle-compatible 5-letter words with R in the middle that you can use for your daily guesses. Based on the in-game feedback, you can eliminate some words that have incorrect letters to narrow down the list. Use the remaining words to make an educated guess at today's word.
5-Letter Words with R in the Middle List
sprad
zeros
strop
serai
sorra
tarok
soree
rores
surds
sprew
tares
saris
targa
sprat
morns
merch
scrob
kerry
jarls
scrow
sprug
lurex
marvy
mirza
furol
verse
naras
nurrs
berry
tarps
sorel
tarot
rurus
scrim
skrik
morph
jerky
serum
warty
curio
sorts
nerdy
morra
three
perch
karks
egret
harsh
stray
borax
forth
terfe
seral
birls
aerie
stria
loral
dirge
maror
jures
throe
beres
jarul
shrug
borna
karsy
barge
shrew
bergs
varec
arris
murly
tired
burst
cures
furrs
loran
reran
borks
curse
garis
early
mural
tarry
gorge
strae
turme
turfy
firth
turbo
fyrds
torcs
kirks
airts
lerps
kerel
sured
tyros
scrab
larns
spree
forte
verbs
euros
narco
carpi
vired
sprit
mpret
sired
eyrir
scrap
bardy
marry
saros
toras
corni
fards
dirks
barry
varve
noria
nerks
beray
auric
tirls
strum
auras
berks
merit
darky
barbe
murre
dured
doris
farms
turds
dorse
berme
pardy
oared
shred
barde
borgo
sprod
barye
darbs
surat
jurat
curie
bards
unrip
barra
darns
biros
toran
verry
rerun
throw
surer
carts
worth
servo
taras
narre
korma
lures
forgo
world
torch
muras
dorky
screw
coral
array
pared
barby
torse
borak
durrs
farad
aeros
abris
naris
shris
darts
tarns
durst
berms
germy
germs
buras
thraw
dorsa
surgy
turnt
furze
mured
hyrax
dervs
siroc
acrid
duroc
murry
garre
lords
dores
borde
turns
apres
girth
hardy
farcy
morro
fords
gerle
burka
ferer
naric
byres
girts
nerds
virge
torta
nurls
burro
meris
juror
lirot
birse
porch
farer
yarns
tarre
narky
ihram
berob
harns
parge
darks
agria
siree
lurch
sered
okras
taroc
borms
baric
nirly
forty
yarer
seric
burly
verve
cerne
garth
corms
eorls
deros
hared
narcs
mercs
barca
derry
tarty
dirke
airns
erred
narks
scrag
kyrie
bored
bords
nards
sared
murri
warms
garbs
sorex
burks
purse
verts
tires
sards
darzi
deres
terry
xerus
forze
murls
doric
larnt
sures
morel
daric
karts
firer
merde
agree
surly
nerve
forex
horde
surah
yarto
straw
paris
roric
mures
dered
dorba
foram
lirks
mirly
derig
marcs
sorda
doree
weros
sores
nerts
ecrus
aurae
carve
lores
horsy
daris
march
saran
murks
cards
furls
borer
horis
parer
shrub
terga
lyric
verge
sords
marae
atrip
norms
heros
koras
fares
dormy
meril
varas
carry
serge
omrah
lured
karma
kerky
hirer
mirid
wersh
marka
lered
wires
nerka
apron
paren
murva
dorty
pares
dorbs
cargo
harts
warks
duros
fural
orris
furth
nirls
pards
mirky
yards
deray
lyres
kirns
ocrea
direr
durgy
ferny
marks
derny
derth
jirre
sorer
serrs
murex
herds
ferns
syrup
eyres
barms
acred
merge
durum
varan
horme
karoo
derms
terfs
vires
diram
forms
terse
gares
dures
varix
hertz
morae
kerne
force
larks
carol
cared
dorps
abrin
harls
horny
boron
aurar
morne
gyral
ydred
dorrs
harry
rorts
teres
serow
tared
porae
farro
furry
tiros
dorts
morts
ferms
morse
aurei
hares
gyron
xeric
saree
berth
girds
parse
murrs
hards
gurly
horas
pirog
nurds
hurts
jural
fires
seres
garda
sarin
jarta
aorta
torsk
carbs
parry
murid
serve
abray
dared
hiree
serre
norks
nertz
sordo
karos
derro
harpy
rorid
caret
torot
ogres
agros
maras
sprue
yerds
dirls
arrah
parol
porns
cores
birrs
worse
mercy
heres
carbo
curly
burbs
owres
gerbe
cured
jerks
virus
buran
pyric
carns
purpy
parev
marly
eyrie
torte
garum
maria
neral
harem
warre
scraw
owrie
cardi
nerol
sarod
foray
derat
tyres
syrah
certs
eared
curat
warst
curli
enrol
ourie
earns
harms
aural
circa
beret
torus
merls
torii
marah
murti
furan
toric
puree
forge
bortz
goris
sorbo
lordy
hired
farci
warby
thrum
corer
karat
perdy
goral
curst
kerbs
serin
pirns
yerba
paras
xerox
scram
scrat
terns
noris
surfs
eerie
pareo
curer
pyran
tirrs
afrit
perce
nurdy
nares
jarks
aures
merry
afros
sorry
cirri
birle
dargs
girrs
karst
marsh
siren
mirks
beryl
dural
barny
varus
warps
karns
durra
leres
umras
wormy
laris
boree
feria
curia
yarco
lorel
ferry
ibrik
norma
perts
tardy
scrip
strim
terms
horse
jarps
torsi
sorta
adrad
firms
forum
carap
hurra
vireo
carex
worms
largo
dorks
moras
dares
strap
zaris
parch
yirks
strip
perve
certy
serks
carls
porty
merel
boras
cored
furor
gorms
sarge
derns
warez
boric
parve
forel
spray
carte
first
kerfs
firie
moray
corey
fired
farle
purls
geres
wurst
forme
atria
forks
scrod
horks
girls
sprag
rares
dorad
hurst
jorum
dorms
scree
murra
carom
firry
barro
pyrex
dirts
carat
giros
herry
barbs
herns
sprog
garbe
yarks
parky
pervs
peril
feres
darga
korus
keros
terek
parks
berko
inrun
eyras
wards
bores
targe
carle
herse
karas
darre
earnt
birch
birks
purge
barns
carvy
That is our complete list of Wordle-compatible 5-letter words with R in the middle to help you figure out today's puzzle. Try your best to figure it out, and consider checking out some of our other Wordle posts if you want some other word lists and clues. If you are a lover of word games, you can check out some other related word-guessing games like Quordle, Heardle, and Octordle.