Where to Find All Bunkers in Sons of the Forest
Spend some time away from those Cannibals and get creative with the 3D Printer
There is a lot of exploration needed to be done in Sons of the Forest for its early access release. From diving into the darkness of the Caves to learn the Island's secrets or to find those all important Keycards to progress through the story. With a total of three Keycards to obtain in the game in order to reach the end point, the Bunkers are an essential part of Sons of the Forest's gameplay. Unlike the Caves which are important to gaining knowledge and quenching that curiosity of the Island's mysteries. This guide will show you where to find all Bunkers in Sons of the Forest.
The Importance of Bunkers in Sons of the Forest
Bunkers are an essential part of your expedition in Sons of the Forest. Whilst you may not believe it, these act as means to upgrade your gear and to obtain crucial narrative progression items. Within these Bunkers you can obtain items such as Keycard which are required to progress to the end of the game and getting to those all important 3D Printers. These act as a form of Crafting Table where you will be able to make yourself the much needed Flask to hold Water so you have a constant supply as you explore the Island away from your Base. You can also craft extra gear such as Tech Mesh Armor and the Sled as a fast-travel means to get down from high places such as Mountain Tops.
Outside of the 3D Printer however, you too can pick up multiple cosmetic items for your Companions to wear in game. These can be swapped out depending on whatever mood you are in for Kelvin and Virginia to rock. Unfortunately when Winter hits however, Virginia cannot fully cover up to keep warm. But seeing as she was rocking that white vest before, I doubt she needs the additional help. Bunkers act as a supportive means to get great loot to increase your survival odds. It also is essential that you find specific Bunkers in order to progress through the story which will eventually end at the VIP Bunker.
Related: All Virginia and Kelvin Outfit Locations and How to Give Clothes to Companions in Sons of the Forest.
All Bunker Locations in Sons of the Forest
There are a total of seven Bunkers in Sons of the Forest, with more likely to be added into future updates or within the full release of the game. For now however, each Bunker is incredibly important, for either obtaining extra loot and getting to those helpful 3D Printers, or to collect those Keycards. Some Bunkers are only accessible by obtaining their relevant Keycard however, such as the VIP Bunker for the end game which requires the Virginia's Keycard to access. To get to her Keycard however, located in Food & Dining, you need to get the Maintenance Keycard in Maintenance A Bunker. Although these are close together, to get inside the Maintenance A Bunker, you need the Shovel as the hatch to the Bunker is buried.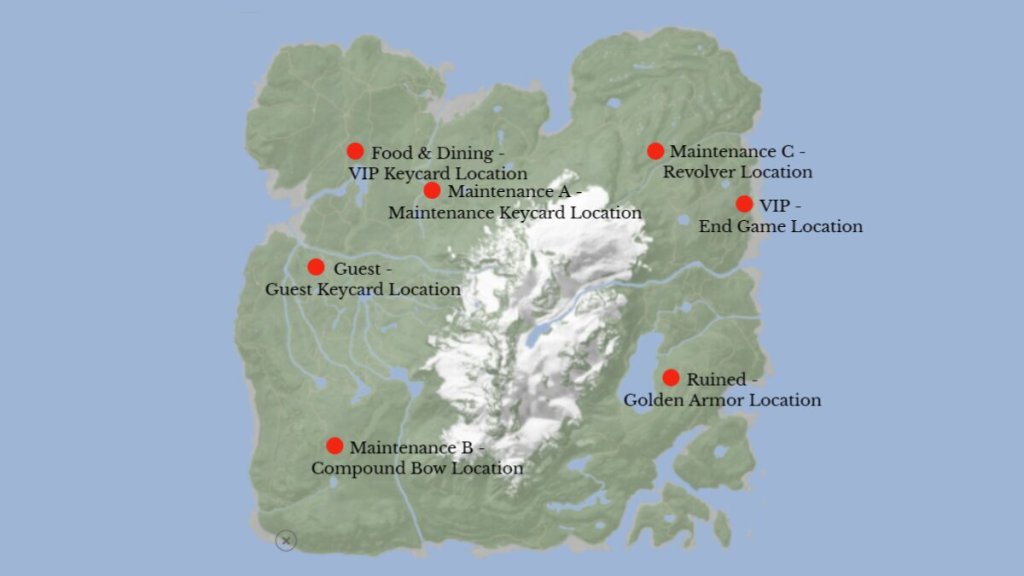 Therefore the order in which you need to enter these Bunkers to progress through the game's story is to hit Maintenance A first, going to Food & Dining after and finally VIP. However, you should definitely visit the other Bunkers to obtain extra Weapons and loot that will be incredibly helpful in your survival in the game, for achieving the Sons of the Forest ending or if you decide to remain on the Island after the fact.
---
That was our guide on where to find all Bunkers in Sons of the Forest. Thank you so much for reading, we hope this guide was useful in your search. If you are looking for more Sons of the Forest guides, feel free to check out our website for everything survival horror related.