Where to Catch Largemouth Bass in Stardew Valley
Any good angler has to know where their prey lurks before they can fish them up.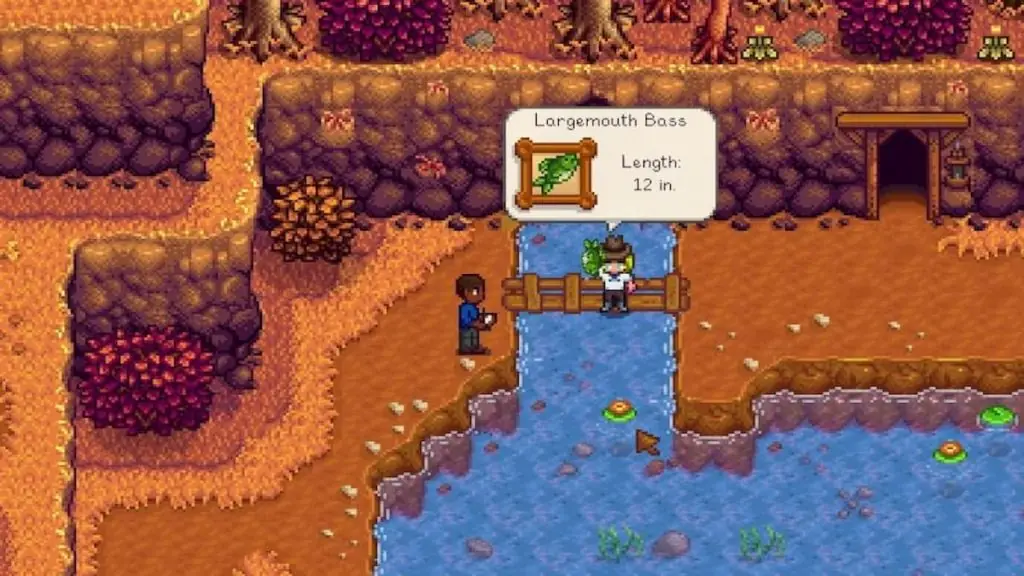 The Largemouth Bass is one of the most well-known freshwater game fish in the entire world. You can find them in the United States, Canada, Mexico, and of course, in Stardew Valley. Of course, any good angler has to know where their prey lurks before they can fish them up. Grab your fishing pole, because we're gonna tell you where to catch Largemouth Bass in Stardew Valley.
Where to Catch Largemouth Bass in Stardew Valley
Largemouth Bass aren't especially rare fish, due primarily to the fact that you can catch them year-round, albeit at varying chances. During the spring and fall seasons, Largemouth Bass will account for roughly 20% of all the fish you reel in. Those chances will drop to 15% during the summer and winter seasons. Not the best odds, but still just high enough that you should be able to fish them up fairly consistently. You should also remember that Largemouth Bass only appear from 6 AM to 7 PM, so don't bother looking for them in the dead of night.
Where is the best place to catch a Largemouth Bass?
Largemouth Bass can appear in exactly two places: in the Mountain Lake and on a Wilderness Farm. The Mountain Lake is located in the central part of the Mountain region located in the northern area of Stardew Valley. As for the Wilderness Farm, that's one of the farm types you can use for your own farm property. The Wilderness Farm encourages combat, as hostile monsters will spawn at night. However, it also has a small pond that can house fish from the Mountain Lake. Of these two locales, the Mountain Lake is definitely the easier option, as it doesn't require any kind of modification or investment on your part like the Wilderness Farm does.
What is the best way to catch Largemouth Bass?
There's no particular method to catching Largemouth Bass; just cast your line into the water, reel it in when you get a bite, and cross your fingers that it's a Largemouth Bass. One little trick you can use to improve your odds is casting your line further away from the shoreline. It's not known precisely how much this improves your odds, but it does definitely improve them at least a little.
Largemouth Bass are required to complete a handful of quests in Stardew Valley, and they also have a variety of crafting applications. If you run one through the spool of a sewing machine, you'll create a Fishing Vest. They can be cooked into Crispy Bass, Maki Rolls, and Sashimi, as well as crafted into Quality Fertilizer for your crops. Just don't try to give one to anyone as a gift, because nobody in the game has an affinity above neutral for them.