What Does Abigail Like in Stardew Valley?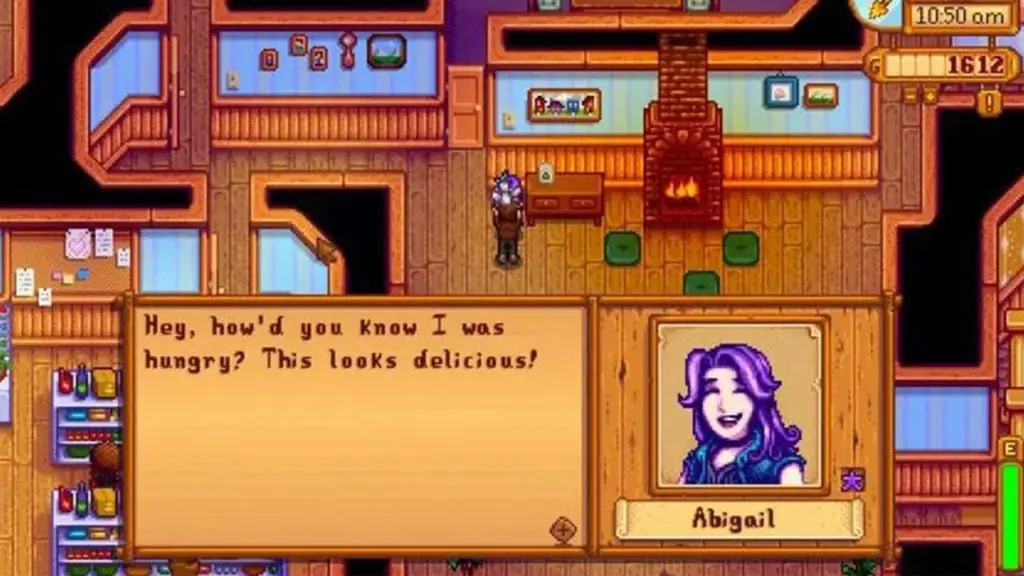 Stardew Valley is rife with marriage-ready bachelors and bachelorettes, and while it's by no means a requirement in your enjoyment of the game, getting married can add some fun new wrinkles. Plus, you get to spend more time with lovable characters. Speaking of which, you know who's just swell? Abigail. So, what does Abigail like in Stardew Valley?
Abigail lives with her mom and dad above the general store. You'll know her when you see her; her hair is dyed a distinctive shade of violet. She's also a fan of matters of the occult, and is regularly seen hanging out in the graveyard or gazing out on the bridge near Jojamart. Despite her mild eccentricities, she's a very sweet girl, and it'd be great to get to know her.
What Does Abigail Like in Stardew Valley?
Like anyone else, you can give Abigail presents twice a week to raise her friendship, plus an extra one on her birthday, Fall 13th. Here is what Abigail likes in Stardew Valley:
All Universal Likes except vegetables
Quartz
All Universal Loves
Amethyst
Banana Pudding
Blackberry Cobbler
Chocolate Cake
Pufferfish
Pumpkin (the only vegetable Abigail likes)
Spicy Eel
For a complete breakdown on all of Abigail's preferences, read below.
Hates: "What were you thinking? This is awful!"
All Universal Hates except Sugar
Clay
Holly
Dislikes: "What am I supposed to do with this?"
All Universal Dislikes except Clay and Pufferfish
Sugar
Wild Horseradish
All Eggs
All Fruit
All Vegetables (with one exception we'll get to later)
Neutrals: "You brought me a present? Thanks."
All Universal Neutrals
All Milk
Chanterelle
Common Mushroom
Daffodil
Dandelion
Ginger
Hazelnut
Leek
Magma Cap
Morel
Purple Mushroom
Snow Yam
Winter Root
Likes: "Hey, how'd you know I was hungry? This looks delicious!"
All Universal Likes except vegetables
Quartz
Loves: "I seriously love this! You're the best, (You)!"
All Universal Loves
Amethyst
Banana Pudding
Blackberry Cobbler
Chocolate Cake
Pufferfish
Pumpkin (the only vegetable Abigail likes)
Spicy Eel