Where is the Third Shrine in Zelda Tears of the Kingdom? Shrine 3 Location Shown
The ability to combine is within your grasp.
The Great Sky Island is going to be the first place players are placed when starting Tears of the Kingdom. Here, you will find a plethora of new features, devices, and all new shrines. These shrines look a bit different than Breath of the Wild, but function the same as a puzzle/challenge for players. And at the end of these shrines, is the Light of Blessing. These will be how Link increases his heart containers, and will be paramount to taking down Ganon. The first four shrines are located on the tutorial island, and introduce the new abilities Link has at his disposal. Even though this is essentially a toned down location of where you'll be exploring for the rest of the game, finding these shrines is not a cakewalk. So let's grab our telescope and answer the question: where is the third shrine in Zelda Tears of the Kingdom?
Where is the Third Shrine in Zelda Tears of the Kingdom? Shrine 3 Location Shown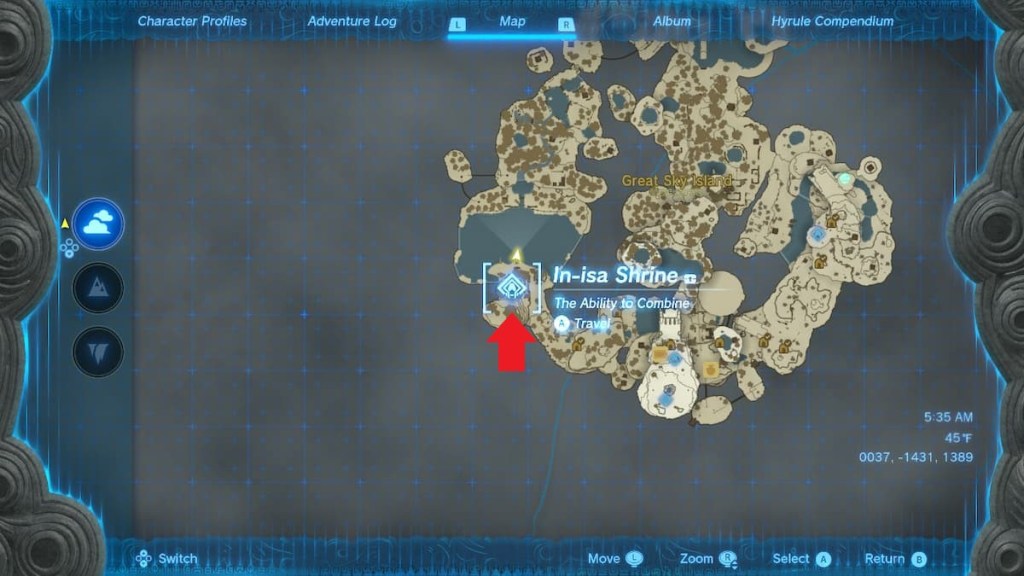 After waking up on the Great Sky Island and progressing a bit, you'll be tasked with finding and completing three shrines in order to open a door. The first shrine teaches you about the ability to create, the second one shows you the ability to rise. And the third shrine will introduce you to the ability to combine.
Related: How To Use Zonai Capsule Machine in Tears of the Kingdom
The In-isa Shrine can be found towards the southwest side of the island. You can make your way there from the Gutanbac Shrine by traversing around the south side of the island. You'll need to take advantage of the two new abilities you should have gotten from the first two shrines, Ultrahand and Ascend to make your way there. And once you reach the shrine, you'll be shown the power to combine objects. Very useful for crossing the massive lake immediately outside the shrine.
---
Follow our Facebook page for more gaming articles and up to date news. Make sure to check out our other Tears of the Kingdom guides for all your Legend of Zelda needs, right here at Gamer Journalist.
About the author