Warhammer 40,000: Darktide Zealot Build and Weapons
A burning passions needs a flaming weapon.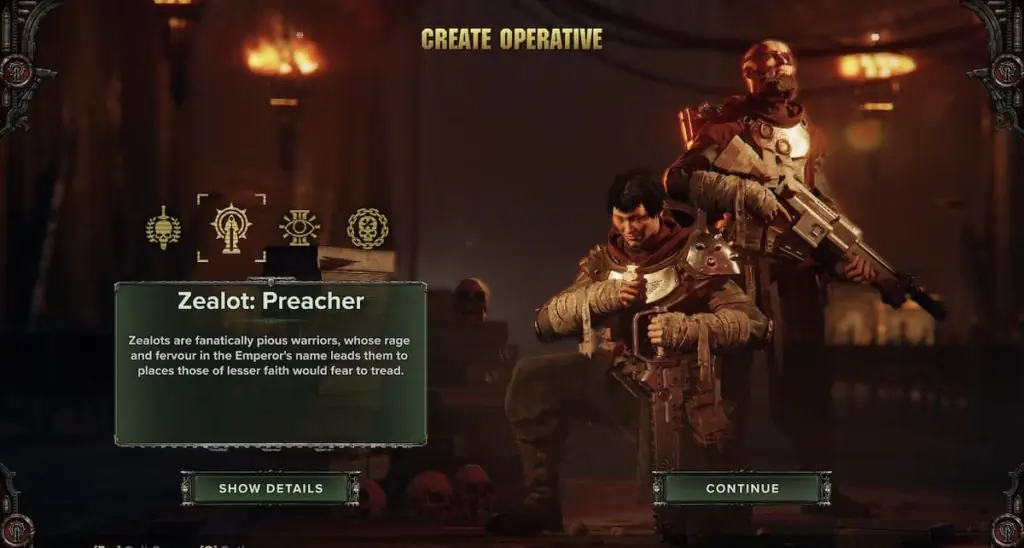 Warhammer 40K: Darktide is a bloody game of heretical genocide as you rampage onwards. There is scarcely a better operator for bloody rampages than the Zealot, which is evident in the way they charge forth and slaughter until they can slaughter no more. If you need a little more convincing, then here is a run-down of all the Zealot's abilities and weaponry in Warhammer 40K: Darktide.
Zealot abilities in Warhammer 40K: Darktide
The Zealot: Preacher focuses on being on the front lines, severing foes through a burning rage. Here is a list of all the Zealot's abilities that allow them to do that:
Ability
Chastise the Wicked: Charge forwards, replenishing 50% toughness and increasing the damage of the next melee hit by 25%.
Blitz
Stun Grenade: Stuns and disorientates enemies within the radius.
Aura
The Emperor's Will: +7% Toughness damage reduction to all allies within coherency.
Iconic
Swift Exorcism: +10% melee attack speed.
Martyrdom: +5 damage for each 15 missing health, stacks up to three.
Until Death: Every 90 seconds, taking damage that would kill you, instead gain invulnerability for 5 seconds.
Related: How to customize classes in Warhammer 40K: Darktide
Zealot weapons in Warhammer 40K: Darktide
Zealot exclusive weapons
Tigrus Mk II Heavy Eviscerator
Turtolsky Mk VI Heavy Sword
Turtolsky Mk IX Heavy Sword
Crucis Mk II Thunder Hammer
Artemia Mk III Purgation Flamer
Melee weapons
Rashad MK II Combat Axe
Antax Mk V Combat Axe
Achlys Mk VIII Combat Axe
Atrox Mk VII Tactical Axe
Atrox Mk II Tactical Axe
Atrox Mk IV Tactical Axe
Orestes Mk IV Chainaxe
Cadia Mk IV Assault Chainsword
Catachan Mk III Combat Blade
Catachan Mk VII "Devil's Claw" Sword
Catachan Mk IV "Devil's Claw" Sword
Catachan Mk I "Devil's Claw" Sword
Maccabian Mk IV Duelling Sword
Maccabian Mk II Duelling Sword
Maccabian Mk V Duelling Sword
Ranged weapons
Columnus Mk II Braced Autogun
Graia Mk IV Braced Autogun
Agripinaa Mk VIII Headhunter Autogun
Vraks Mk VII Headhunter Autogun
Vraks Mk III Headhunter Autogun
Graia Mk VIII Infantry Autogun
Columnus Mk V Infantry Autogun
Agripinaa Mk I Infantry Autogun
Ius Mk III Shredder Autopistol
Locke Mk IIb Spearheard Boltgun
Lawbringer MK VI Combat Shotgun
Kantrael MG IV Infantry Lasgun
Kantrael MG XII Infantry Lasgun
Kantrael MG Ia Infantry Lasgun
Accatran MG Mk II Heavy Laspistol
Zarona Mk IIa Quickdraw Stub Revolver
Keep an eye on Gamer Journalist for more gaming and Warhammer 40K: Darktide content, such as how to get cosmetics.