Top 10 Best Games Similar to Potion Permit
Need more Potion Permit? We've got you covered!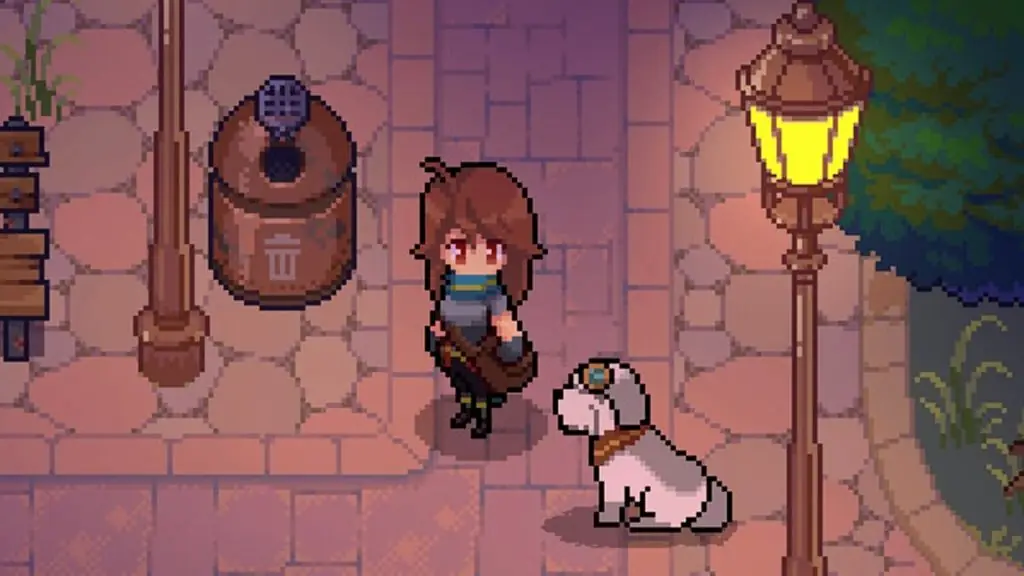 Potion Permit is the newest cosy life sim available on both PC and the Nintendo Switch. It offers a plethora of features we have come to expect from its genre that includes the extensive list of socialising and bonding with the civilians of Moonbury, having the key role and responsibility within the community of alchemy to do your part for the town, customising of your player character and their house, gathering resources for crafting, combating against local monsters, cauldron brewing, fulfilling requests, and upgrading the town and its world, all carried out with man's best friend right by your side.
Considering there's a lot to tick off there, here's a nifty list of the most relevant video games similar to Potion Permit so that the fun never ends!
Stardew Valley
Stardew Valley is the very first game that is compared to Potion Permit, which is no surprise. As the most obvious source of inspiration and the biggest ever game within the genre as the quintessential farming sim, it set the standard for life sims everywhere. This involved the features of farming, mining, fighting, fishing and forage all in one package. Players are tasked in turning their overgrown field that they have inherited from their deceased grandfather into a nurturing and thriving farm.
You'll be raising stock, growing a variety of crops, crafting items, exploring dungeons, meeting, greeting and befriending its other villagers or maybe going even further with some of them in dating and tying the knot with your bachelor/bachelorette of choice. Spend all the time you want in a place you'll quickly be calling home, and with every hour passing by and with every achievement getting unlocked, explore exclusive plot-threads (such as becoming an employee of JojaMart) or see where completing the restoration of the Community Center will get you.
Prodigal
Prodigal is an underrated throwback of a hidden gem with a gorgeous pixel and retro outward appearance. Akin to a modernised Zelda honouring the vintage aesthetic of the series' classics on the GameBoy, its premise is similar to that of Littlewood. Players are put into the role of its protagonist returning home to Vann's Point after having been out on an adventure. Vann's Point is now in trouble and needs a local hero of their own to restore order into the community.
Players will have to explore dungeons and beat puzzles and bosses to keep their home safe. Alongside clearing and coming out alive from each one to uncover the many secrets of its land, players will have to take on side quests and requests from its townsfolk to increase bonds and even secure a romance with one of its lucky ladies.
Sun Haven
Sun Haven is set within a medieval town full of diversity and imagination with a magic and high fantasy influence and motifs. Players select from a variety of jobs such as miner, farmer, warrior or craftsman to do their part within Sun Haven. Its main feature is as a farming sim, but the game offers so much on the side that players are encouraged to experience as often as they would like due to its RPG style levelling up system.
Alongside a main questline that ends with a grand boss battle, every single action players take develop and upgrade their player character and related skills and abilities within the relevant field. Take all the time you need in exploring your options and seeing how it develops your player character. This also includes battling the unique monster's home to all three worlds, upgrading your farm, restoring shops, recruiting more villagers, romancing characters, decorating your home and not just obtaining pets but mounts too!
Littlewood
Littlewood is a cosy little life sim with a twist in both its narrative and design for the genre as its unique selling points. The game is set after the player character defeats the antagonist but at the cost of their own memories and ruin of the world. Players will have to explore the expansive world of Solemn as more locations unlock and lore-building is discovered to restore their memories.
There will be new townspeople to meet and settle into your hometown by fulfilling their requests such as meeting their housing requirements and befriending them by greeting them daily and taking them out in exploring. Remember that you can even start dating a few of them and putting a ring on it when the time is right! Make use of collecting and crafting to restore the glory of Littlewood and customise the town to your heart's content. You can also mine, fish, catch bugs, cook and forage all in a day's work. There's plenty of work to be done in Littlewood, and it's a wholesome time throughout.
WitchSpring3 Re:Fine
WitchSpring3 Re:Fine is an adorable little fantasy RPG with just one playable character – the witch, Eirudy. The game caters to everyone for its optional activity of combat despite being a traditional RPG. For those not looking for any bit of fighting in their witch life, WitchSpring3 Re:Fine's system of developing and growing its player character is done by training, researching, crafting and using items instead of fighting.
The aim of the game here is all the foraging and crafting to be done in it to successfully build up Eirudy. As a charming character-driven game that is extremely pretty on the eyes whilst delivering emotional storytelling, WitchSpring3 Re:Fine is more than ideal for scratching your itch for more brewing. Additionally, its "Summon Dolls" mechanic also takes on a pet companion role at times for how some dolls appear as more animal-like who come to Eirudy's rescue in battle. What else could we ask for?
Wylde Flowers
Wylde Flowers released around the same time as Potion Permit and share plenty of similarities as cosy life sim games. In Wylde Flowers, players take the role of Tara, returning to her home island of Fairhaven to aid her grandma and family farm. Your mission is a simple one – reconnect the town and learn to embrace your witch side.
There's a number of activities waiting for you to explore, such as tending to crops, caring for animals, fishing and crafting. It may sound typical, but the real fun is when night-time arrives as Tara's witch-ly duties take over her day routine. This involves broom riding, potion brewing, controlling the weather and even cat transforming. Explore all facets to this fantastical farming sim that also includes romancing its residents.
Atelier Annie: Alchemists of Sera Island
The Atelier franchise is a more than ideal recommendation when making suggestions and parallels to features of Potion Permit, especially with its titular focus on alchemy. In Atelier Annie: Alchemists of Sera Island that remains exclusive to the Nintendo DS, players take on the role of a spoilt and lazy Annie whose only aspiration in life is to marry someone wealthy is forced into a resort project held on Sera Island by her talented alchemist grandfather. As Annie learns to mature over 3 years, she becomes the manager of her own shop and other resort attractions whilst meeting and befriending other characters.
These characters can be assigned to run the shop for her while the player sets up a party team to fight and forage outside of the home base with her instead. Foraging and synthesising are another aspect to the game other than owning and managing the shop and other attractions to accumulate as much funds as possible to continuously build and expand facilities. Fulfil requests, utilise the always expanding synthesis system to better create new recipes and ultimately complete assignments given out at the end of 6 months to experience one of seven endings depending on how well you have performed across the entire game.
Alchemy Story
Alchemy Story is another perfect choice to settle into a new, fantastical world once you are down with Potion Permit. Care for out of this world cute creatures including your very own beehive, grow a garden, brew potions and build comradery with your new neighbours and date who catches your eye. Fulfil deliveries by becoming familiar to the brewing world of Alchemy Story through trying out new recipes and discovering all of its magical ingredients.
Fish, mine, forage, take part in contests, manage your own marketplace, customise your player character and collect mementos to recover villager's memories and unlock new areas and shops by doing your part for your villagers' and pets' wellbeing and happiness. It's bound to be an eventful yet wholesome time.
Wytchwood
Another Potion Permit comparison, yet even more alchemy goodness to be had! Explore the Gothic gorgeousness of the landscapes found within Wytchwood, collect magical ingredients and brew up the most imaginative of potions with some love and care.
Research and learn spells, solve puzzles and beat the most fearsome of foes in battle with your big brain. Be well prepared in everything that you plan on doing and carrying out because there is never a moment to rest as an old witch in this expansive countryside. Gathering and resource managing is the key to completing everything you have to experience in Wytchwood, but remember to have a good and casual time here!
Potionomics
As the only title on the list that has yet to release, Potionomics looks to be the very next stop to go to after Potion Permit. Releasing on October 17th, players take on the role of witch novice Sylvia, who has inherited her uncle's potion shop. The aim of the game is to clear all the debt he had left in his untimely passing.
Potionomics will involve customising the cosy, little shop, hiring other characters to forage, befriending and even romancing its customers and ultimately making your uncle's potion shop thrive and become the very best it can be. Part deck builder, part resource/time management and completely wholesome to boot, Potionomics will have players improving their negotiation skills and becoming the best merchant in its competitions.
Related: Best Farming Cozy Games Announced at Nintendo Direct