Top 15 Upcoming Games of 2020 (PC, Xbox One, PS4)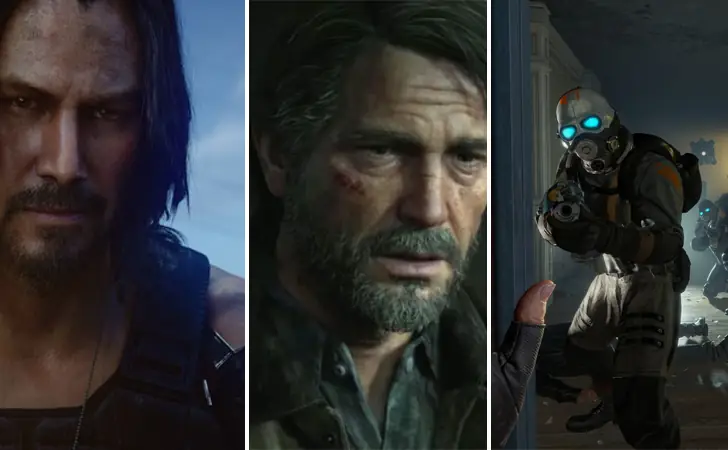 2020 is shaping up to be a great year for video games, with a bunch of massive releases just around the corner. This list will cover our choices for the Top 15 upcoming games of 2020 for PC, Xbox One, and PS4.
Top 15 Upcoming Games of 2020 (PC, Xbox One, PS4)
Half-Life: Alyx
Half-Life: Alyx is an upcoming virtual reality FPS game from Valve. The game takes place prior to Half-Life 2, and is the first game release in the Half-Life series since Episode 2. Players control Alyx Vance as she fights off aliens with her father Eli.
Werewolf The Apocalypse
Werewolf: The Apocalypse is an upcoming RPG game from White Wolf Publishing, the company behind collectible card game Rage and publisher of several novels. In this game, players control werewolves called Garou, who are at war against urban civilization and supernatural forces that are bringing on the apocalypse.
Marvel's Avengers
Marvel's Avengers is an upcoming aRPG game from Crystal Dynamic and Eidos Montreal, publisher by Square Enix. This will be the first game from Crystal Dynamics since Project Snowblind in 2005 that is not related to the Tomb Raider series.
Outriders
Outriders is an upcoming shooter from the developers that brought you Gears of War: Judgment and Bulletstorm. It's shaping up to be an exciting co-op shooter where up to three players can explore the dark and desperate sci-fi universe together.
Doom Eternal
Doom Eternal is an upcoming FPS game from id Software and Bethesda Softworks. It's a sequel to Doom (2016) and is set to be available on Marsh 20, 2020 on PC, PS4, and Xbox One, with a Nintendo Switch version planned for release down the line.
Halo Infinite
Halo needs no introductions. Halo Infinite is the upcoming FPS game by 343 Industries and SkyBox Labs, set to release sometime in 2020. Many people are anticipating this game will be released in the fourth quarter of 2020. This will be the sixth installment in the Halo series, continuing the Master Chief story.
Atomic Heart
Atomic heart of an upcoming action RPG from Mundfish, a Russian game development studio. The game is set to be released for PC, PS4, and Xbox One, but has no official release date as of this time. The game consists of shooting and melee attacks, and takes place in the Societ Union in an alternate reality between 1930 and 1960 where the Internet and high-tech devices have already been invented.
Wasteland 3
Wasteland 3 is an upcoming RPG by inXile Entertainment. It's the sequel to Wasteland 2 and is set to be released on PC, Xbox One, and PS4 in easily 2020. It's a squad based RPG with turn-based combat, featuring synchronus and asynchronous multiplayer gameplay.
Watch Dogs: Legion
Watch Dogs: Legion is an upcoming action-adventure game by Ubisoft. The game will serve as a sequel to Watch Dogs 2, and is set in a fictional version of London. The game is an open world and playable from third-person. You can control multiple characters that you come across throughout the game. It will also feature multiplayer co-op of up to four players. It's set to release on March 6th, 2020, but has possibly been delayed until 2021.
Nioh 2
Nioh 2 is an upcoming action RPG by Team Ninja, and will serve as a successor and prequel to Nioh (2017). The game is scheduled to be released exclusively on PS4 on March 13, 2020. In this game set in the late 1500s, you can create your own character. a yokai spirit, and equip them with a variety of weapons like odachi and kusarigama.
Ghost of Tsushima
Ghost of Tsushima is an upcoming action-adventure stealth RPG by Sucker Punch Productions, designed exclusively for PS4. This game features an open world and revolves around the last samurai on Tsushima Island during the Mongol Invasion of Japan during the 1270s. It is set to release during Q2 or Q3 of 2020.
Final Fantasy VII Remake
One of the most anticipated games on the list for many years if Final Fantasy VII Remake. The original game was deemed a crowd-favorite by many fans of the series. The upcoming action RPG is developed and published by Square Enix for PS4. It's the first of a multi-part release scheduled for March 3rd, 2020.
Dying Light 2
Dying Light 2 is an upcoming survival horror game by Techland, scheduled for release on PC, PS4, and Xbox One in early 2020. This is a sequel to the original Dying Light which was released in 2015.
The Last of Us Part 2
The Last of Us Part II is an upcoming action-adventure RPG from Naughty Dog and Sony Interactive Entertainment, scheduled for exclusive PS4 release on May 29th, 2020. Players control a 19-year-old Ellie, who comes across a post-apocalyptic cult in the United States.
Cyberpunk 2077
Hands down the most hyped game of 2020 is Cyberpunk 2077. This upcoming RPG from CD Projekt Red is set to release on April 16th, 2020. Players will explore the open world dystopian Night City, featuring six regions.
Players will be controlling a customisable mercenary called V in first-person. Your skills include hacking and ranged and melee weapon handling. Actor Keanu Reeves has a starring role in this game, and CD Projekt Red consulted with Cyberpunk creator Mike Pondsmith on the project.