Top 10 Minecraft Cottagecore Building Ideas
Who doesn't love cottages?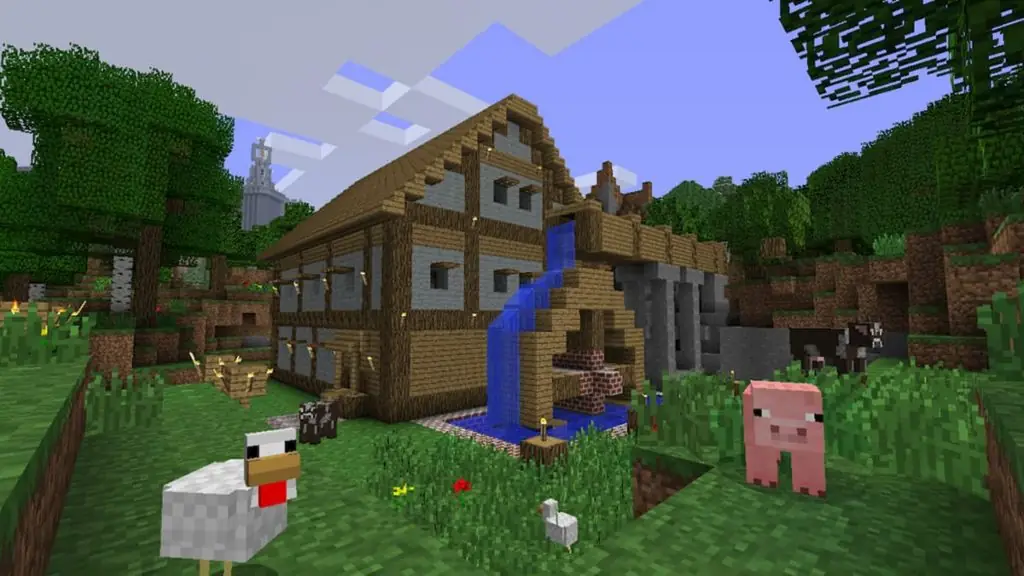 Inject your cottagecore aesthetic into every facet of your life! Minecraft doesn't need to be a hardcore survival game 100% of the time. Sometimes it's okay to take a break from the mass mob murder and enjoy a nice little cottage with some flowers once in a while. Minecraft cottages are easy to build and even easier to enjoy! These simple cottages take less than 20 minutes to make and are worth every second, don't skip these adorable Minecraft cottages!
Top 10 Minecraft Cottagecore Building Ideas
Floating Waterfall Cottage
A small, quaint cottage floating in a hidden waterfall is almost too fantastical to exist. It doesn't get more charming than this! The waterfall isn't strictly necessary to build this cottage, but it does add some magic to the situation. If you're lucky enough to find a natural waterfall in Minecraft, gather these materials to build your one-of-a-kind hidden cottage:
33 Birch Wood Planks
13 Birch Wood Blocks
31 Oak Wood Planks
24 Birch Wood Stairs
3 Torches
Hidden Forest Cottage
If living a small cottage nestled in the forest sounds like an ideal situation for you, you need to build this Minecraft cottage! This cute little hut takes maybe 10 minutes to build and is worth every second! You can customize this cottage to blend in with its surrounding trees, or you can gather these materials to make this exact home:
26 Birch Wood Planks
18 Jungle Wood Planks
29 Jungle Wood Stairs
40 Jungle Wood Slabs
2 Birch Wood Doors
Nether Cottage
If you love Minecraft cottages but love the Nether more, you don't have to compromise! This cottage combines cottagecore with the dark aesthetics of the Nether to create a dusky, whimsical villa. This cottage doesn't necessarily need to be built in the Nether, but it does give it a nice background. This Minecraft cottage can be built above ground or deep below it, but you'll need these materials to get started:
74 Polished Blackstone Bricks
90 Red Nether Brick Slabs
34 Nether Brick Stairs
2 Crimson Doors
2 Black Candles
Abandoned Cottage by the Sea
This mysterious cottage by the sea holds no unbearable backstory, just a quiet quality of abandonment. This cottage's mystifying atmosphere is enough reason to build it! Whether Halloween is right around the corner or you just enjoy the spookier things in life, this abandoned cottage is the way to go! To build this simple cottage by the sea, you will need these items:
44 Cobblestone Blocks
16 Mossy Cobblestone Blocks
20 Mossy Cobblestone Stairs
16 Mossy Cobblestone Slabs
2 Cobblestone Deepslate Stairs
2 Iron Doors
2 Stone Buttons
2+ Cobwebs
Pumpkin Cottage
Minecraft is all about building the dreams we can't build in reality. Living inside a giant pumpkin may be impossible in real life, but nothing is ever impossible in Minecraft! If you've ever dreamed of building a giant pumpkin cottage, gather these materials to get started on your dream home:
80 Acacia Wood Planks
3 Dark Oak Wood Planks
1 Red Sandstone Stair
4 Glowstone Blocks
1 Birch Wood Door
Countryside Cottage
If you aren't rich enough to buy a countryside villa in real life, build your own in Minecraft! This countryside home is a bit larger than the other Minecraft cottages, so it takes a bit longer to make. However, this cottage is 100% worth the effort! This cottage features a chimney and plenty of room for storage! You can build your own dream villa to your own specifications, but to build this Minecraft cottage, you'll need these items to start:
52 Oak Wood Blocks
81 Birch Wood Planks
12 Stripped Oak Blocks
29 Brick Stairs
35 Brick Slabs
3 Brick Walls
1 Campfire
1 Oak Wood Door
Sandcastle Cottage
Have you ever had a day at the beach and wished the day would never end? With this Minecraft cottage, days at the beach never have to end again! This cottage is fun to build and even more fun to live in! This sandcastle cottage can be built to resemble any kind of sandcastle you desire, but for this sandcastle home, you'll need these materials:
34 Cut Sandstone Blocks
47 Smooth Sandstone Blocks
22 Smooth Red Sandstone Stairs
6 Cut Red Sandstone Stairs
2 Orange Stained Glass Blocks
1 Yellow Stained Glass Block
1 Acacia Wood Door
2 Flower Pots
2 Dead Bushes
Classic Garden Cottage
This small, quaint cottage nestled in the plains is the perfect home for any cottage lover! There's nothing wrong with a classic, and the same goes for this classic Minecraft cottage. If Minecraft ever comes out with a garden gnomes update, this cottage would be perfect for it. This home can be made larger or smaller to fit your individual needs, but this quaint cottage was made with these materials:
62 Stone Brick Blocks
40 Brick Blocks
28 Cobblestone Stairs
14 Brick Stairs
2 Birch Doors
2 Flower Pots
2 Blue Cornflowers
2 Light Blue Stained Glass Blocks
Lavender Fairy Cottage
This cottage was the product of cottagecore mashing with fairycore, because you can never have too many aesthetics! This cottage may be small, but its theme leaves a big impact. If anyone ever creates a fairy Modpack for Minecraft, this cottage will be complete! This cottage can be made larger to accommodate for your storage needs, but this quaint little home was created with these items:
24 Purpur Blocks
4 Purpur Pillars
1 Purpur Slab
17 Crimson Slabs
3 Magenta Stained Glass Blocks
1 Dark Oak Wood Door
2 Crimson Fences
Flower Forest Cottage
This flower forest cottage is another classic for cottagecore homes. This cottage is quick to build and takes common materials, so you don't need to go hunting for any blocks to build this charming cottage! You don't need to base up in a flower forest to build this cottage, but it does add to the cottagecore aesthetic if you do. This simple cottage can be built using these common materials:
48 Cobblestone Blocks
16 Stripped Birch Wood Logs
12 Birch Wood Planks
28 Birch Wood Stairs
16 Cobblestone Slabs
2 Oak Wood Doors
2 Cobblestone Stairs
If you love building cute homes in Minecraft, try building these 8 small Minecraft house designs! Minecraft was made for people to create the things they love, so if you love creative houses, you can try building these Minecraft treehouses as well! Stay up to date with Gamer Journalist for all your Minecraft needs!