Sea Piece 2 Roblox Codes (March 2023)
Time for rewards!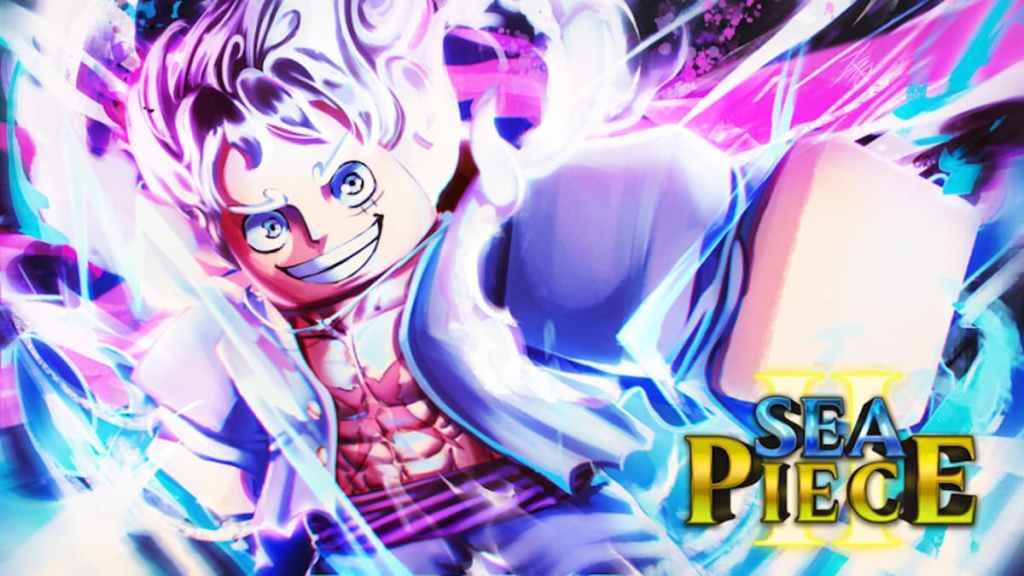 Sea Piece 2 is an action-adventure RPG title on Roblox that takes inspiration from the world of One Piece to fuel most of its mechanics and the way things work in the game. Explore a vast and intriguing world filled with mysteries, as well as many dangerous enemies that would like nothing more than to take you down and ruin your day! Train and practice your skills to increase your prowess in combat, while you gather experience and rare Devil Fruits that can offer you special powers and abilities.
In this guide we will cover all of the codes in Sea Piece 2, including any that do not work anymore so that you don't try invalid codes and waste your time. These codes will give you free rewards and in-game currency, helping to boost your progress in the game and let you afford a purchase you've been saving up for. Without any further ado, let's jump right into the codes!
All Sea Piece 2 Codes
Here are all of the working codes that we know of – there may be other secret codes, but you'll need to check out the game's socials (linked below) to learn of them!
THANKYOU – Redeem this code for $10,000 and Stat Reset
RELEASE – Redeem this code for $1,000
All Expired Codes
Fortunately, there are no codes that have been marked as invalid yet and all of the codes for Sea Piece 2 still work in the game!
How Do You Redeem Codes in Sea Piece 2?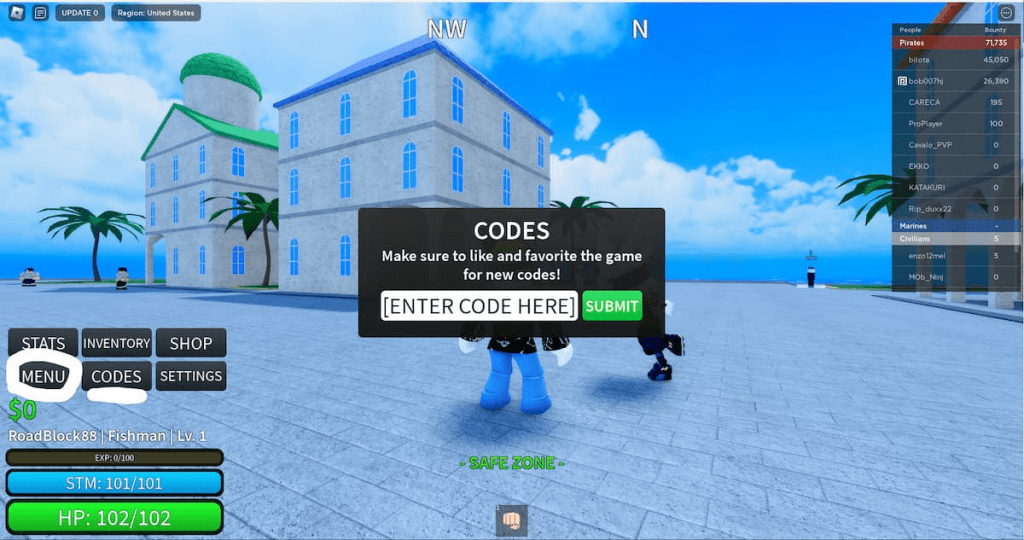 In order to redeem your codes in Sea Piece 2, there are a couple of things you'll have to do first. Here is the full list so that you can easily follow along!
You'll have to launch the game already, which can be found on Roblox at this link right here.
After that, click the Menu button that we circled in the image above.
Next, the Codes button (and four others) will appear on your screen.
Click on the underlined Codes button.
This will open the text box in the middle, which is where you should input your codes to redeem them!
How Can You Get More Sea Piece 2 Codes?
In order to get more codes, be sure to check out the developers' social media accounts frequently so that you don't miss a new release. This includes the Sea Piece 2 official Discord Server, and other social media accounts ran by the game's creators. We will also be updating this article whenever new codes are released, so add it to your bookmarks and return every so often to see if we've found any more codes yet!
Why Aren't My Sea Piece 2 Codes Working?
Sometimes Sea Piece 2 codes may not work, and there are two reasons for this. Firstly, it could be due to the fact that you're spelling the code wrong, as Roblox codes are case-sensitive and incorrect capitalization or spelling can lead to an invalid return. Make sure that you copy and then paste the codes from this article so they work. Also, codes could have become expired which is another reason you aren't able to redeem them. Check with the developers' social media accounts or visit the Sea Piece 2 Discord server to find out if that's the issue!
How Do You Join the Sea Piece 2 Trello?
This board is a great information resource for players who would like to know more about Sea Piece 2 on Roblox. You can visit the Trello by clicking on this link, and it has everything you'll want to know about the game (including codes that are working!) Don't miss out on this invaluable resource, which has everything from a map to all of the fighting styles in the game.
What Is Sea Piece 2?
Sea Piece 2 is an adventure game that lets you explore its beautiful world and take on a ton of different enemies that will test your skills to their breaking point in the game! You will have to learn all of the fighting styles available, and figure out which Devil Fruits are the best for you to make use of in the game. Complete side quests and missions to earn additional rewards, and grow your net worth to purchase more Devil Fruits that can make you a powerful fighter in this action-packed game!
---
Since you now have all of the codes you need for Sea Piece 2, consider checking out our dedicated Roblox Codes page in order to redeem even more great in-game rewards! Also, make sure that you visit Gamer Journalist on Facebook for all of the latest gaming news on video games you know and love to play!