Roblox Vans World Gets a Holiday Update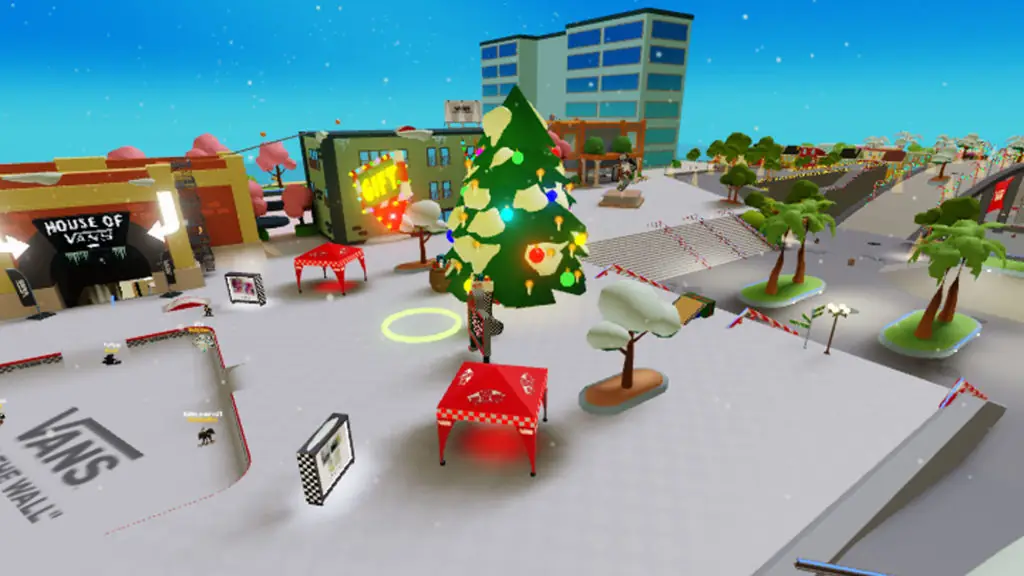 The popular Roblox skateboarding experience, Vans World, receives a holiday update this evening, just in time for the winter season. Vans World is a newer experience to launch on Roblox's metaverse, created by the world-famous skateboarding and apparel brand.
Make sure to check out our Vans World codes to redeem some cool in-game freebies.
Vans World Holiday Update
The Vans World Holiday Update adds some seasonal updates, including snowy weather, snowy trees, a gigantic Christmas tree with presents and stockings surrounding it, and various other seasonal decorations.
Skaters can also check out the Holiday Calendar and begin collecting gifts every day until December 25. The update also brings a few new skateboard customization options, new shoe customization options, and some new tricks to check out.
Make sure to pay a visit to the gigantic Christmas tree in the center of the map to redeem your free holiday gifts. You can simply stand inside the hoop to collect your rewards once a day, right up to Christmas day.
Welcome to Vans World, an "Off The Wall" experience. Explore different skate sites with your friends, learn and land new tricks and collect waffle coins to unlock new gear! Create your own custom Vans shoes to show off your unique style and drop in, it's your world to create.

🧢 Collect free Vans Apparel and accessories!
🛹 Skate in a big open world
🏁 Take part in competitions
💰 Collect Waffle Coins
👟 Kit out your Avatar in Vans Apparel

🎄 December 1 Update – Holiday! 🎄

📅 Holiday Calendar! Collect gifts every day up until the 25th
🔧 More skateboard customization options
🎨 New shoe customization options
🛹 New tricks

Some items and features, including the shoe customizer, may require payment using Robux.