Roblox Thick Legends Codes – Free Coins and Burgers (September 2023)
Fastest way to get burgers and coins!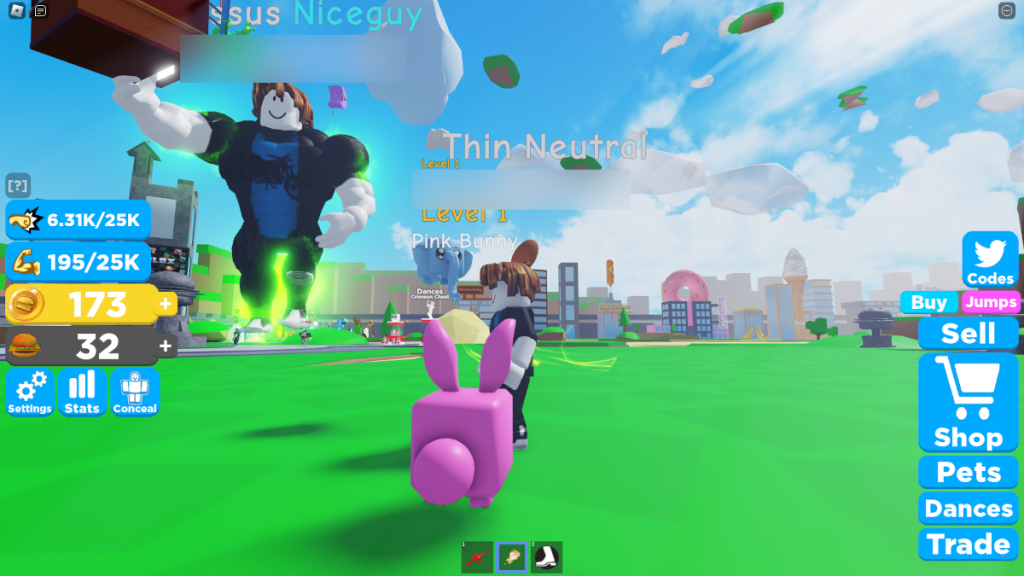 In a world that prioritizes being thin and having as little body fat or muscle as possible, wouldn't it be nice to live in a world that celebrated being thick? Thick Legends is a game where the objective is to gain as much muscle as humanly possible, to the point where you're a colossal behemoth, capable of taking on the most fierce of fighters. But, when you're just getting started, it can be quite intimidating.
This is where Thick Legends codes come in. In the beginning, seeing the heights players have reached can make you wonder if you could be there someday. And, if you make good use of these codes, you can! Just use them as a stepping stone to true thick aptitude! As of writing, it looks like Thick Legends codes provide players with a boost in coins and burgers, two of the in-game currencies.
Thick Legends Codes List
Thick Legends Codes (Working)
These are all the working Thick Legends codes.
RazorFishGamingCoins — Unlocks: 100x Coins.
RazorFishGamingBurgers — Unlocks: 50x Burgers.
Thick Legends Codes (Expired)
These are all the expired Thick Legends codes.
There are no expired Thick Legends codes.
Related: Roblox Critical Legends Codes (December 2022)
How to Redeem Codes in Thick Legends
Follow the instructions below to redeem codes in Thick Legends.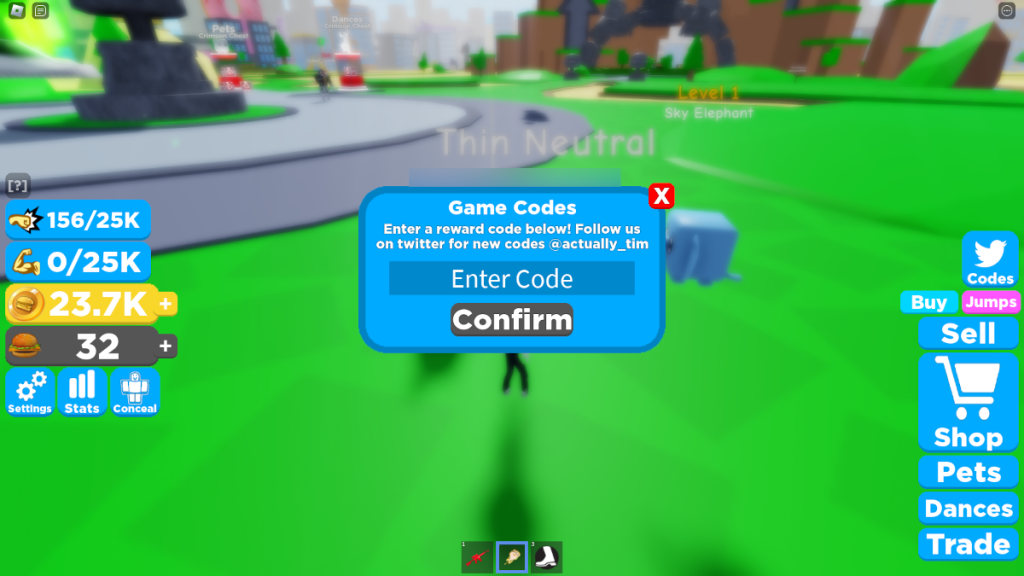 Launch Thick Legends in Roblox.
In the overworld, click the CODES button with a Twitter icon on the right-hand side.
Enter the code in the space provided, then click CONFIRM to redeem rewards!
How Can You Get More Thick Legends Codes?
Based on the official page for the game, developer Blox Universe will be releasing more codes via their Twitter page. So, if you'd like more codes for Thick Legends, that should probably be your destination. But, there's always a chance they'll release new codes through their Discord server and Roblox group. To join the Roblox group, simply visit the link and click 'JOIN GROUP.' Make sure you're logged in to Roblox!
Why Are My Thick Legends Codes Not Working?
If you're inputting the codes and they aren't being accepted by Thick Legends, there are a number of reasons this could be happening. For starters, it helps to copy and paste the codes from this page into the box provided, rather than manually typing them in. If you're already doing this, and the game refuses to accept your code, it could have expired.
How to Get More Daily Rewards in Thick Legends
In the overworld, you may notice chests that contain a significant coin boost. These seem to auto-refresh every twelve hours, and it would appear the total amount varies. There is also a chest elsewhere in the overworld that can serve as a booster, but only if you're a member of the developer's Roblox group! Also, keep in mind the various pickups that can help to pad your overall coin/burger totals! If you take the time to explore, you can easily accrue some riches that will help you become the thickest!
What is Thick Legends?
Thick Legends is an experience created by Blox Universe for the Roblox platform. In the game, players start as a Starved Neutral (the player model is extremely thin) and must eat and punch their way into fame and glory! In fact, the more they eat and punch, the bigger and stronger you get. Eventually, you'll need to sell your progress and start over if you have any hope of reaching new and impressive heights. Take on colossal enemies and discover new, progressively higher islands in your quest for thick domination!
If you're looking for more codes, why not check out our dedicated Roblox section, where you'll find not only codes, but also countless guides to your favorite games! And, be sure to check out our coverage of other games while you're at it!
About the author