Roblox Bee Sim Codes (September 2023)
Bee Sim is a game developed by Bee Simulator and RoyalFire Studios on the Roblox gaming platform. Players can experience a world where honey equals money. Gather pollen, work your way through quests, and explore the vast world in this adventure game. The game is all about collecting honey, and you can boost your reserves by using some of the codes listed below. We have a complete list of working Roblox Bee Sim codes, which you can use to redeem some in-game honey.
Newest Codes Added on December 30
Last Checked September 26 8:30 AM
Roblox Bee Sim Codes
Here's a working list of Bee Sim codes for Roblox:
DOUBLEHONEY: 200 Honey (New)
YAY100K: 200 Honey
ethereal: 200 Honey
BEEVERSE: 200 Honey
BLAMECAIT: 200 Honey
BONBON: 200 Honey

EASTEROVER: 200 Honey
CHUBBYBUNNY: 200 Honey.
Flamingo: 400 Honey.
EASTER: 200 Honey.
ITZVORTEX: 400 Honey.
JAYINGEE: 400 Honey.
SPRINGY: 200 Honey.
Sakura: 200 Honey.
XBOX: 400 Honey.
Crystal: 200 Honey.
MUMAZING: 400 Honey.
YRFRASH: 400 Honey.

THNXCYA: 400 Honey.
INFINITY: 200 Honey.
SDMITTENS: 400 Honey.
BLAMEBARO: 200 Honey.
BLAMEFLYES: 200 Honey.
CUTEBEE: 200 Honey.
FIXESPLEASE: 200 Honey.
hats: 200 Honey.
Baro: 500 Honey.
flyes: 500 Honey.
krao: 400 Honey.
buzz: 200 Honey.

hive: 200 Honey.
unbeelievable: 200 Honey.
secretcode: 200 Honey.
update: 200 Honey.
release: 500 Honey.
tofuu: 400 Honey.
BAROFLOP: 200 Honey.
POLISH: 200 Honey.
1MILLION: 200 Honey.
50K: 200 Honey.
Codes expire often, and new ones release frequently, so check back for updates. Feel free to bookmark this page by pressing CTRL+D on your keyboard. Give us a visit every day to check for new codes!
How to Redeem Codes in Bee Sim Codes
To redeem codes in Bee Sim, start by launching the game from the Roblox platform. On the left side of your screen, you should see a Twitter icon. Tap on the icon to launch the codes menu, which will bring up a field where you can enter the codes. Copy and paste or manually type in any of the codes above.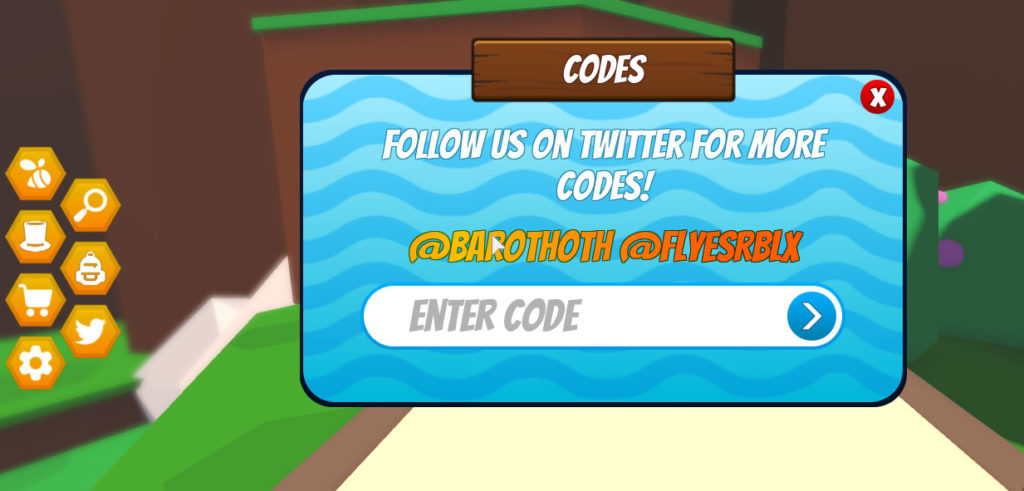 About the author