Quake Patch Notes – Remastered Enhanced Version (August 19)
A complete list of patch notes for the new Quake remastered enhanced version, announced and released on August 19, 2021.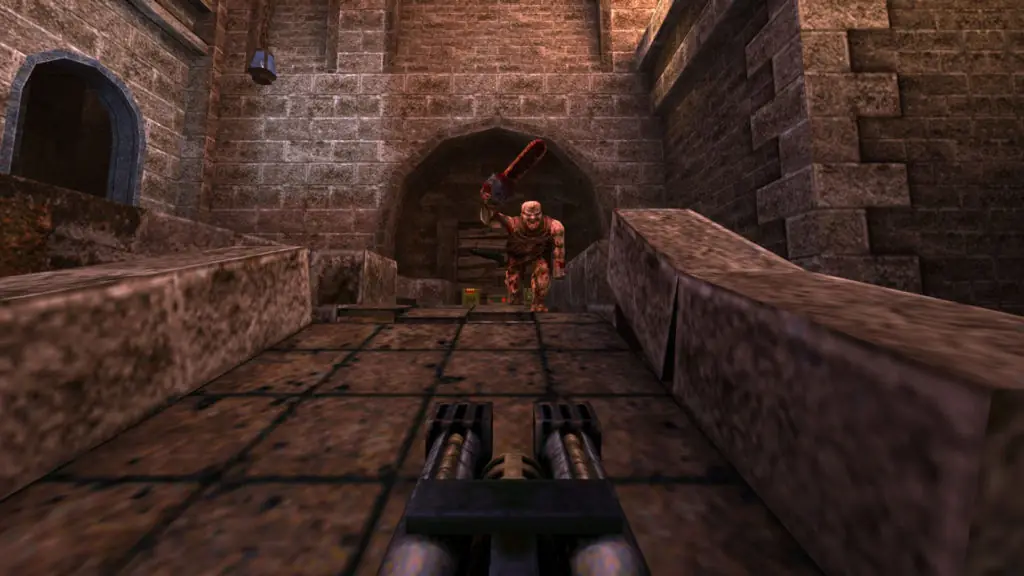 id Software has announced a visually enhanced version of Quake. The game is already available on Steam and Bethesda Launcher. For fans who haven't launched this title in ages, we put together a list of the Quake patch notes for August 19 down below. You can see everything that's changed and what existing users get for free.
The good news is that previous owners of Quake on Steam will automatically get the new update for free. If you don't own Scourge of Amaragon and Dissolution of Eternity, you also get access to the original versions of those expansions.
Unfortunately, existing saves do not carry over from the original to the enhanced version of Quake on Steam and Bethesda Launcher. You can still use original Quake save games by launching the original version, though.
Quake August 19 Patch Notes (Enhanced Remaster)
Quake, the classic arena-style first-person shooter, has been remastered and released as of August 19, 2021. The new release features mod supports, the original expansion packs, online multiplayer, cross-play multiplayer, and co-op functionality. There's also a brand new episode created exclusively for Quake's 25th anniversary, called Dimension of the Machine.
RELEASE NOTES
Enhanced Graphics
Better lighting, new models, updated maps, and a dynamic shadow system headline the graphical features available in Quake. Individual features of the enhanced graphics can be turned on and off to your preference

Includes Original Expansion Packs
The two retail expansion packs, Scourge of Armagon, and Dissolution of Eternity are both now bundled with Quake, and are integrated into the main game. The downloadable expansion pack, Dimension of the Past, has also been upgraded and included

Includes Soundtrack
The iconic original soundtrack by Trent Reznor of Nine Inch Nails is now included on all versions for the first time. The soundtracks for Scourge of Armagon, and Dissolution of Eternity are also included when playing those expansion packs

Brand New "Dimension of the Machine" Episode
Created for Quake's 25th anniversary, Dimension of the Machine is a brand new experience created by the MachineGames team. Continue your fight through brand new dimensions, figure out the secret to restarting the machine, and come face to face with an old foe

Free Optional Add-ons
Similar to our re-releases of DOOM (1993) and DOOM II, we will also be periodically releasing free optional Add-ons available to download in the in-game "Adds-on" menu. Our first Add-on is Quake 64, which includes the original alternate soundtrack by acclaimed composer Aubrey Hodges

Split-Screen Multiplayer
Quake includes 4 player split-screen multiplayer on all platforms, in both deathmatch and co-op modes. Fight against your friends, or with your friends in all five campaigns. AI bots are also available to play against in deathmatch mode

Online Multiplayer
Play custom matches on player-hosted servers, or hop into matchmaking and play on dedicated servers. Quake also now includes the extra levels Acrophobia, and The Edge available in deathmatch mode. Dimension of the Machine also contains all new deathmatch levels

Cross-Play Multiplayer
Play with friends no matter which platform they prefer. Cross-play is available on all platforms, so you can play Quake with everyone

Supported Languages
English, French, Italian, Spanish, German, Russian
PC SPECS
Minimum Spec (1080p/60 HZ)
Windows 10
Intel Core i5-3570 @ 3.4 GHz or AMD Ryzen 3 1300x @ 3.5 GHz
NVIDIA GeForce GTX 650 TI (2GB) or AMD HD 7750 (1GB)
8GB System RAM
Minimum 2GB free space on hard drive (additional space required for optional Add-ons)
High speed broadband connection required for online play
Recommended Spec (*4K/120 HZ)
Windows 10
Intel Core i5-6600k @ 3.5 GHz or AMD Ryzen 5 1600 @ 3.2 GHz
NVIDIA GeForce GTX 1070 (8GB) or AMD RX Vega 56 (8GB)
8GB System RAM
Minimum 2GB free space on hard drive (additional space required for optional Add-ons)
High speed broadband connection required for online play
KNOWN ISSUES
In local multiplayer, the weapon wheel will be partially cut off in vertical split screen. This does not occur in horizontal split screen
If the player uses the Attack input to respawn in multiplayer, they will fire a shot as they respawn
Users are unable to access downloaded Add-ons without being connected to the internet. This is not intended functionality and will be fixed in a future update
While in local multiplayer, if you wish to remove players from the lobby, you need to back out of the local multiplayer menu and re-enter it
Some player movement issues may occur in online co-op matches in Scourge of Armagon
The Guardian death sounds in may repeat indefinitely in Scourge of Armagon. If this occurs, either save and load your progress or exit the level
Players switching away from Quake by using ALT+TAB, may notice that they lose control over the cursor. If this occurs, simply return to Quake, and interact with the game to restore control
via Steam
Get updates for all your favorite games in our website's patch notes section, so you'll always be in the loop.