Nuke Simulator Codes (March 2023)
All the codes you need for bigger booms!
Nuke Simulator will see players collecting an arsenal of nukes and unleashing wanton mayhem and bedlam across many settings. As your nukes swarm and destroy objects, you'll be rewarded in gems and coins. You can use these gems and coins to buy more nukes, player upgrades and more. Using a gacha system, you will be randomly pulling nukes from eggs to add to your collection.
If you want to get ahead quickly and really deal some damage in Nuke Simulator, you'll want to redeem these codes before they expire. You will be insanely rewarded with gems and coins, which will allow you to advance deep into the game, or collect hundreds of nukes. With hundreds of thousands of coins on the line, read ahead to find out what the codes are!
All Working and Expired Roblox Nuke Simulator Codes
Last checked: March 10, 2023

Added a new code.
Nuke Simulator Codes (Working)
MOREBOOSTS2 — Unlocks: 8 Coin Boosts, 8 Damage Boosts, 6 Extra Luck Boosts, and 6 Crazy Luck Boosts (New)
ILikeGems — Unlocks: 500k Gems (New)
CYBERCOINZZ2 — Unlocks: 5million Cyber Coins (New)
TIKTOKHYPE — Unlocks: TikTok Nuke
CYBERCOINZ2 — Unlocks: 100k Coins
CreepyCyberCoins — Unlocks: 666,666 Coins
ImBrokeSoINeedThisCode — Unlocks: 100k Gems
CYBERCOINZZ – Unlocks: 200k Coins
MOREBOOSTS! – Unlocks: All Boosts
BOOSTS – Unlocks: All Boosts
DESTROY2 – Unlocks: 60k Gems
UPINOHIO – Unlocks: 100k Gems
MOONBOOST – Unlocks: 20k Moon Coins
DOWNINOHIO – Unlocks: 250k Coins
LOTTADAMAGE – Unlocks: 5x Damage Boosts
DESTROY – Unlocks: 3x Damage Boosts
MARTIANGEMS – Unlocks: 20k Gems
PARI – Unlocks: 3 of each boost.
BIGBOOM – Unlocks: 250K coins
GEMURITEZ – Unlocks: 20K gems.
Nuke Simulator Codes (Expired)
There are currently no expired codes for Nuke Simulator.
Related: Where's Roblox 2.0? Does Roblox need a sequel?
How to redeem codes in Nuke Simulator
Follow the instructions below to redeem your codes in Nuke SImulator.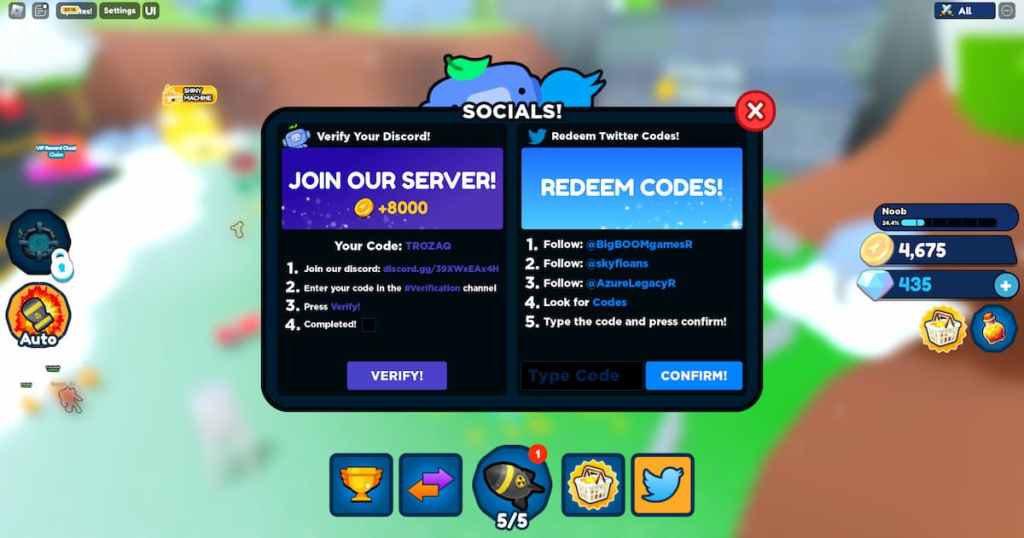 Launch Nuke Simulator on Roblox
Click on the button with the white basket on the right side of the screen.
Click on the button with the Twitter logo on the bottom right.
Type the code into the text box in the right half of the menu that appears.
Click 'CONFIRM!' to get your rewards
How to get more codes for Nuke Simulator
The developers of Nuke Simulator may release more codes. if you want to keep on top of all the codes, then there are a few things to do to make sure you are in the loop. You can follow @BigBOOMgamesR, @skyfloans and @AzureLegacyR on Twitter. These accounts may release codes that affect Nuke Simulator. You can also check the description of the game on Roblox, as some codes may be announced there.
Why are my Nuke Simulator codes not working?
When entering your codes, you may be surprised to see 'code doesn't exist' pop up in the text box as you don't receive your rewards. In such cases, there are a few reasons for this, and a potential solution. Codes may expire, meaning they can no longer be claimed for their rewards. There is never a warning when codes expire, so you will only ever know by the code itself not working. Or, you may have misspelled the code, or not input the capital letters properly.
To avoid confusion, copy the code from this article and paste it into the text box where you redeem your code. Doing it this way will mean that it will be spelled perfectly. If the code still does not work, then it is because it has recently expired.
Other ways to get free rewards in Nuke Simulator
In Nuke Simulator, there is only really one way to get rewards without having to do much. Thankfully, the game comes with a free auto-farm, which can be enabled at the left of your screen. Auto-farming will send your nukes on a rampage of their own, destroying everything in range. Piles of coins and gems will be splattered all around you. All you have to do is occasionally mop up the rewards and send the nukes on their way again.
What is Nuke Simulator?
Nuke Simulator is a grind simulator game where you will be grinding for coins in one area to unlock other areas. Grinding refers to the technique of doing one action over and over again to build up rewards to improve your weapons and unlock new areas. There are eight zones to explore into and dominate. You will steadily increase the number of nukes at your disposal at the same time and watch as they zoom around destroying everything.
---
We hope you enjoy these codes for Nuke Simulator. You can head on over to our Facebook page to keep up with the latest video game content. You may also be interested in our other Roblox content, such as all Project hero codes or all egg simulator codes.