New World Weaponsmithing Leveling Guide (0-200)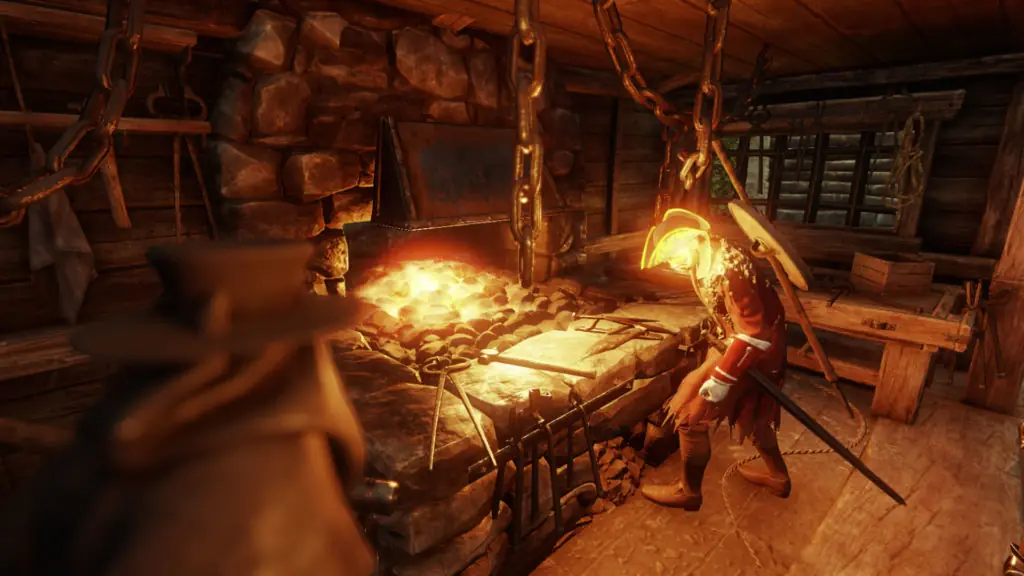 Weaponsmithing is one of seven crafting professions in New World, and it's another tough one to grind to max level. Overall, you will need a ton of resources to solo level this profession, so get ready to do either do a lot of mining or invest a good amount of coin. In this New World Weaponsmithing leveling guide, we'll show you how to get from level 0 to 200 as efficiently as possible.
Unlike Armoring, Weaponsmithing is done exclusively at the Forge. That means you'll want to set up shop in a town with a Tier 5 forge and make sure to store all of your materials there. Open your map, and check out the main settlements to see which town has a Tier 5 Forge and Smelter. It will also help if this city is a trading hub, as you'll likely be resorting to market buying a lot of materials. Setting up logistics to transport everything back and forth between cities can be a nightmare, so this step will help you out in the long run.
Check out our New World Crafting and Gathering wiki for more leveling guides and resource locations.
New World Weaponsmithing Leveling Guide (0-200)
Weaponsmithing Level 0-100: Weak Honing Stone, Iron Great Axe
Weaponsmithing Level 100-150: Steel War Hammer, Starmetal War Hammer
Weaponsmithing Level 150-200: Starmetal War Hammer, Orichalcum War Hammer
We will break up the guide into sections, concentrating on a few recipes in each level bracket. Please keep in mind that the actual calculations will vary depending on a few factors.
First, you should be completing Town Project Board quests, some of which entail making sets of weapons and armor. These quests grant some nice trade skill experience, which will boost your Weaponsmithing levels nicely. Second, refining reagents affect your chance at creating more Ingots from ore, and therefore, the actual raw ore costs will be much lower if you use higher-tier reagents like Flux. We recommend bulk buying ore and using Obsidian or Shelldust Flux to refine it for the high percent chance to make additional free Ingots.
Lastly, it would help if you always were salvaging your crafted items. Salvaging items you make with Weaponsmithing will refund you a couple of Ingots, which will reduce your overall raw resource requirements. Chances are you won't be able to sell your crafted items until you get to making Orichalcum goods.
New World Weaponsmithing Leveling 0-100
There are a few options to get Weaponsmithing from level 0 to 100. Overall, Weaponsmithing level 0 to 200 requires 97,375 experience.
The easiest and least material-intensive recipe to make is Weak Honing Stone. However, you cannot craft this until Weaponsmithing level 20, so you can make the latter two recipes in the meantime and mix those in when you have the resources on hand.
Weak Honing Stone Recipe
Stone x1
Death Mote x1
Fire Mote x1
Weaponsmithing Skill Lv. 20
Forge Tier 2
+36 Weaponsmithing
From level 20 to 100, you need 94,425 experience or 2,623 Weak Honing Stones. The raw material requirements for that are 2,623 Death Mote, Fire Mote, and Stone. Yes, this is the most efficient way to get to level 100. Feel free to mix in a few Iron Great Axe and Iron War Hammer if you have the resources.
Iron Great Axe Recipe
Iron Ingot x12
Timber x3
Coarse Leather x2
Weaponsmithing Skill Lv. 0
Forge Tier 2
+204 Weaponsmithing
Iron War Hammer Recipe
Iron Ingot x12
Timber x3
Coarse Leather x2
Weaponsmithing Skill Lv. 0
Forge Tier 2
+204 Weaponsmithing
New World Weaponsmithing Leveling 100-150
To get from Weaponsmithing level 100 to 150, you can focus on crafting Steel War Hammer (or Great Axe) and Starmetal War Hammer (or Great Axe).
Steel War Hammer Recipe
Steel Ingot x13
Refined Wood x3
Leather x2
Forge Tier 3
Weaponsmithing Skill Lv. 50
+540 Weaponsmithing
You can craft Steel War Hammers all the way to 150 or stop at 125 and switch to Starmetal War Hammers. It all comes down to how you can acquire the raw materials, their prices on the Trading Post, etc. Pick what best suits your playstyle.
To get to level 125, you'll need 144,150 Weaponsmithing experience or 267 Steel War Hammers. That equates to 3,471 Steel Ingot, 801 Refined Wood, and 534 Leather.
Starmetal War Hammer Recipe
Starmetal Ingot x14
Refined Wood x3
Leathers x2
Forge Tier 4
Weaponsmithing Skill Lv. 100
+1425 Weaponsmithing
If you stop making Steel War Hammers and make the switch to Starmetal at Weaponsmithing level 125, you'll need 260,400 more XP to make it to 50. That equates to 183 Starmetal War Hammers, which translates to 2,562 Starmetal Ingots, 549 Refined Wood, and 366 Leather.
New World Weaponsmithing Leveling 150-200
The journey is almost over, and for the final stretch, you can continue making some Starmetal War Hammers or immediately make the switch to the Orichalcum War Hammer (or Great Axe). You will need 1,379,500 XP to get from Weaponsmithing level 150 to 200, and that equates to 445 Orichalcum War Hammers.
Orichalcum War Hammer Recipe
Orichalcum Ingot x15
Refined Wood x3
Leather x2
Forge Tier 5
Weaponsmithing Skill Lv. 150
+3100 Weaponsmithing
If you opt to make only Orichalcum War Hammers, you will need 6,675 Orichalcum Ingots, 1,335 Refined Wood, and 890 Leather. Your Ingot costs will be much lower due to salvaging.
There you have it; our New World Weaponsmithing leveling guide, designed to get you from level 0 to 200 as quickly as possible. Remember, there are many ways to level professions in this game, so you may disagree with some aspects of this guide or find alternate routes that work better with your server's economy. Check the Trading Post and see what's cheapest.
For more related content, builds, and guides, check our website's New World section.