How to get Void Ore in New World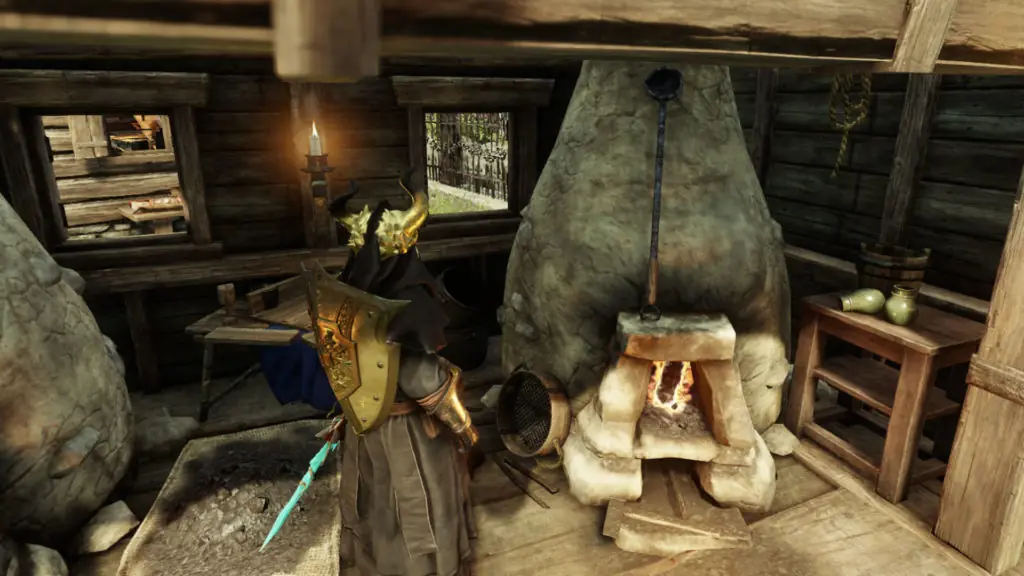 Some metals in New World are much rarer than others. The rarest ore in New World is Void Ore, and it's not easy to come by. Luckily, if you have all the proper requirements and know where to look, you can farm it for yourself with enough patience. It is a highly sought-after ore because it's used in the most powerful armoring recipe in the game: Voidbent. In this guide, we'll explain how to get Void Ore in New World.
How to get Void Ore in New World
Void Ore is a rare Ore that can drop from Orichalcum Veins in New World. To get Void Ore to drop, you'll need to meet the following requirements:
175+ Mining Skill
1,800+ Mining Luck
175+ Mining Skill
Most importantly, you need at least a 175 Mining Skill to consider mining Orichalcum Veins. Without the appropriate Mining Skill level, you cannot tap the Orichalcum Vein, which means no Void Ore for you. So, you can refer to our New World mining leveling guide if you would like some assistance in the process.
Mining Luck
Next, you need at least 1,800 Mining Luck to get Void Ore to drop from Orichalcum Veins. Tracking the exact amount of Mining Luck you have is no easy task, so the best recommendation we have is to get it wherever possible. There are four primary methods to increase your Mining Luck:
Mining Pickaxe with Mining Luck perk
3 Mining Trophies (1 in each house)
Salted Roasted Vegetables
Mining Luck Gear
Optional: Proficiency Booster
You'll want an Orichalcum Mining Pickaxe with these two perks on it: Mining Yield and Mining Luck. The former increases the overall amount of ore you get from each node, while the other increases your chances to find rare ore, such as Tolvium, Cinnabar, and Void Ore.
Another great way to boost your Mining Luck is with Mining Gathering Trophies. You can have one Mining Trophy per house, which means you can have up to three. These are cheap to buy, or you can opt to craft them if your furnishing is up to par.
Next, you'll want some Tier V Trade Skill food in the form of Salted Roasted Vegetables. The food increases your Luck when mining by 2000 points for 40 minutes, providing a nice overall boost to your Mining Luck. If you don't have this recipe, you can probably buy the recipe or the food itself on the Trading Post.
You can also buy a full set of Mining Luck Gear. The perk you are looking for is Reinforced Mining Luck, which provides a bonus to finding rare items while mining. Avoid buying the items with the name Miner in the title, and instead, filter by the Reinforced Mining Luck perk on the Trading Post to pick up some cheap alternatives.
Another thing to consider is getting some Strong Proficiency Boosters. This consumable item increases the number of resources gathered with a tool by 10% for 20 minutes, and you might as well toss it on if you are looking to min-max your mining.
When you have all of the above, it's time to find Orichalcum locations in New World. You can refer to the interactive New World Orichalcum map for a complete list of all known veins. Your best bet is in Shattered Mountains, but there are a few other locations on the map.
What is the drop chance for Void Ore in New World
Each Orichalcum vein has roughly a 1-1.5% chance to drop Void Ore with around 1800 Mining Luck. Full luck gear will put you at around 32-50% Mining Luck, slightly improving your odds even more. That translates to about 1-2 Void Ore per 2,000 Orichalcum Ore. Results may vary.
Remember, you don't HAVE to get your Void Ore this way, as you can usually find it at the Trading Post for around 10,000 Coins. Whichever way you choose to get your Void Ore, you'll be needing a few of the ingots if you want to make yourself some of that sweet Voidbent Armor.