NBA 2K23 – Top 10 Center Predictions
Curious to see where these towering 7-footers land? Check out our predictions below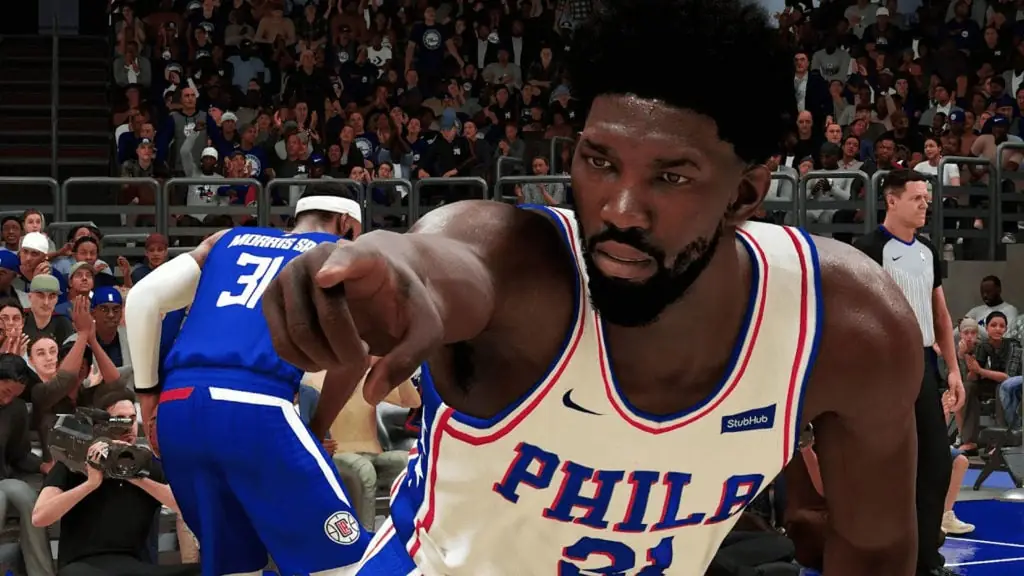 In the modern NBA, the center position has many responsibilities. Not only must they be the best rebounder, interior scorer, and defender on a basketball team but it's also not uncommon for centers to shoot threes, pass and dribble in transition. So, outside of being the most physical player in NBA 2K23, they also need to have a versatile skill set as well.
As a result, no team is complete without an elite center locking down the middle of the paint. So, with NBA 2K23 ratings just around the corner, we've made some predictions for who the top 10 centers will be in NBA 2K23.
NBA 2K23 – Top 10 Center Predictions
10) Clint Capela (Atlanta Hawks) – NBA 2K22 OVR 86
During the 2020-21 NBA season, Clint Capela led the league in rebounding (14.3) and averaged a career-high 2 blocks per game. Unfortunately, these weren't the only numbers that fell off in 2022. In 74 games played, Capela averaged four points less per game than he did in 2021 (11.1) and nearly three rebounds less as well (11.9). He also shot a worse free-throw percentage (47%) and nearly cut his block totals in half, averaging just 1.3 per game. While I see his OVR dropping down a touch in NBA 2K23 due to these factors, he should still make the top 10 in ratings amongst NBA centers.
Prediction – 83 OVR (-3)
9) Nikola Vucevic (Chicago Bulls) – NBA 2K22 OVR 85
Nikola Vucevic's first season with the Bulls in 2021 was largely a success, although, he fell off a bit in 2022. In 73 games played, Vucevic averaged his lowest scoring numbers since 2017 (17.6), and his fewest rebounding totals since 2019 (11.0). He also shot worse from the free-throw line (76%) and averaged less than 3.4 assists per game for the first time since 2017. Nevertheless, his numbers still rank high amongst centers, so, he should crack the top 10.
Prediction – 84 OVR (-1)
8) Jonas Valanciunas (New Orleans Pelicans) – NBA 2K22 OVR 83
Going in the opposite direction we have Jonas Valanciunas. Who also swapped teams recently but didn't fall off one bit. In his first full season with the Pelicans, Valanciunas averaged 17.8 points and 11.4 rebounds per game, both of which are the second-highest amounts he's averaged in his career. He also averaged a career-high 2.6 assists per game and a career-high 82% from the free-throw line, all while averaging over 30 minutes a night for the first time in his NBA career. As a result, I believe he has earned a slight ratings increase for NBA 2K23.
Prediction – 84 OVR (+1)
7) Deandre Ayton (Phoenix Suns) – NBA 2K22 OVR 86
Deandre Ayton's fourth year in the league was met with mixed reviews. On the one hand, he shot a career-best 63% from the field and 37% from the three-point line. He also upped his scoring averages from 14.4 in 2021 to 17.2 in 2022. On the other hand, he averaged just 0.7 blocks, 2.4 assists in 29.5 minutes per game while shooting less than 75% from the free-throw line. All of which rank amongst the worst season averages in his young NBA career. However, I believe his career-highs and lows will balance out, so, his NBA 2K23 rating should remain the same.
Prediction – 86 OVR (+0)
6) Jarrett Allen (Cleveland Cavaliers) – NBA 2K22 OVR 82
On the other end of the spectrum, we have Jarrett Allen, who improved his game in just about every way. Averaging career-highs in points (16.1), rebounds (10.8) and steals per game (0.8) all while shooting a career-best 68% from the field in over 32 minutes a night in his first year as a full-time starter for the Cavs. Which was good enough to earn him his first-ever trip to the NBA All-Star game. Of every center on this list, Allen arguably improved the most, so, I see his rating jumping up quite a bit in NBA 2K23.
Prediction – 86 OVR (+4)
Related: NBA 2K23 – Top 10 Power Forward Predictions
5) Bam Adebayo (Miami Heat) – NBA 2K22 OVR 86
Despite shooting a worse field-goal percentage (56%) and free-throw percentage (75%) last season compared to the year prior. Adebayo also averaged a career-high in points (19.1), and steals per game (1.4). All while averaging over 10 rebounds and 0.8 blocks a game, cementing himself as arguably the most well-rounded center in the NBA. Had it not been for the performance of other names on this list, Bam Adebayo likely would've made an All-Star or All-NBA team last year. Expect him to have one of the better ratings in NBA 2K23.
Prediction – 87 OVR (+1)
4) Karl-Anthony Towns (Minnesota Timberwolves) – NBA 2K22 OVR 87
Karl-Anthony Towns numbers might not jump off the page compared to those he put up in 2021. Although, he still managed to finish third amongst NBA centers in points per game (24.6), and led the position in three-point shooting, knocking down over 41% of his deep balls. All while maintaining consistent rebounding (9.8), assists (3.6), steals (1.0) and blocks per game (1.1). Most importantly, he played a major role in the T-Wolves making the playoffs for the first time since 2017 and he's still just 26 years old.
Prediction – 89 OVR (+2)
3) Rudy Gobert (Minnesota Timberwolves) – NBA 2K22 OVR 88
Rudy Gobert has always been a dominant rebounder and efficient interior scorer, but he took things to a whole new level last season. Averaging a career-best (and league-leading) 14.7 rebounds per game, while hitting over 70% of his shots from the field, which also led the NBA. He also upped his scoring averages (15.6) and free-throw shooting percentage (69%) from the year prior, while maintaining his exceptional shot-blocking ability averaging over 2 swats a night. As a result, I suspect Gobert will receive a slight boost in ratings when NBA 2K23 rolls around.
Prediction – 90 OVR (+2)
2) Joel Embiid (Philadelphia 76ers) – NBA 2K22 OVR 95
Even though Embiid fell short to Jokic for league MVP, he still put up exceptional numbers and some of the best ever seen from the center position. Averaging a career-high (and league-leading) 30.6 points per game to go along with 11.7 rebounds, 4.2 assists, 1.1 steals and 1.5 blocks per game with .499/.371/.814 shooting splits. He also played in a career-high 68 games last season averaging over 33 minutes a night. Which is an accomplishment in and of itself given his injury history. Despite missing out on the Most Valuable Player award, Joel Embiid should carry one of the better ratings in NBA 2K23.
Prediction – 96 OVR (+1)
1) Nikola Jokic (Denver Nuggets) – NBA 2K22 OVR 95
Not only is Nikola Jokic coming of back-to-back MVP seasons but he's also posted two of the greatest statistical seasons in NBA history. In the 2021-22 NBA season, Jokic finished second in scoring (27.1) second in rebounding (13.8) and first in assists per game (7.9) amongst centers. The first two of which are career-highs. He also averaged the most steals (1.5) and blocks per game (0.9) in his career, and singlehandedly carried the Denver Nuggets to 48 wins and the sixth seed in the Western Conference. I expect him to have one of the better overall ratings in NBA 2K23.
Prediction – 96 OVR (+1)
That concludes our predictions for the top 10 centers in NBA 2K23. Before you go, be sure to check out some of our other NBA 2K23 content here at Gamer Journalist. Like all Michael Jordan Challenges in NBA 2K23, explained or all NBA 2K23 editions and cover athletes, explained.