Mario Golf Super Rush: release date, characters, and game modes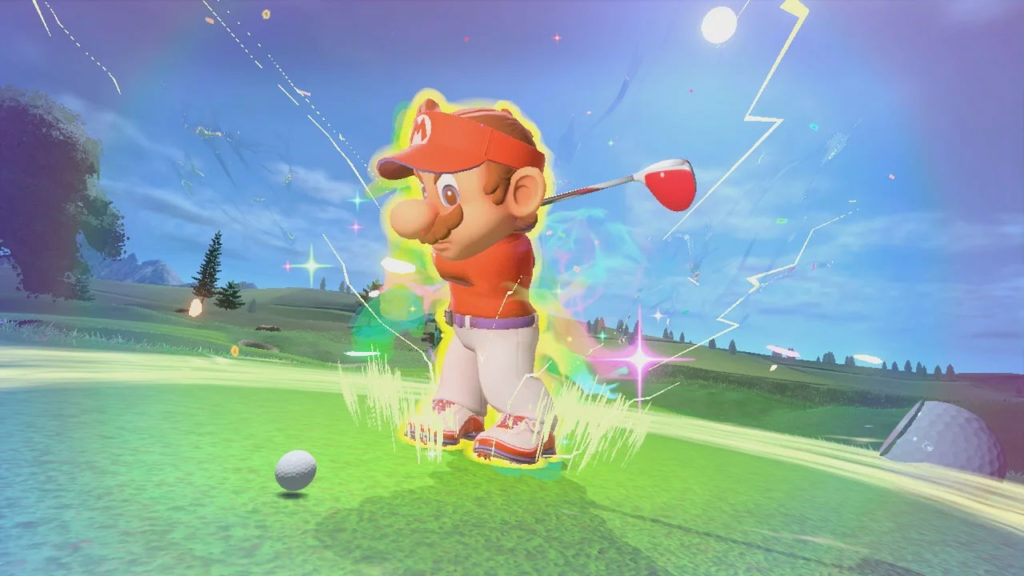 Mario fans can hit the fairway with their favorite Mushroom Kingdom characters this summer. The latest Mario Golf Super Rush trailer reveals some exciting new details about the upcoming Nintendo golf game, including the release date, character lineup, and various game modes. Like other Nintendo sports games, it looks like it will be an entertaining party game and single-player game that puts a fun twist on the classic game of golf.
When does Mario Golf Super Rush release?
The official release date for Mario Golf Super Rush is June 25, 2021, according to Nintendo. The game supports up to four players in both online and offline play.
Mario Golf Super Rush Characters
Like all Mario-themed sports games from Nintendo, each character comes with some special abilities to shake things up a bit. Each character has a unique special move that they can use during the game on the course. Each character also has different attributes:
Power: how far you can drive the ball.
Stamina: how long you can dash.
Speed: how fast you can run.
Control: how straight you can hit the ball.
Spin: how much you can spin and shape shots.
The Mario Golf Super Rush lineup includes the following characters:
Mario: Mario's super strength regular shot goes farther than normal.

Luigi: The golf ball freezes the area around it on impact.
Wario: A lightning storm messes with other players' ball trajectory.
Waluigi: We're unsure of Waluigi's special move.
Peach: Other players' golf balls will move out of the way for Peach's.
Daisy: Daisy's special shot is more powerful than normal.
Yoshi: The golf ball turns into an egg on impact.
Bowser: Bowser's special shot is more powerful than normal.
Bowser Jr.: We're unsure of Bowser Jr's special move.
Boo: Boo's ball scares other players' ball on impact.
Donkey Kong: We're not sure of Donkey Kong's special.
Rosalina: Rosalina's ball turns into Star Bits to collect on impact.
Pauline: Other players' golf balls move out of the way for Pauline's.

Toad: A Golden Mushroom grants Toad super strength.
Chargin' Chuck: Disrupts other players' golf balls on impact.
King Bob-omb: The ball spawns mini-bombs that cause chaos.
Mario Golf Super Rush Game Modes
The game modes in Mario Golf Super Rush include Battle Golf, Speed Golf, and Golf Adventure.
Speed Golf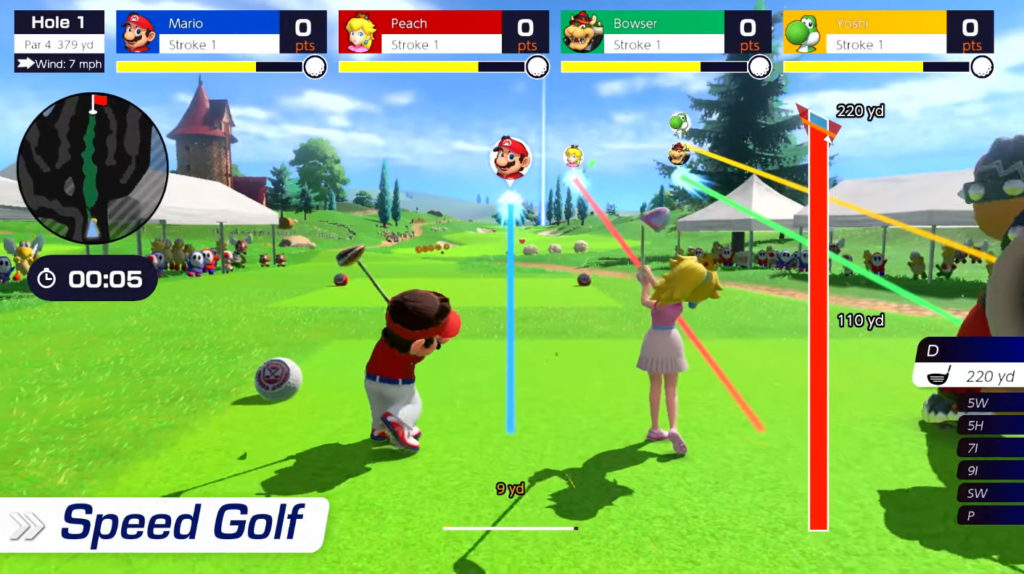 Speed Golf is a new way to enjoy golf against other players. Players tee off in unison and run through the course as quickly as possible to get to their next shot. In classic Mario style, players can use their abilities to make it more challenging for others and throw them off their game.
The goal is to race to become the first to sink your ball in the goal. There are various items and obstacles throughout the course to help you out and make it more challenging. Each character has special dash abilities to give them a temporary speed boost and knock other players off their game, like Mario Kart.
Battle Golf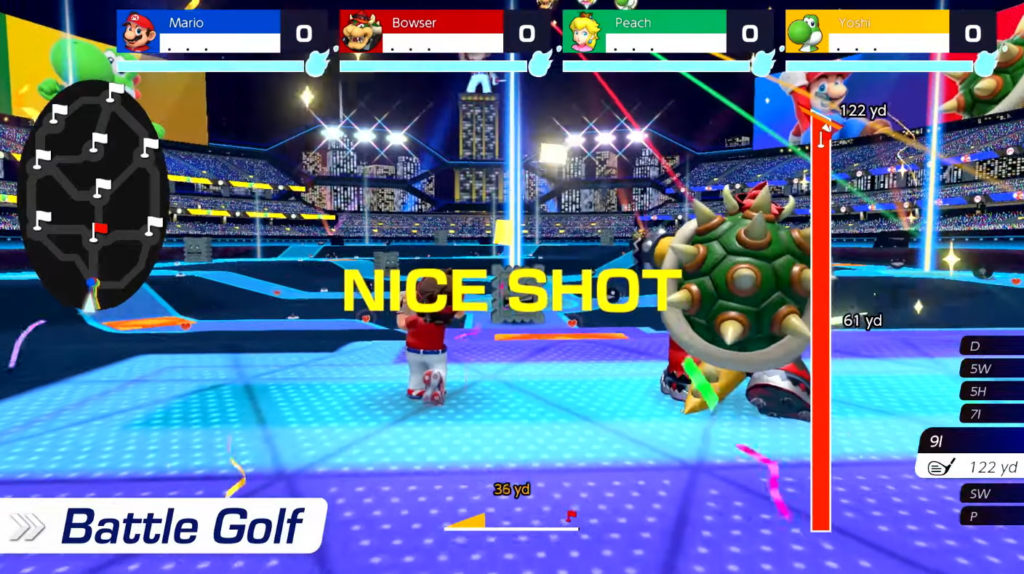 Head to the stadium to compete in Battle Golf, a mode with nine holes in play at one time. The mode is a unique variation of Speed Golf, and the goal is to be the first player to score three holes to claim a victory. It's a lot more chaotic than Speed Golf and seems reminiscent of Mario Kart Battle mode.
Golf Adventure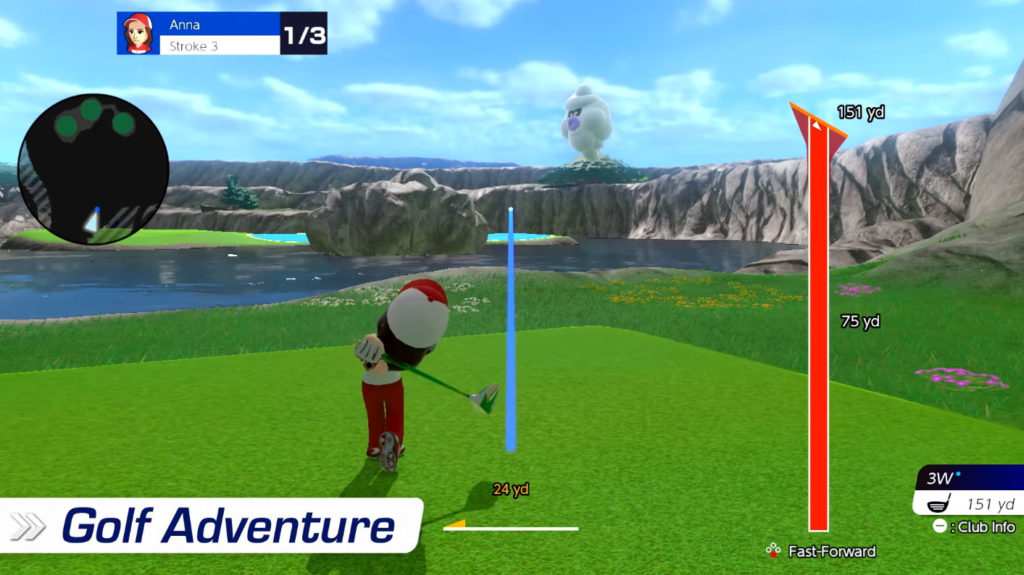 Gold Adventure is Mario Golf Super Rush's single-player story campaign. Players will play through multiple levels in a linear story to level up their character, taking a Mii character from rookie to pro golfer. Learn the basics, and improve on every aspect of your golf game while completing various challenges along the way.
Players can level up and gain experience by playing through this game mode. Assign points to different attributes like Power, Stamina, Speed, Control, and Spin, to improve your character and make it into the best golfer.
Tee off with family and friends in Mario Golf Super Rush on June 25, 2021, for Nintendo Switch. Nintendo Switch Online membership is required for online play.
About the author