Madden NFL 23: All Kicker Ratings Revealed
No Madden NFL 23 team would be complete without an elite kicker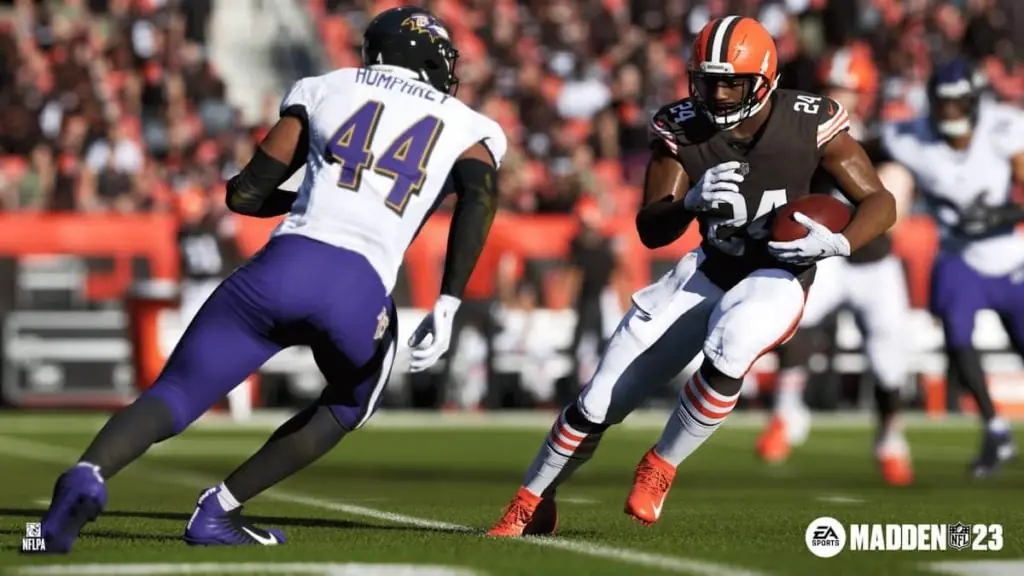 NFL training camps are officially underway and EA has kicked off its Madden NFL 23 ratings week as a result. Now that player ratings are finally getting revealed, fans are eager to see where their favorite players land in the pecking order. With the most recent position group highlighted being the kickers.
Here are all of the best kicker ratings in Madden NFL 23.
Madden NFL 23: All Kicker Ratings Revealed
Kickers are one of the most heavily scrutinized positions in football. As the player who's name gets called upon to try and win a game, when they make a mistake their flaws are put on notice. Although when they come through in the clutch, it gets easily overlooked because it's "their job". Since there's so much pressure placed on the position, having an elite kicker in Madden NFL 23 could make all the difference.
Related: Madden NFL 23 – All Tight End Ratings Revealed
Without further ado, here are the top 30 kickers in Madden NFL 23.
Top 30 Kickers
Justin Tucker (90), Baltimore Ravens
Harrison Butker (84), Kansas City Chiefs
Evan McPherson (83), Cincinnati Bengals
Chris Boswell (82), Pittsburgh Steelers
Younghoe Koo (82), Atlanta Falcons
Daniel Carlson (81), Las Vegas Raiders
Graham Gano (81), New York Giants
Robbie Gould (80), San Francisco 49ers
Matt Gay (79), Los Angeles Rams
Brandon McManus (78), Denver Broncos
Matt Prater (78), Arizona Cardinals
Nick Folk (78), New England Patriots
Wil Lutz (78), New Orleans Saints
Cairo Santos (77), Chicago Bears
Tyler Bass (77), Buffalo Bills
Jake Elliot (76), Philadelphia Eagles
Greg Zuerlein (75), New York Jets
Jason Sanders (75), Miami Dolphins
Zane Gonzalez (75), Carolina Panthers
Rodrigo Blankenship (74), Indianapolis Colts
Cade York (73), Cleveland Browns
Jason Myers (73), Seattle Seahawks
Joey Slye (73), Washington Commanders
Ryan Succop (73), Tampa Bay Buccaneers
Dustin Hopkins (72), Los Angeles Chargers
Mason Crosby (72), Green Bay Packers
Austin Seibert (71), Detroit Lions
Eddy Pineiro (71), New York Jets
Kai'mi Fairbairn (71), Houston Texans
Randy Bullock (71), Tennessee Titans
At first glance, these ratings might seem pretty on point. However, I personally see some pretty clear flaws with this list. Obviously, Justin Tucker is by far and away the best kicker in the league while both Butker and McPherson are also two elite talents. Although, Daniel Carlson missed just three field goals last year and finished with the most points amongst kickers, yet, he falls outside of the top five.
Similarly, Matt Gay missed just a single PAT, two field goals and finished third in total points but barely cracked the top ten. While Ryan Succop knocked in more PATs than any other kicker in the league and also finished in the top ten in points, but somehow carries a measly 73 overal rating in Madden NFL 23.
That's everything you need to know about the latest Madden NFL 23 ratings reveal highlighting the best kickers in the game. Before you go, be sure to check out some of our other Madden content here at Gamer Journalist. Like how to use FieldSENSE in Madden NFL 23 or all players rated 99 or higher in Madden NFL 23.