All Players 99 or Higher in Madden NFL 23
Madden 23 is on the way, and the first three members of the "99 Club" have been unveiled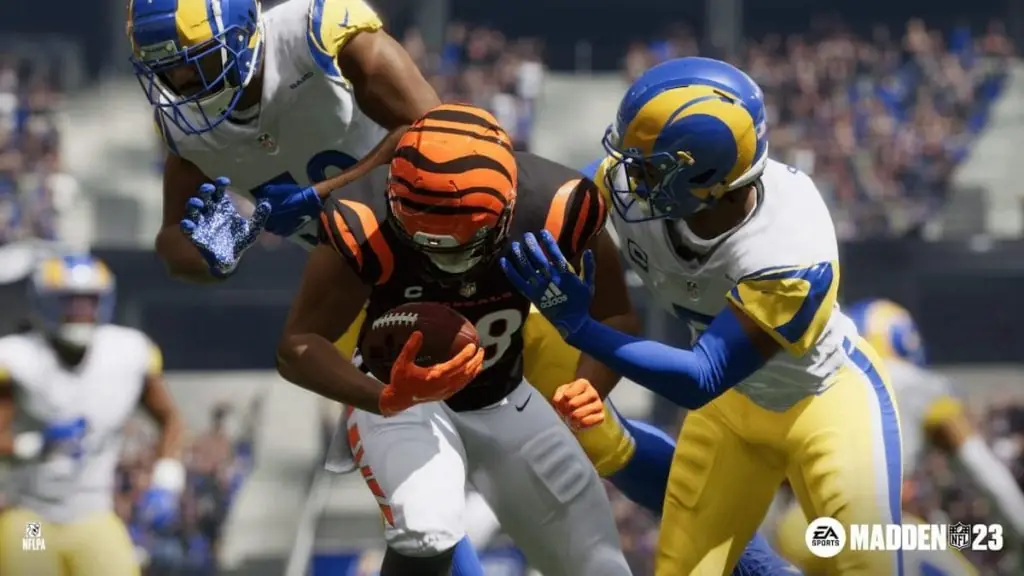 With football season around the corner, we're nearing the release of Madden 23, which is set to drop on August 19, 2022. In anticipation for the upcoming sports title, fans are eager to learn more, including who some of the top-rated players are. And after months of speculation, it looks like we've finally received the names set to featured in the exclusive "99 Club".
Here are all of the players who are rated 99 or higher in Madden NFL 23.
All Players 99 or Higher in Madden NFL 23
Following their highly-anticipated ratings week, EA has narrowed it down to four players who hold a 99 overall rating in Madden 23. Including San Francisco 49ers' offensive lineman Trent Williams, Las Vegas Raiders' wide receiver Davante Adams, Cleveland Browns' defensive end Myles Garrett, and Los Angeles Rams' dominant D-lineman Aaron Donald. The latter of which was the most recent member of the 99 Club, with Madden 23's Twitter account dropping the news on the morning of July 21, 2022.
Related: Madden NFL 23 All Wide Receiver Ratings Revealed
This marks Donald's sixth straight year as a member of the coveted 99 Club, which currently ties the legendary Peyton Manning for the most appearances of all time. A record which he's likely to break by next year if he continue this upwards trajectory.
As one of the greatest football players of our generation, Donald is coming off yet another season that not only resulted in a Super Bowl win but also a strong statistical showing. In 17 regular season games, Donald finished with a career-high 84 tackles, 12.5 sacks, four passes defended and four forced fumbles. All of which helped him achieve his eighth Pro Bowl and seventh All-Pro selection by the end of the year.
Nine-time Pro Bowl selection, Trent Williams, was the first player to carry a 99 rating or higher in Madden NFL 23. Then just a couple of days later, Davante Adams joined him as the highest-rated receiver in the game and Myles Garrett as the highest-rated defensive end. Currently, these are the only four players with a 99 overall rating in Madden NFL 23 and with ratings week now over, this is likely to be the final list.
Those are all of the players who are rated 99 or higher in Madden NFL 23. While we wait to see what else EA has in store for us, be sure to check out some of our other Madden content here at Gamer Journalist. Like how to use FieldSENSE in Madden 23 or what comes with each edition of Madden 23?