Madden NFL 23: All Tight End Ratings Revealed
Madden 23 ratings week has officially arrived and tight ends are being highlighted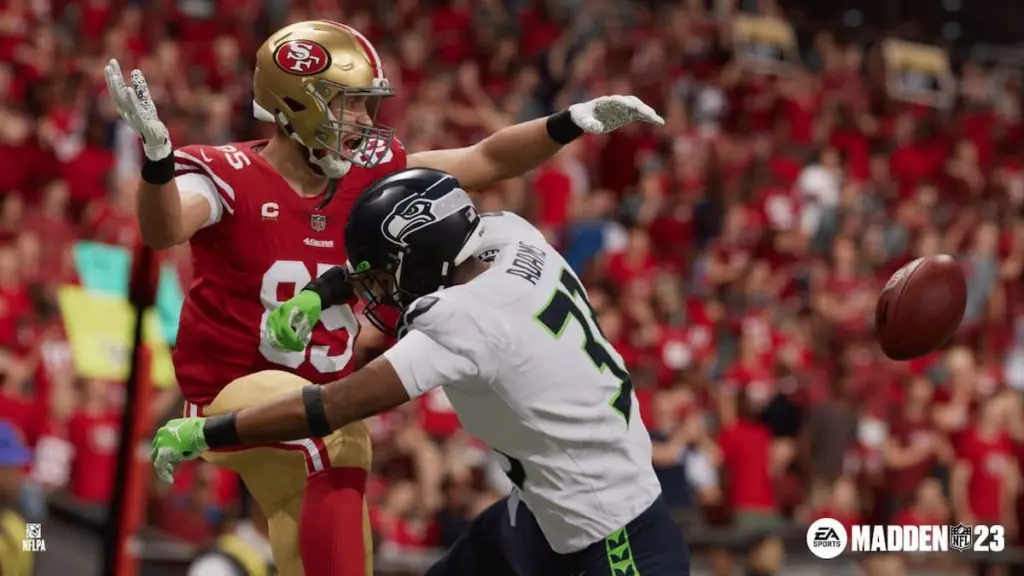 With the start of NFL training camp just weeks away, EA has officially kicked off its Madden NFL 23 ratings week as of July 18, 2022. Now that player ratings are finally starting to get revealed, football fans are eager to find out where their favorite players land in the pecking order. Beginning with the tight ends group.
Here are all of the tight end ratings in Madden NFL 23.
Madden NFL 23: All Tight End Ratings Revealed
Tight end is one of the most underrated positions in Madden NFL 23, as the most versatile offensive player that must be able to block, run and catch at an elite level to provide help for their respective franchise. This means that if you're on the cusp of becoming a Super Bowl contender, implementing one of the following tight ends could be all you need to push your team over the top.
Related: Madden NFL 23 – All Wide Receiver Ratings Revealed
Without further ado, here are the top 30 tight end ratings in Madden NFL 23:
Top 30 Tight Ends
Travis Kelce (98), Kansas City Chiefs
George Kittle (97), San Francisco 49ers
Mark Andrews (93), Baltimore Ravens
Darren Waller (91), Las Vegas Raiders
T.J. Hockenson (89), Detroit Lions
Kyle Pitts (87), Atlanta Falcons
Mike Gesicki (86), Miami Dolphins
Dallas Goedert (85), Philadelphia Eagles
Hunter Henry (84), New England Patriots
Zach Ertz (84), Arizona Cardinals
Dawson Knox (83), Buffalo Bills
Tyler Higbee (83), Los Angeles Rams
Dalton Shultz (82), Dallas Cowboys
Noah Fant (82), Seattle Seahawks
Evan Engram (81), Jacksonville Jaguars
David Njoku (80), Cleveland Browns
Robert Tonyan (80), Green Bay Packers
Austin Hooper (79), Tennessee Titans
C.J. Uzomah (79), New York Jets
Pat Freiermuth (79), Pittsburgh Steelers
Logan Thomas (78), Washington Commanders
Marcedes Lewis (78), Green Bay Packers
Tyler Conklin (78), New York Jets
Jonnu Smith (77), New England Patriots
Nick Boyle (77), Baltimore Ravens
Gerald Everett (76), Los Angeles Chargers
Hayden Hurst (76), Cincinnati Bengals
Maxx Williams (76), Arizona Cardinals
Cole Kmet (75), Chicago Bears
Mo Alie Cox (75), Indianapolis Colts
My first impressions of the Madden NFL 23 tight end ratings is that EA might've actually nailed this one. Obviously, as with any initial ratings, there are some flaws. For example, Mark Andrews led all TEs in yards (1,361) and receptions (107) in 2021 and yet, he's rated lower than both Travis Kelce and George Kittle.
Then there's somebody like Cole Kmet, who finished with more yards (612) and receptions (93) than players like Hunter Henry, Dawson Knox and Tyler Higbee but was rated nearly ten points lower than all of them. That being said, the ratings were fairly accurate overall and I'm excited to see what else is in store in the coming days.
That's everything you need to know about the latest Madden NFL 23 reveal highlighting all of the tight end ratings. Before you go, be sure to check out some of our other Madden content here at Gamer Journalist. Like all player rated 99 or higher in Madden NFL 23 or everything included with each edition of Madden NFL 23.