Madden 23: The Best Young Players to Trade for in Franchise Mode
Set your team up for future success with these talented young prospects!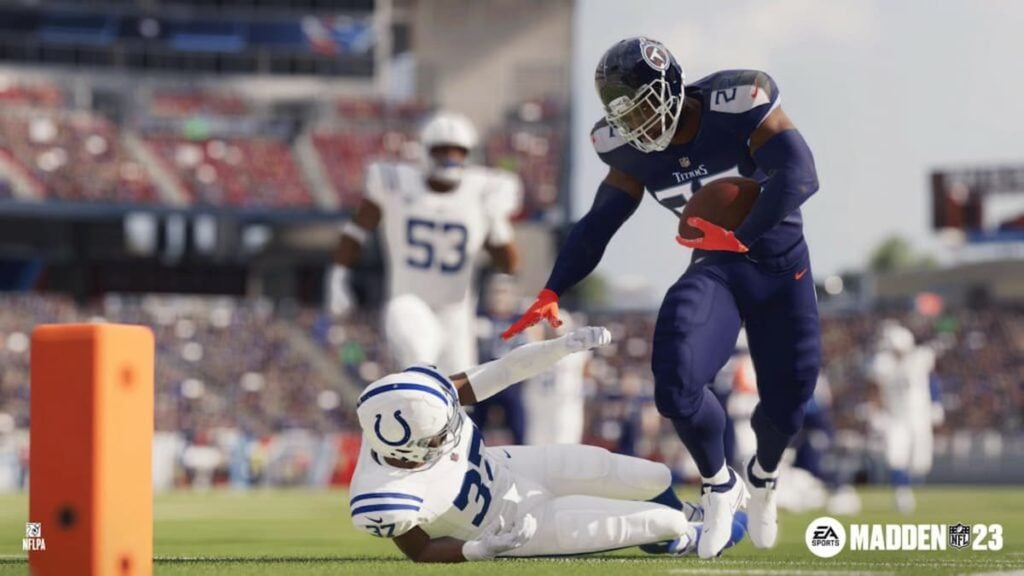 There are various factors to consider when it comes down to building a successful NFL franchise from the ground up in Madden 23. Sure, drafting well and going all in to acquire key free agents is a major part of every team's success. However, the truly elite teams are able to identify some diamonds in the rough early and look to the future with young and talented prospects.
In this guide, we will explore some of the best young players to trade for in Madden 23 Franchise mode.
Madden 23: The Best Young Players to Trade for in Franchise Mode
Creating your very own dynasty in Madden 23 is all about finding young and talented players that can develop into generational superstars. This doesn't just help out your team in the short term, but it also ensures that you have a squad to build around for the next five to ten years.
Related: How to Enter the Zone in Madden 23
Unfortunately, it's not easy to acquire top-tier talent in Madden 23, and they're generally pretty expensive too. Although, if you're able to reel in one or two of the following players, then your team should be set for the next few NFL seasons.
Here are 6 of the best young players you need to trade for right now in Madden 23 Franchise mode;
Jordan Davis (78), DT – Philadelphia Eagles – Let's kick things off with the most dominant force from the 2022 NFL Draft, Jordan Davis. Not only was Davis the anchor of the championship-winning Georgia Bulldogs defense, but he also outperformed everybody at the NFL Combine. Since he carries one of the best Madden 23 rookie ratings, he can easily be plugged into your lineup right away.
Ahmad Gardner (78), CB – New York Jets – Ahmad "Sauce" Gardner is undoubtedly one of the most exciting DB prospects in recent years, and his Madden 23 rating showcases this beautifully. With a 78 overall, Gardner can be reliably placed into any starting rotation and should flourish immediately. It's also worth noting that every successful NFL franchise has a lockdown corner, so, it's never a bad investment.
Jameson Williams (78), WR – Detroit Lions – Jameson Williams might not be the most technically sound wide receiver in this year's pool of draftees, but he's easily the most explosive. In Madden 23, speed is king and having a receiver who can take the top off opposing defenses is essential. Plus, you can take the time to develop his other skills over the next couple of seasons as he molds into a true WR1.
Aidan Hutchinson (77), DE – Detroit Lions – Hutchinson came into the 2022 NFL Draft as the most surefire prospect out of college and one projected to make an impact right away. While we have yet to see him perform on the NFL stage, his Madden 23 rating makes him a very worthy trade target. Hutchinson would instantly offer relief along the edge, giving you a dominant pass rusher to lead your franchise into the next decade.
Evan Neal (77), OT – New York Giants – At 6'7″, 350 pounds, Evan Neal is an absolute behemoth on the football field. He has a massive ceiling and was widely regarded as one of the more "NFL ready" prospects from the draft. Left tackle is also one of the most important positions in football, and a great starting piece to build your franchise around.
Kenneth Walker (77), RB – Seattle Seahawks – Lastly, we have arguably the most fierce young RB in the league, Kenneth Walker. Who's coming off a remarkable season at Michigan State and is already one of the most powerful and explosive young running backs in Madden 23. Breece Hall is another strong option, but Walker is going to be far cheaper and equally as exciting to watch.
That's everything you need to know about the best young players to trade for in Madden 23 Franchise mode. If you're interested in more Madden 23 content, be sure to check out our guides section here at Gamer Journalist. Where you can find loads of helpful information like how to get sacks in Madden 23 or how to earn coins quickly in Madden 23 Ultimate Team.