How to Get Sacks in Madden 23
This guide will show you how to get after the quarterback effectively!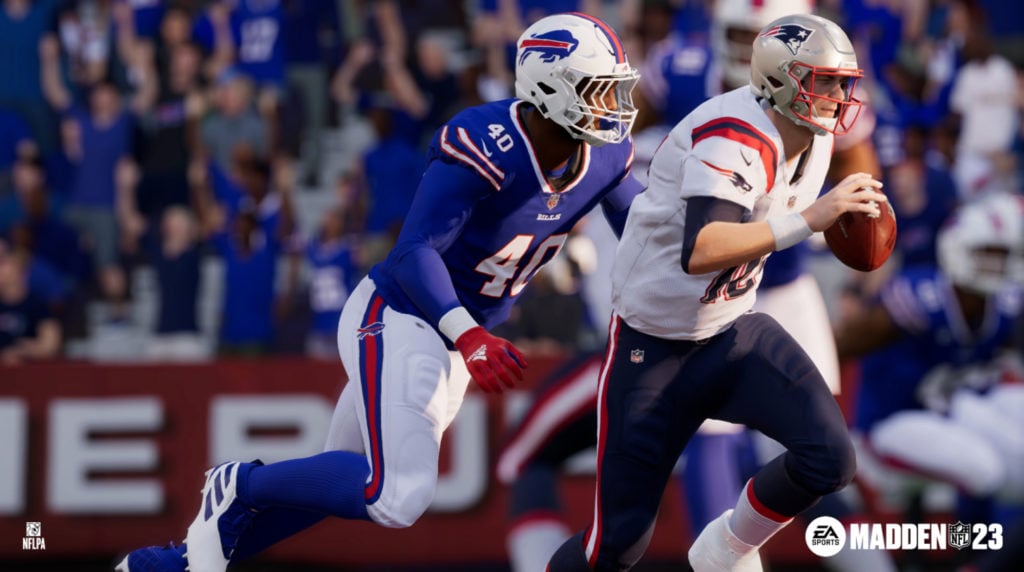 No matter how good your defense is in Madden 23, you have to keep pressure on the quarterback. Even if you think you have all the angles covered, letting the opposing quarterback sit back in the pocket gives them time to find the open man and make a play. This is why it's so important to know how to rush the passer effectively and get sacks.
In this guide, we will explore everything you need to know about how to get sacks in Madden 23.
How to Get Sacks in Madden 23
The truth is that modern NFL defenses are extremely complicated and technical in terms of each position's roles and responsibilities. Which is why it's nearly impossible to master every aspect of the defense. However, one of the best tools you can learn is how to consistently put pressure on the opposing quarterback through blitzes and pass rush plays.
Related: How to Force Turnovers in Madden 23
Putting pressure on the other team's quarterback increases the chances of them getting rattled and making mistakes. Which will lead to more turnovers and opportunities for your defense to steal possession of the football. Simply put, if you want to win more games, then you need to know how to get sacks.
Here are four things you can do right now to get more sacks in Madden 23.
1) Remove short passing options
Whenever a quarterback gets pressured in Madden, they look for the nearest receiver to check the ball down and gain some yards. Oftentimes, this is the running back coming out of the backfield. An easy way to rack up sacks is by making sure these short-passing plays are covered.
To do this, you will need to have at least one linebacker in zone coverage, instead of blitzing. Using the pre-snap option menu, you can highlight a particular player and choose their individual coverage.
2) Prioritize players with elite pass-rushing stats
One of the best ways to get sacks in Madden 23 is by acquiring players with high ratings in power moves and finesse moves. Power moves dictate how successful a player will be in rushing the passer using bull rushes, rip moves, and club moves. While finesse moves dictate how successful a player will be in rushing the passer using swim moves, spin moves, and speed moves.
Also, making sure they have solid speed, acceleration, and agility ratings is paramount for a pass rusher. This way they can get off the line of scrimmage and around the outside edge quickly. I would also suggest players with elite block shedding and strength, as this will ensure a higher success rate trying to get by the other team's offensive line.
3) Utilize good pass-rushing plays
If you're playing a 3-4 defense, then you should be rushing three D-linemen at a time. Although, it's always good to have all five of the players (three D-linemen and two linebackers) lined up at the line of scrimmage.
If you're using a 4-3 defense, then you will have four D-linemen up front rushing the passer, with three linebackers behind. For this formation, you should continue to rush the four D-linemen as well as one of the linebackers on a blitz play.
A good rule of thumb is to always have plays that blitz either the strongside linebacker or the strong safety. Whichever side of the field has the most defenders is referred to as the strong side.
4) Practice user blitzing
When your defense is on a third and long play, or your opponent has been targeting deep balls down the field, you should take control of a pass rusher. If you're user-controlling an interior lineman, then you should stick to the bull rush move by flicking the right stick down, as this will maximize your defensive tackle's strength and power.
If you're using an outside linebacker or defensive end, you should try out the swim move by flicking the right stick to the right, taking advantage of the defender's athleticism and versatility.
That's everything you need to know about how to get sacks in Madden 23. If you're interested in more Madden 23 content, be sure to check out our guides section here at Gamer Journalist. Where you can find helpful information like how to use the hit stick in Madden 23 or how to earn coins quickly in Madden 23 Ultimate Team.