Madden 23: Quarterback Rating Predictions
Here's an early prediction for each quarterbacks rating in Madden 23!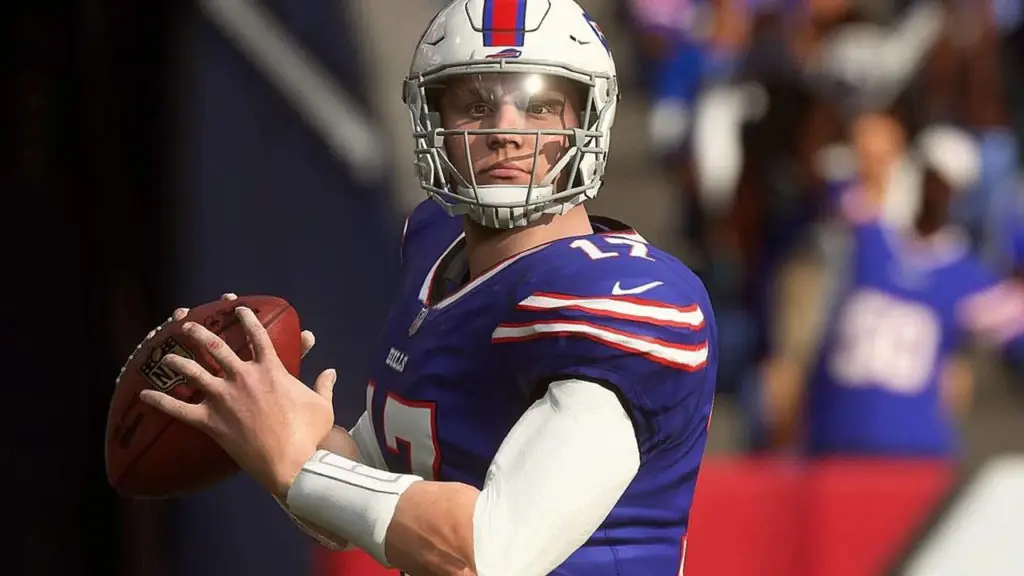 Now that we're just weeks away from the official Spring League Meeting for NFL teams, and a couple of months out from the start of training camp. The hype is beginning to mount over the release of information on Madden 23.
Even though EA Sports has kept everything tight to the vest up to this point, there are a few things we can assume based on previous trends and player performances. One of which is how every superstar will fair when it comes down to their Madden ratings.
So, here is our early rating prediction for each quarterback set to be featured in Madden 23.
Madden 23: Quarterback Rating Predictions
Last week, we made our projections as to how each rookie will be rated in Madden 23. With Detroit's Aidan Hutchinson stealing the top spot, and three wide receivers sneaking into the top ten. Although, today we're going to be looking at the most important position in football, quarterback.
Here are our early predictions for the top quarterback ratings in Madden 23.
#1 – Tom Brady (99), Tampa Bay Buccaneers
At launch last year, Tom Brady was given the second-best quarterback rating in the game at 97. Although, after putting up MVP-like numbers in 2021 at the age of 44, there's a very good chance that his rating only improves as the G.O.A.T. So, I predict him to carry a legendary 99 OVR when Madden 23 launches by the end of the summer.
#2 – Aaron Rodgers (98), Green Bay Packers
When Madden 22 launched, Aaron Rodgers had a 96 overall rating. However, since he ended last year on a high note by capturing back-to-back league MVPs. Throwing for over 4,000 yards and 37 touchdowns on just 4 interceptions through 16 regular-season games. I expect to see his numbers rise once again as arguably the greatest quarterback in football with a 98 OVR in Madden 23.
#3 – Patrick Mahomes (97), Kansas City Chiefs
Here I see Patrick Mahomes falling two spots down to a 97 overall. This doesn't have as much to do with his performance, as he's still debatably the most talented quarterback in the league. But he failed to reach the Super Bowl in 2021, while the rest of his counterparts only improved. Still, if he were to land a 97 OVR in Madden 23 I don't think anybody would be complaining.
#4 – Josh Allen (95), Buffalo Bills
Next, we've got the Buffalo Bills' franchise quarterback receiving a massive upgrade with the fourth-highest rating in the game of 95. Josh Allen is an absolute force to be reckoned with on the field and a true dual-threat quarterback capable of taking the game over at a moment's notice. He's also coming off a strong 2021 campaign and is the odds on favourite to win the league MVP and Super Bowl in 2022. I expect Madden 23 will reward him handsomely for this.
#5 – Russell Wilson (94), Denver Broncos
Despite missing three games of the regular season last year, and subsequently, the playoffs. It's hard to argue that Russell Wilson's stock dropped off all that much in 2021. Throwing for over 3000 yards and 26 touchdowns on just 5 interceptions in only 14 games. Ending with a 64.8 pass completion percentage and a 103.1 QBR. Which is why I see him landing the same rating he had last year at launch with a 94 OVR.
#6 – Joe Burrow (92), Cincinnati Bengals
Next up we have the quarterback who arguably improved their stock the most last season, Cincinnati's Joe Burrow. Not only did "Joey Franchise" lead the Bengals to their first Super Bowl since 1988. But he also put up consistent numbers all year and cemented himself as one of the best young QBs in football. Expect him to carry one of the higher ratings in Madden 23 as a result.
#7- Lamar Jackson (91), Baltimore Ravens
Even though Lamar was forced to sit out for five games of the regular season in 2021. He's still one of the most gifted athletes in sports, and the best running quarterback the NFL has ever seen. He also put up sensational numbers in the games he did play in and was even a unanimous decision for the Pro Bowl in 2021. So, he should retain the rating he had at launch last year with a 91 OVR in Madden 23.
#8 – Matthew Stafford (91), Los Angeles Rams
Matthew Stafford is another player who saw his stock rise dramatically last season. Especially after he led the Los Angeles Rams to a massive Super Bowl victory in February, clinching his first-ever Lombardi Trophy. Most importantly, he did so by putting on clutch performance after clutch performance throughout the postseason. So, he too should carry a far better rating than the 83 OVR he had at launch in Madden 22.
#9 – Justin Herbert (88), Los Angeles Chargers
At the beginning of the year, Justin Herbert had an 80 OVR. By the end of the regular season, he improved this to an 84 OVR and was easily one of the top gunslingers in the NFL. Outside of Patrick Mahomes, Josh Allen, and Lamar Jackon, there's arguably no young talent more exciting to watch than Justin Herbert. Which is why I can easily see Madden 23 rewarding the young Chargers quarterback with a very respectable 88 overall rating.
#10 – Deshaun Watson (87), Cleveland Browns
Lastly, we have the player who was forced to miss the entire 2021 regular season due to external circumstances, Deshaun Watson. Despite nobody knowing how he's going to come back in 2022 with the Cleveland Browns. There's no denying that he was one of the best players in football when he was on the field. Being that he's not recovering from any major injury of sorts, I doubt his overall rating in Madden 23 will be affected all that much.