Madden 23 Rookie Rating Predictions
There's plenty of new faces in the NFL, check out our rookie rating predictions for Madden 23!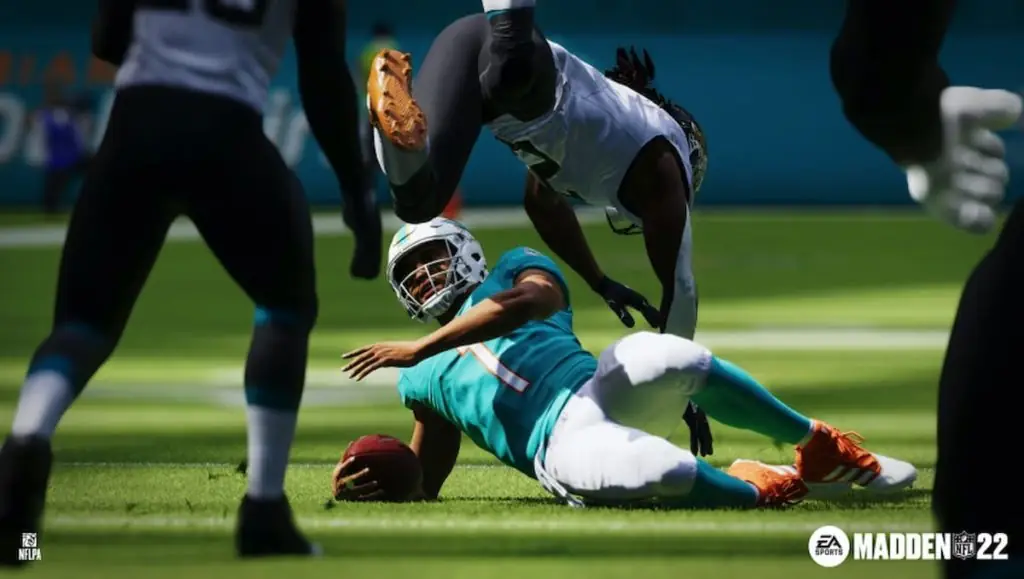 The 2022 NFL Draft was absolutely wild last week. From blockbuster trades down to deep runs of various position groups. As well as a few late-round steals on days two and three of the draft.
For Madden, this means that we'll have a brand-new group of players we can control in Madden 23.
While the newest installment of Madden is still months away, and very little information has been made available. It's still good to get an idea of what we can expect to see when Madden 23 arrives.
So, here are our official Madden 23 rookie rating predictions.
Madden 23 Rookie Rating Predictions
With this being one of the deepest drafts in recent memory and no clear gap in talent. It would be nearly impossible to predict every first-round draftee's rating in Madden 23. Although, here's who we can expect to see in the top ten, as well as their projected ratings.
#1 – Aidan Hutchinson (82) – Detroit Lions
Aidan Hutchinson is considered by most to be the best all-around talent in the entire draft. In fact, he likely would've gone first overall had it not been for the late push for Georgia's Travon Walker. Regardless, I think that Madden 23 will recognize Hutchinson's All-Pro traits, and give him the best Madden 23 rookie ratings with an 82 OVR.
#2 – Ahmad "Sauce" Gardner (80) – New York Jets
Similar to last year, I expect one of the top Madden 23 rookie ratings will be handed out to a cornerback. Especially when you consider "Sauce" Gardner's incredibly physical skill set and invaluable experience. So, I project "Sauce" will receive an 80 overall rating in Madden 23.
#3 – Kayvon Thibodeaux (79) – New York Giants
Thibodeaux is widely regarded as one of the best steals of the draft. Having landed 5th overall to the New York Giants after many pegged him to go first overall just months ago. Not only is he in an optimal situation but he also remains one of the most explosive athletes in this rookie class. Which is why I project him to receive a Madden 23 rating of 79.
#4 – Travon Walker (78) – Jacksonville Jaguars
Despite being the first overall selection in the 2022 NFL Draft, many view Walker as more of a high-upside type of player with superstar potential. Meaning that it could take some time for him to develop into an elite pass rusher in the NFL. As such, I've awarded him with a very respectable 78 overall rating in Madden 23.
#5 – Garrett Wilson (77) – New York Jets
Even though Ohio State's Garrett Wilson fell back to 10 and was the second receiver off the board in the 2022 NFL Draft. He's still considered the best skill position player in the draft and should receive the best rating among wide receivers in Madden 23 as a result.
#6 – Drake London (76) – Atlanta Falcons
Falling right behind Wilson I expect to see the Atlanta Falcons' new first-round selection, Drake London. As a 6'5" 215-pound pass-catcher with elite contested-catch and playmaking ability, there's certainly a lot to like about the USC product. His 76 overall Madden 23 rookie rating would also provide the Falcons with a legitimate number one receiver.
#7 – Chris Olave (76) – New Orleans Saints
Chris Olave was easily the most polished receiver in the 2022 NFL Draft. While he may not be as enticing a prospect as Wilson, Williams or London, he's still one of the better all-around talents at the position. So, I could certainly see him having one of the better receiver ratings that will only improve over the course of the regular season. Much like what happened in the draft, I project there to be a good run of receivers in the Madden 23 rookie ratings.
#8 – Evan Neal (76) – New York Giants
While Evan Neal was drafted behind Ikem Ekwonu, he was still pegged as the best overall offensive lineman going into the draft. So, I don't see this changing in Madden 23's ranking system. He should walk away with (at least) a 76 OVR, which would be good enough to thrust him into any starting rotation right away.
#9 – Kyle Hamilton (75) – Baltimore Ravens
Despite his less than stellar NFL Combine performance, Kyle Hamilton is still the best safety prospect and one of the best defensive backs in this draft. Being that his skill set and talent should transfer over to the pro level almost instantly. I could see him landing one of the better rookie ratings in Madden 23 as well.
#10 – Kenny Pickett (75) – Pittsburgh Steelers
In a quarterback-driven league, it was surprising to see just one QB taken in the first round this year. The good news for Pittsburgh's Kenny Pickett is that this should result in a pretty decent Madden 23 rookie rating. A 75 OVR certainly isn't going to wow you but it will be good enough to develop and compete for the starting job on day one.
Now that the 2022 NFL Draft has come to an end, and rookie minicamps are on the horizon. It's only a short matter of time before more information gets released about Madden 23. So, be sure to stay tuned as we continue to update you as more details become available on Madden 23.